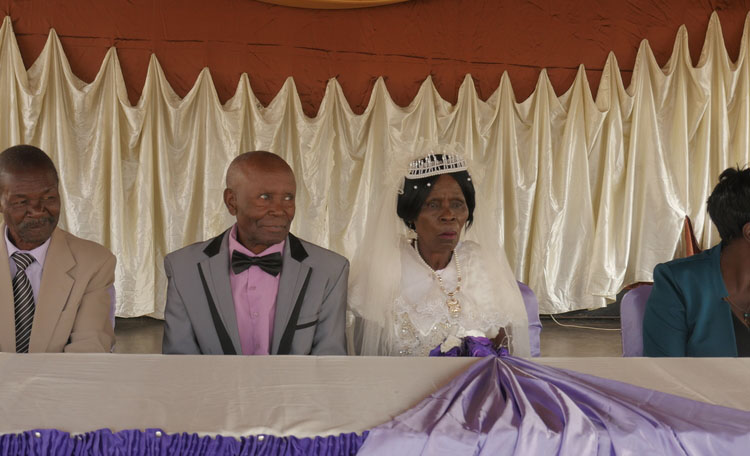 The Sunday Mail
It is said true love comes to those who wait. 
But 82-year-old Chitayo Chimanga and his darling Ezeria Mkwanda (77) waited longer than most.
Having found love while living under care at a Catholic Church-run old peoples' shelter years back, the golden oldies finally tied the knot at St Peter's Pastoral Centre in Chinhoyi a fortnight ago.
Organised and sponsored by the Catholic Church, the wedding was the talk of the town as people flocked to witness the senior citizens exchange vows.
"It is interesting for one to fall in love in their 80s," says the shelter's director Father Walter Chenyika. "But to do so while living in a home and go on to get married is quiet unusual. It is God's work and we cannot stand in their way."
A cake, rings, a captivating wedding gown and a good crowd which also included Labour and Social Welfare Minister Prisca Mupfumira, made it a day to remember for the elderly lovebirds.
Just how it all began is a question most in the crowd were likely asking each other.
"Our love sparked the moment I first walked through the doors of the shelter about four or five years ago," recalled a smiling Chitayo, casting a glance at his sweetheart during an interview with The Sunday Mail Society last week.
"I found her to be a very beautiful and caring woman. From then our love has been growing from strength to strength leading us to our special day when we tied the knot on July 4. I proposed just like any of you young people would, I told her that I wanted us to look after each other and she agreed."
Chitayo says he loves Mkwanda so much that he says they want to "grow old together".
To many Zimbabweans, Chitayo and Mkwanda's union is something unprecedented.
"Well, with our age people will say this and that but we are happy together," said a shy Mkwanda. "When he approached me and said he wanted us to look after each other. I liked him and I said yes."
The couple has been allocated a room at the shelter.
"It (wedding) is something which you a lot of young people are failing to do these days, most of you are getting into marriage through improper means and we have now shown you how it's done," chipped in Chitayo.
Staff at the shelter jokingly said it was good that the two were now married because they no longer had to sneak into each other's rooms.
They described Chitayo and Mkwanda as happy people who always looked out for each other.
"They do all sorts of sweet things, from playing games and drinking beer together," said one staffer. "We have not had a problem with them and we are just relieved that they have been married and are staying together so that no one sneaks in the room of the other, which is not right."
Marriage officer Fr Rongai Chasarira said the union was just another of life's mysteries.
"The marriage makes us reflect on some of the mysteries of life we may never understand till we die," he said. "At their age, as humans we think one wants nothing else but peace and good care.
"But they are still looking for affection through marriage and it reminds us that there are a lot of things we may never understand until we die and this case is an example."
According to the couple, who are both of foreign descent, the only blemish on their wedding day was the absence of their kin.
While Chitayo has no family in the country, Mkwanda's children did not show up despite being invited.
Both Chitayo and Mkwanda were once married but lost their partners to death and had nowhere else to go but the shelter as they did not have anyone to take care of them.
Chitayo came from Mozambique as a young boy with his brother who is now late, while Mkwanda left Zambia with her mother as an 11-year-old.
They worked on farms in Mashonaland West until age caught up with them, at which time they moved into the Catholic home.
"This is now our journey until we die, we will walk it together always and we hope God will bless us," said Chitayo. "We would also want to thank the church for supporting us and our message to those who are in love but are not married is that what you are waiting for."
Asked about their life in the bedroom, the couple let off childlike giggles and replied: "That we won't tell you."