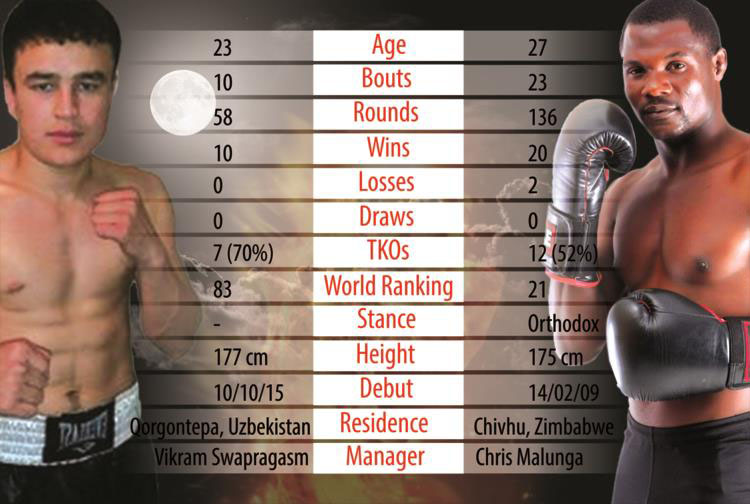 The Sunday Mail
LEGENDARY American boxing trainer Kenneth "The Master" Adams will fly from his base in Las Vegas into Singapore to watch Charles Manyuchi defend his WBC silver welterweight title against Qudratillo Abduqaxorov on Saturday night.
The 76-year-old Adams – a highly respected boxing trainer who has worked with legends such as Evander Holyfield, Riddick Bowe and Wladimir Klitschko – is one of the boxing celebrities expected to be at ringside at the OCBC Arena.
Promoters of Manyuchi's title defence bout, Cartel International Promotions, also remain optimistic that WBO welterweight champion Manny Pacquiao will also be at ringside.
Cartel International Promotions boss Vikram Sivapragasam last week told The Sunday Mail Sport that tickets to Manyuchi's first title defence since taking the belt from Russian Dmitri Mikhaylenko were selling fast.
"We are 100 percent ready. The stage is set … my team has been working tirelessly for the past six months. March 25 is going to be a night to remember," Sivapragasam said.
"The response has been very healthy since we launched the ticket sales on February 28 and we are also honoured to welcome the Great Kenny Adams, a legendary boxing trainer who will be flying into Singapore for our event. More boxing luminaries are also expected."
The cheapest ticket is going for US$40 while a seat at ringside is pegged at US$150.
Dubbed "The Battle of Champions: Road To Glory", Manyuchi's fight has generated a buzz around the world of prize fighting.
According to Cartel International Promotions, Zimbabwe's Embassy in Singapore has been mobilising support for Manyuchi.
"This has definitely generated buzz and excitement amongst boxing fans the world over! The diplomatic community based in Singapore has also expressed interest, especially embassies of Zimbabwe and Uzbekistan, rooting for Manyuchi and Qudratillo respectively," said Sivapragasm.
The 27-year-old Manyuchi is the odds-on favourite to defend his title against Abduqaxorov if the two boxers' records and world rankings are anything to go by.
The Zimbabwean has a record of 20-2-1 and is ranked the 21st best boxer amongst the 2 206 welterweight boxers in the world. On the other hand, Abduqaxorov (23) has a slim record of 10-0-0 and is ranked 83rd in the world.
While heaping praises on Manyuchi, the Singaporean promoter is not ruling out Abduqaxorov's chances.
"Manyuchi is a very good boxer; he is unorthodox and has amazing speed and heart. His weakness could be that he leaves his defence open to lure his opponents and this could have its own risks," Sivapragasm noted.
"I have seen Qudratillo sparring with some very good pros and I find him more than capable to take on this fight. He has been training all his life for this moment. Let's just see how loudly the African lion's roar will reverberate in Singapura – the Lion City."
Manyuchi is already in Singapore where local fans are calling him the African Lion.
"We arrived safely and the reception so far has been good . . . I am ready for the battle," Manyuchi said in a telephone interview.