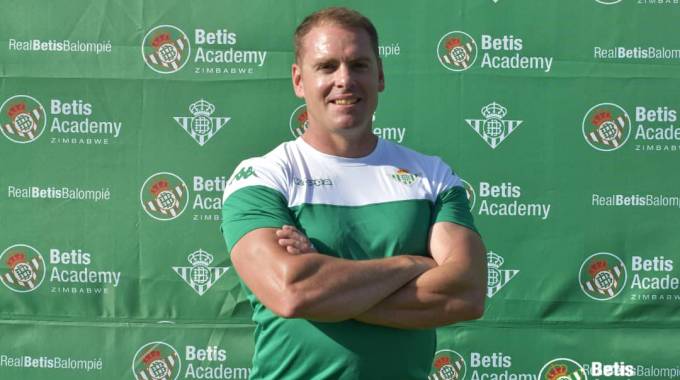 The Sunday Mail
Deputy Sports Editor
THEY made waves by forging a fine partnership as teammates in the Zimbabwe Rugby Sevens squad, and now the Cheetahs pair of Gerald Sibanda and Grant Mitchell have reunited for yet another sporting cause.
Having made the transition from rugby to the country's staple sport of football, especially in the midst of a devastating Covid-19 pandemic, Real Betis Academy Zimbabwe founder, Sibanda, finds himself in happier spirits than most would expect given the situation.
After all, the country is currently in the early stages of a 30-day Level Four lockdown, with all sporting activities suspended amid exponentially rising Covid-19 cases.
However, the 34-year-old Sibanda prefers to look at the situation as a glass half full and is content to just sit and count his blessings.
He takes solace in the fact that Real Betis Academy is now a fully-fledged institution.
It has since held its first enrolment and training camps.
But more importantly, he is just grateful for the arrival of former Cheetahs' teammate and close friend, Grant Mitchell, as the academy's strength and conditioning coach.
"Grant Mitchell is someone I have known for many years. We played together for the Zimbabwe Sevens team between 2007 and 2011, in the World Series, and I am very excited that he was able to join us," said Sibanda.
"His work ethic, professionalism, and vast years of experience is something that I have always admired and will be hoping he uses as our strength and conditioning coach," he said.
Mitchell, for his part, views the decision to heed his close friend's call to arms as a no-brainer.
"Yes, Gerald (Sibanda) is a former Zimbabwe Sevens rugby teammate of mine, someone with whom I suffered many losses alongside playing for our country, and at the same time, we experienced the joys of big wins on the world stage touring together.
"I was all too happy to answer the call when he approached me.
"He knew what I could bring to the team, both on and off the field, and the programme he presented was nothing short of exciting.
"Any chance I can get to make a difference to an individual's sporting career, I am always interested," he said.
While they chose to remain tight-lipped of the nitty-gritties of their friendship, aside from the cherished memories of the 2009 Sevens Rugby World Cup in Dubai, their reunion goes deeper than mutual respect, friendship and shared history.
Mitchell is one of the most sought-after strength and conditioning coaches in the country, with his expertise going far beyond rugby.
This is also not the first time he has coached outside rugby, nor is it his first dalliance with football.
A perusal of his curriculum vitae shows strength and conditioning gigs in rugby, cricket, hockey, swimming, rowing, golf and cycling, with the former Cheetahs international coaching some of the country's top and upcoming talents.
Among these are the likes of James Lawson (rowing); Olympians Micheen Thornycroft, Peter Purcell-Gilpen and Lorryn Bass; Ben and Rebecca Oberholzer in BMX; golfers Scott Vincent and Danielle Bekker; and Graeme Sharp and Bright Chipongo in motorsport and cycling respectively.
He has had stints with Zimbabwe hockey, swimming, cricket teams, and the Mighty Warriors during the 2016 Olympics.
Having spent some time with the lads, Mitchell said the players should brace for a long road ahead.
"We have completed one training camp with a group of about 30 players, and we have a long way to go," said Mitchell.
"The squad has natural physical talent, but it needs to be enhanced in order to cope with the demands of training and playing at a higher level.
"This is not a bad thing; it makes the process worthwhile and allows the squad to learn so much.
"We will certainly apply long-term athlete development pathways to bring the squad through the programme on a step-by-step basis," he said.
Sadly, this will have to wait because of the Covid-19 pandemic and the lockdown.
But, much like his boss, Mitchell fully supports the lockdown and other measures being taken to deal with the virus.
"The pandemic has certainly influenced the industry I work in . . .
"There is no better energy than that of team sessions, and I certainly will miss it. However, adaptation is key and remote training and monitoring is the current method.
"It may not be ideal, but it does work," he said.