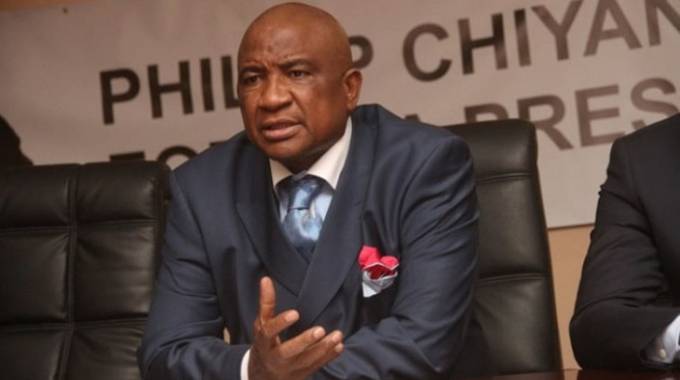 The Sunday Mail
Langton Nyakwenda and Don Makanyanga
THE cover page of his 2015 manifesto was fascinating.
On it was a smartly dressed and youthful Philip Chiyangwa, seated stylishly as usual, holding his chin and smiling.
The World Cup trophy was distinct in the background while a waving Zimbabwe flag also caught the eye. The top left of his manifesto cover had screaming words — "LET'S BRING BACK GLORY DAYS TO FOOTBALL." The bottom right corner of Chiyangwa's manifesto had what became the famous statement back in 2015 – "BHORA KUNA PHIDZA." Exactly 1 107 days after assuming power through a convincing victory over Trevor Carelse Juul, Leslie Gwindi and James Takavada, Chiyangwa is back where it all started. The only difference is that instead of the four challengers he was up against back in 2015, he faces a stern challenge from former Zifa board member Felton Kamambo amid emerging doubts over the incumbent's capacity to steer the Zifa ship. While Chiyangwa has presided over the Warrior's qualification for the 2017 Afcon finals, at the same time ensuring that all the age-groups from Under 17 to Under 23 resume action, his critics have also grown by each passing day.
Does "PC", as Chiyangwa is affectionately known, represent hope or false hope?
In that manifesto, the maverick businessman promised to rebrand Zifa, a project that suffered a stillbirth when his Nafaz attempt was thwarted by Government in July 2016. Chiyangwa also pledged to establish a grassroots development desk at Zifa as much as he also vowed to restore and revive district, provincial and national junior development structures.
Has he done that?
Zifa technical director Wilson Mutekede, the man in charge of the portfolio, ran the ruler on Chiyangwa's junior development pledge.  "The grassroots desk is the biggest portfolio in my office. You may be aware that last year we had a lot FIFA grassroots development programmes whereby we had the trainer programmes across the country.
"The process has cascaded down to regions and provinces. In Bulawayo, at Umzingwane, we are doing quite well. In the Central region, we have Zvishavane, Gweru and Mbizo in Kwekwe also doing well in grassroots development.
"But we still have challenges. There is no correct grassroots equipment like balls, bibs, cones and kits," said Mutekede.
A property mogul, Chiyangwa promised to help provincial and regional offices acquire land to build offices to cut down on rentals.
"Being one of the largest single property developer in Zimbabwe, I intend to use my experience and expertise to empower regional and provincial chairpersons with acquisition of land from their respective local government offices through the Minister of Local Government and Local Housing, so that these regional and provincial offices can lead localised fund-raising initiatives to build their own offices," read part of Chiyangwa's manifesto. However, three years down the line, no land has been acquired for the regions, as confirmed by relevant officials.
"We have no land at the moment but we have written to the Masvingo Council and are still waiting for a response," said Davison Muchena, Eastern Region chairperson.
Just as much as he might have his weaknesses, Chiyangwa, whom some claim is not a football person, has also had his fair share of successes. Under his leadership, the Zimbabwe national team qualified for the 2017 Afcon finals in Gabon and the Warriors are now one-match away from qualifying for the 2019 edition.
The junior national teams, which were dormant under Chiyangwa's predecessor Cuthbert Dube, have been revived.
The Under 20 side clinched silver at the just-ended Cosafa Championships held in Zambia, while the Under 23 team will participate in the All-Africa Games qualifiers in March next year.
The Warriors are now eligible to participate in the 2022 World Cup qualifiers, thanks to Chiyangwa's efforts in securing funding to pay debts owed to former coaches Valinhos and Tom Saintfiet.
The colourful businessman-cum-politician was also instrumental in the removal of long-serving former Caf president Issa Hayatou, thanks to his closeness to Fifa president Giovanni Infantino.
He even brought Infantino to Harare for his 58th birthday bash in February 2016.
Chiyangwa, who is also the Cosafa president, is now walking in the corridors of power at Caf where he was elected vice-president of the Caf Afcon Committee.
However, it is not a secret that in some instances, the cunning Chiyangwa has promised more than he has delivered.
In February 2016, Chiyangwa unveiled a $100 million deal in partnership with Total Sports Marketing of United Arab Emirates.
During the unveiling ceremony at a Harare hotel, Chiyangwa said Zimbabwe would host an annual Robert Mugabe International tournament starting in June 2016 – with the potential of raking $3 million – for the Zimbabwe Football Association.
That tournament never materialised and Zifa never raked in a single cent.
Also in his manifesto, the business mogul also pledged to promote the welfare of Premier Soccer League players "through the creation of a social welfare fund for professional soccer players that will guarantee timely payment of their salaries, create life, work, health and disability insurance policies for them, as well as negotiate a special dispensation with the National Social Security Association (NSSA)."
Nothing of that sort happened during Chiyangwa's reign.
Chiyangwa also pledged to ensure that women football would access their share of FIFA FAP funds, but on the ground, women's football leaders are grumbling over lack of funding. He also promised to take care of the Mighty Warriors welfare but the national team players' ill-treatment after their Rio 2016 excursion was well documented.
The Zimbabwe National Soccer Coaches Association(ZNSCA) also feels Chiyangwa's leadership should have done more to spread coaching courses across the country.
"Level One and Two courses have been going on well and we are happy with the way they have been conducted over the years though we feel there is need for them to be spread across the country, especially to remote parts," said ZNSCA chairman Bheki Nyoni. "As for the Caf courses, Zifa has no control as there are under the jurisdiction of Caf, so when the courses commence we believe Zimbabwe should be one of the first countries to take up the courses."
The Zifa elections are on today, those famous or infamous 60 councilors hold the fate of Zimbabwe's football for the next four years. One hopes they put football interests ahead of everything else, for they shall be judged by future generations.