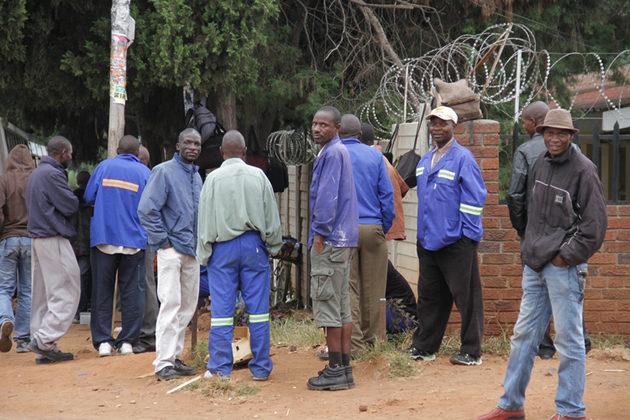 The Sunday Mail
Tendai Chara
It is 7.45am and scores of people, most of them men, engage in casual talk near the Harare and Grant streets intersection. The majority in this crowd is clad in either patched or torn work suits and overalls. Only a few spot formal trousers and shirts. Another group is crowded at a concrete slab as they cheer on two men who are playing checkers. The lone ones seemingly admire passing vehicles and pedestrians as they purposefully walk past.
One cannot help but notice the numerous bicycles lined up against an almost collapsing perimeter fence that is also burdened with dangling satchels. Amid this hype of activities, an open truck pulls up near the crowd and chaos suddenly erupts. The group dashes towards the vehicle and within seconds there is jostling, pushing and shoving. After a brief announcement by the occupants of the car, the group retreats slowly, some clearly dejected.
Only three men jump to the back of the vehicle before it speeds off.
Scenes like these are common at National Employment Service centres throughout the country where hundreds of job-seekers converge on a daily basis as they seek employment opportunities.
Commonly referred to as the "employment exchange", scores of job-seekers invade the areas daily in search of employment.
A division in the Ministry of Public Service, Labour and Social Welfare, the centre canvasses for jobs from both the private and public sectors on behalf of job-seekers.
The division also offers career guidance and counselling to job-seekers.
From the early 1980s up to the late 1990s, "employment exchange" centres played an important role in linking job-seekers with the employers.
In a bid to establish the latest employment trends, The Sunday Mail In-Depth spent a day at one such centre in Harare.
As early as 7am, almost 200 job-seekers had already gathered under a large shed whilst others roamed the centre's premises. Female job-seekers were housed in a big room inside the building. Male job-seekers were mainly builders, painters, and construction workers while most females sought vacancies as housemaids or child-minders.
Those who were hopeful to get employment as general hands were also in attendance.
For the better part of the day, the job-seekers killed the time chatting and playing games.
During lunch time, the majority gathered into smaller groups and dug into their prepared lunch. Others, who presumably could not afford lunch, found solace in playing checkers, commonly known as "draughts".
"If draughts were to be integrated as an official international sport, I am sure one or two of us here would become world champions," one of the unemployed chaps jokingly said.
On this particular day, less than 10 people were engaged for menial jobs and by 4pm, people began leaving the place, probably to walk back home before it got dark.
Despite failing to get employed, some of these people left in good spirits.
"My day will come. I will make it one day," said Edson Ndoro, who says he has been frequenting the centre for close to two years now.
Other job-seekers were, however, clearly depressed and visibly tired.
With despair written all over their faces, they dejectedly trooped to their respective homes.
According to information gathered by The Sunday Mail In-Depth, the place is no longer managing to secure employment for many people.
On average, 100 people find menial jobs per week and continue returning to the place after their contracts lapse. During the 1990s, over 1 000 people managed to secure employment on a weekly basis from these centres.
However, efforts to get the official number of people hired on a daily basis from the Ministry of Public Service, Labour and Social Welfare were fruitless, with sources in the ministry suggesting such data was unavailable.
Zimbabwe's unemployment rate has remained a subject of intense discussion and debate.
According to the Zimbabwe National Statistics Agency (ZimStat) Census 2012 National report, the country's unemployment figures stand at 11 percent, contrary to claims by some economists that 70 percent of the economically productive population is jobless.
According to the report, "42 percent of the employed people in Zimbabwe are communal and farm workers."
The report revealed that the majority of Zimbabwe's population remains in the rural areas, accounting for 67 percent of the total population while the remaining 33 percent is in urban areas.
The findings further show that about 50 percent of the total productive population is employed in the agricultural sector.
However, Zimbabwe Commercial Farmers' Union second vice-president Mr Berean Mukwende argues against the official statistics on employment in agriculture.
"About 90 percent of the Zimbabwean population is directly or indirectly employed by the agricultural sector. Unemployment rates are totally distorted. The definition of employment and unemployment must be revised," he said.
"Unemployment figures must be arrived at scientifically. Most of the unemployment rates were arrived at after using outdated and Eurocentric models of employment."
He said people in the informal sector are considered unemployed yet they are economically active, therefore, they can not be in the unemployed bracket.
At least 3,7 million Zimbabweans are involved in informal sector activities, according to a ZimStat 2013 report.
Economists always maintain that the country's unemployment rate stands at 85 percent.
John Robertson was widely quoted arguing that the country's unemployment rate is more than 70 percent with only more 900 000 people formally employed out of a population of 13 million.
According to Robertson, an estimated 100 000 jobs have been lost since 2004.
Experts say that in the absence of reliable and analysed data on Zimbabwe's employment levels, the country will continue to witness a reduction in the standards of living owing to unreliable forms of employment.
With hundreds turning up daily at National Employment Service centres in search of jobs, one cannot dispute the fact that the job sector – informal or formal – is not performing well to absorb the labour on the market.