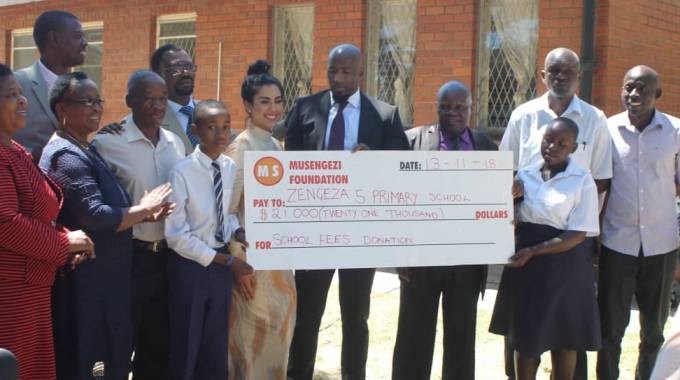 The Sunday Mail
Sharon Munjenjema
Philanthropist Mr Matthew Musengezi has handed over $21 000 for the 2019 school fees for at least 200 primary school learners in Chitungwiza.
The founder of the Musengezi Foundation donated the money for disadvantaged pupils at Zengeza 5 Primary School, where Mr Musengezi was once a learner.
At the handover of the money at the school last week, Mr Musengezi said he had come from a poor background and wanted to contribute to the setting of  a solid academic foundation for children in circumstances similar to his.
"As a former student of this school, I understand the frustrations of being under privileged," he said. "I also faced difficulties in paying my tuition fees and I remember being in constant fear that I would be sent home any time over the outstanding fees.
"I was stressed every time the tuition issues came out in class.
"This is the reason why I have decided to come back to my community and lend a helping hand to those struggling like I did back then.
Zengeza 5 Primary school head Robert Shaurwa thanked Mr Musengezi for a gesture he described as the first of its kind since the school opened in 1979.