Cyclone Dineo aftermath: Mberengwa counts the costs
The onset of the rainy season brought joy and relief to villagers in drought-prone Mberengwa district, in the Midlands province.
Thadius Dube of Mhlabeni Village was particularly overjoyed since the amount of rainfall that the district was receiving was most likely going to result in a bumper harvest.
Since the heavy, dark and rich soils do well in plenty of rainfall, Dube, in his mind, concluded that hunger and poverty were a thing of a distant past.
However, in a cruel twist, Dube's dream of harvesting plenty gradually became a daytime nightmare as heavy rains induced by Tropical Depression Dineo pounded relentlessly.
Dube and the other villagers, who were not initially worried, looked helplessly as the water levels in the nearby Mwenezi River rose alarmingly.
Disaster then struck.
For close to 10 hours, heavy rainfall, which was characterised by strong winds, swept through the villages, uprooting trees and destroying houses and leaving a trail of destruction in the process.
Mwenezi River could not contain the brunt of the storm and yielded to the pressure, breaking its banks in the process. The rushing waters annihilated everything in its path, destroying crops and livestock.
Within moments, the Dube homestead was immersed in water.
Huddled in a corner, the family watched in horror and anguish as their six goats and two donkeys – the only livestock the family had – were swept away by the tide.
A distraught Mr Dube was left counting the costs. "This agricultural season was very promising. We were expecting bumper harvests. Now look at this, I lost everything. I mean everything," a clearly agitated Mr Dube said.
Apart from the livestock, Mr Dube's maize crop is a complete write-off. His two huts and toilet were completely destroyed.
"I lost the maize that was supposed to push me through to the next harvest. As you can see the fields are waterlogged and we don't expect anything. Hunger is stalking us once more," added Mr Dube.
Cyclone Dineo caused a humanitarian crisis, with 246 people losing their lives. Thousands more were injured and left homeless. Livestock were swept away.
Mberengwa district was one of the areas that were seriously affected by the effects of Dineo. Major bridges linking the district to West Nicholson were swept away. Dam walls were breached, resulting in institutions such as schools and hospitals in dire need of clean water.
It is the destruction of Jeka Bridge which has caused untold suffering to Mberengwa villagers. The bridge served as a lifeline, linking Mberengwa residents to major hospitals and schools. Similarly, the Mwenezi Bridge, which also serves as an important link, was damaged and for almost two months, villagers from both sides could not cross to the other side.
Following the destruction of the bridge it is not possible for patients that would have been referred to either Mnene or Chegato to move to the other side of the river, creating a humanitarian crisis.
The Mwenezi is a major river which feeds into the Manyuchi Dam. Work on the Jeka Bridge, which is likely going to cost Government millions of dollars, is yet to start.
The destruction of the two important bridges has had far-reaching social and economic consequences, with the structural damage caused by the flooding estimated to run into millions of dollars.
On a daily basis, villagers risk their lives as they use ropes to scale part of Jeka Bridge and help their children cross the flooded river to school. A group of youths have taken upon themselves the dangerous task of helping villagers cross the crocodile-infested river.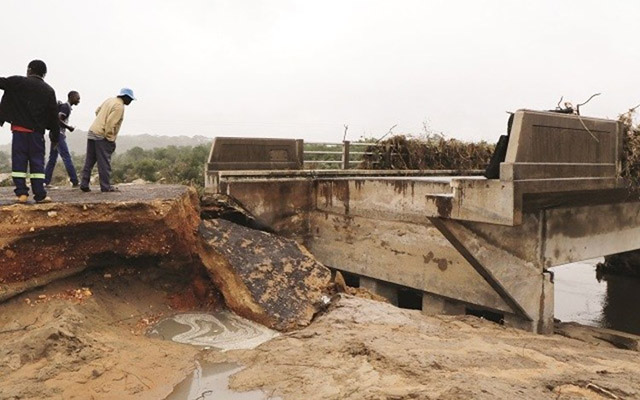 Some of the children have pitched temporary shelters near Chegato Primary School after a boy drowned in a dam near Muwani Business Centre. Silemba and Gambure dams, major sources of clean water for schools and a major hospital, breached walls, causing a clean water shortage.
Several lives have also been lost due to flooding with the latest being Shepherd Tseisi. Tseisi drowned near Danga as he attempted to cross Mwenezi River near Jeka Bridge. The home-made canoe capsized, resulting in his death.
Close to 15 families that were living along the Mwenezi River are now living in tents after their houses were destroyed by the flooded river.
Chief Chizungu, born Evans Tshuma, painted a picture which portrayed his subjects in dire need of food aid.
"The fields are waterlogged and the crops are wilting. We are not going to get much from the fields. We are appealing for food aid," Chief Chizungu said. A total of 59 villages which falls under the chief's jurisdiction, are in need of food aid.
Chief Chizungu attributed the rise in murder and suicide cases to social problems that he said are directly related to poverty and food insecurity.
"The increase in the number of murder and suicide cases is a cause of great concern to us.
"Three people were murdered and five committed suicide within a period of a month. Some of those that committed suicide at one time appeared before our courts in cases related to divorce or misunderstanding over family property or food," added Chief Chizungu. Chief Chizungu was on his way to a funeral. A local man had committed suicide, supposedly after a dispute over food.
Wiriranai Masaidze of Mpongolo Village appealed to Government to act swiftly and repair the Jeka Bridge.
"We are risking the lives of our children as they cross Mwenezi River. Government must treat our case as a matter of urgency and repair the bridge before we lose more lives," Masaidze said.
Mr Neffat Shumba, councillor for Mberengwa Ward 34, is seeing light at the end of the tunnel.
"Council donated 100 bags of cement for the repair of bridges. Government, through the Social Welfare department and the District Administrator's office, has availed food aid. Not a single soul will succumb to hunger in this ward," Shumba declared.
A total of 74 schools and five health institutions were damaged and 70 dams breached countrywide. Apart from Mberengwa, Tsholotsho district in Matabeleland North and some parts of Manicaland and Masvingo were also seriously affected.
15,510 total views, 2 views today