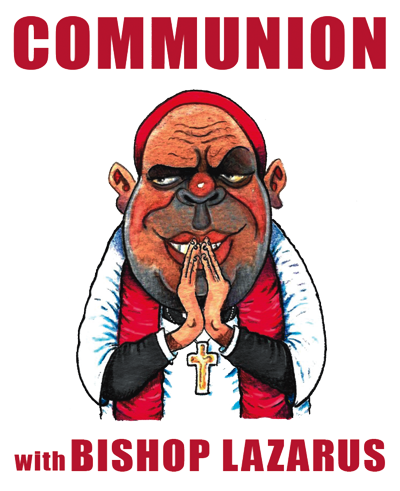 The Sunday Mail
THEY say if you sup with the devil, you must have a long spoon — well, a very long spoon.
Deals made with the devil — often by the desperate who want to short-cut their way to riches, fame or power, among other coveted earthly possessions — usually unravel and boomerang in spectacular ways.
You might have missed a bizarrely mind-bending story carried by The Manica Post on Friday about a distressed couple in Nyanga, Manicaland, who could not conceive for years and had to desperately seek the services of a traditional healer.
In no time, the medicine man worked his magic, but there was a caveat: The satisfied couple had to pay an appreciation fee of US$150 over two months. Nevers Mumba
They, however, reneged.
Unamused, the medicine man had no option but to unleash the village's most dreaded and menacing "debt collectors" imaginable — talking baboons.
As the story is told, these unrelenting debt collectors have the habit of making daily visits in broad daylight to ask for the outstanding payment.
As if that is not enough, the couple is also literally having sleepless nights on account of other nocturnal visitors who routinely sing songs urging them to pay up. Kikikiki.
Startled by these unwanted and unusual visitors, the couple raised US$200 — US$50 more than the original debt — but the traditional healer informed them that their indebtedness had ballooned to US$300, including interest.
By last week, the couple were reportedly still frantically trying to appease the incensed medicine man.
This is a case of the cure being worse than the disease. Although Bishop Lazi was sceptical and incredulous about this seemingly tall tale, the couple's neighbours swore on their mother's graves that they had indeed witnessed with their own eyes this stranger-than-fiction spectacle.
However, the morale of the story is that deals made with the devil often do not end well.
Hoping against hope
Today marks exactly a month after Zimbabwe voted in this year's harmonised elections.
While the process of constituting the Executive, Parliament and local authorities is almost complete, the opposition CCC — whose elected members are ironically obligingly taking up their positions in Parliament and local authorities — is still hoping against hope that there will either be a fresh election or power-sharing deal of sorts with ZANU PF.
They know the former option is hopeless and impossible, so they are now largely pivoting on the Nevers Mumba-compiled SADC Electoral Observation Mission (SEOM) preliminary report — deviously crafted through incestuous liaisons with European Union (EU) Election Observation Mission head Fabio Massimo Castaldo — to agitate, in Raila Odinga-style, to be accommodated in the cockpit.
Last week, they had begun to "consult" with their members "on the way forward".
The Bishop wishes them good luck.
They should, however, carefully consider their next steps.
While the original plan was to use the SADC report to railroad the region into convening an extraordinary indaba on Zimbabwe elections with the hope of forcing a power-sharing deal, this is now clearly dead in the water after vigilant member states saw through the poorly disguised scheme.
Before this year's election, Bishop Lazarus told you we had to brace and budget for the most concerted effort yet to unseat ZANU PF, as its enemies were likely to throw the kitchen sink, especially considering the resurgence of the ruling party, which, under President Mnangagwa, has grown adept at managing an economy under siege from the United States.
But through the actions of an extremely rash and intemperate Mumba, they overplayed their hand and betrayed the plot.
Micah 2:1-3 says: "Woe to those who plan iniquity, to those who plot evil on their beds! At morning's light they carry it out because it is in their power to do it.
They covet fields and seize them, and houses, and take them. They defraud a man of his home, a fellowman of his inheritance. Therefore, the Lord says: 'I am planning disaster against this people, from which you cannot save yourselves. You will no longer walk proudly, for it will be a time of calamity'."
Learning nothing,
forgetting nothing
But agents of regime change have learnt nothing and forgotten nothing about the mettle and capability of the regime that sits in Harare.
The last time the Mumba playbook was used in Zimbabwe — when the US wanted to ban trade in diamonds from Marange in 2009/2010, as this was perceived as providing the much-needed oxygen to a country that was being asphyxiated by sanctions — it similarly ended in abject failure.
It all started when the Government decided not to renew De Beers' prospecting licence in 2006, after the company, which was formed by Cecil John Rhodes in 1888, had been camped in Marange for a 12-year period spanning between 1994 and 2006.
It had also previously prospected in the area between 1963 and 1965, but misled the Ian Smith regime about its findings.
It was only after the area had been opened up to locals that it was discovered that De Beers was actually mining diamonds under the guise of prospecting.
They even had a processing plant at Bezel Bridge. It naturally led to a diamond rush, particularly at a time when sanctions imposed on Zimbabwe seven years earlier (in 2001) had begun to take their toll on the local population.
To throttle trade in the precious stones, which could possibly temper the effect of sanctions and fortuitously give the ZANU PF Government a lifeline, the US launched an aggressive diplomatic offensive through the US State Department; the Kimberly Process (KP), itself formed in 2003 to stop the trade in blood diamonds; local quislings; and a phalanx of local and international non-governmental organisations (NGOs), among others.
Then-US Secretary of State Hillary Clinton, in co-ordination with several US Embassies in Africa, began a series of diplomatic moves targeting diamonds from Marange.
US embassies in Abhu Dhabi, the Democratic Republic of Congo, Mozambique and Namibia were particularly active in trying to create a climate of opinion that Zimbabwe's security forces, who had been deployed to restore sanity in the more than 65 000-hectare diamond fields, were committing gratuitous human rights abuses and, therefore, trade in the purportedly tainted precious stones from the area had to be blocked.
Clinton even dispatched a diplomatic cable in August 2009 to countries involved in the diamond trade to address "Mozambique's role in combating illicit diamond trade from Zimbabwe".
She also pushed for Mozambique to join the KP, which Maputo declined after the KP made a formal invitation in February 2009.
As part of its broad, multi-pronged influence campaign, the US Embassy in Namibia even went to the extraordinary extent of meeting with the assistant of the new 2009 KP chairperson, Namibia's Deputy Minister of Mines and Energy Bernhardt Esau, to try and impress the US agenda.
The KP, however, buckled and decided to send a KP Review Mission to Zimbabwe between June 30 and July 4, 2009, that was led by Liberian ex-Deputy Minister of Mines Kpandel Fayia. Not surprisingly, the US made sure it had its man in the mission — Brad Brooks-Rubin, the US Department of State's special adviser on conflict diamonds — who had been handpicked by the then-US Assistant Secretary of State for African Affairs, Johnnie Carson, a man who previously had run-ins with former president Cde Robert Mugabe as the US Ambassador to Zimbabwe.
He definitely had an axe to grind with ZANU PF. But this is where it gets relevant and interesting.
While our Liberian brother Fayia was the de jure head of mission, just like Mumba, in fact, the American, Brooks-Rubin, was the de facto head. You see, although Zimbabwe drew up the itinerary for the visitors, it is the US embassy in Harare that organised meetings with compromised locals, such as Newman Chiadzwa, who led the group on a tour of the area; and Farai Maguwu, who is founder and director of the Centre for National Resource Governance, a local NGO that was, ironically, funded by De Beers.
At the end of the mission, Fayia made a controversial statement and produced an equally controversial interim and final report.
But thankfully, Brooks-Rubin later exposed our African brother after he confessed that he was the one who had written much of the interim report on his flight back home to the US from Zimbabwe. He also confirmed he edited the final report.
Doesn't this sound eerily similar to the Mumba imbroglio? Kikikiki.
Later that year, after a KP meeting in November in Namibia had agreed to appoint a KP Monitor for Marange — and after the US had unsuccessfully tried to impose a Briton, Simon Gilbert, who had incidentally worked for De Beers for 25 years — Washington then tried to pressure South African Abbey Chikane, who had been eventually nominated, to come up with a predetermined outcome — to prevent Zimbabwe from trading its diamonds.
The scheme was exposed after we leaked e-mail communication between Brooks-Rubin and Chikane. To cut the long story short, Zimbabwe eventually got the approval to sell its diamonds and the US scheme fell flat on its face.
Zimbabwe later took this issue up with the KP and South Africa.
But from that time, we understood better the evolving form of asymmetric warfare, where regional and international bodies are instrumentalised and weaponised to further US geopolitical interests, with the cooperation of pliant NGOs and locals, as well as media organisations.
We also learnt how African faces can be used to parrot foreign agendas.
Surely, Mumba would be hard-pressed to explain why he had to urgently meet with EU deputy chief observer Beata Martin Rozumilowicz when he arrived in Zimbabwe, or why he sent the SADC report thrice to EU chief observer Castaldo for editing.
Alert regional member countries, however, knew what was happening behind the scenes, and this is why Tanzania and Namibia — two other members of the SADC Organ on Politics, Defence and Security Co-operation — were quick to send their felicitations after the announcement of ED's victory.
This automatically took the wind out of the sails of the cabal in Zambia that wanted to push for a troika on Zimbabwe elections.
Som Nelson Chamisa and his CCC is better advised to chart another course; rather, the only course, which is to diligently serve the people of Zimbabwe. All they need, want and deserve is a prosperous life and future.
Nefarious schemes against Zimbabwe will never work. We are always a step ahead.
Bishop Lazi always argues that colonialism never ended; we only won political freedom.
Colonialism has simply evolved and mutated into a subtle neo-colonial form.
The war and fight continue.
Bishop out!