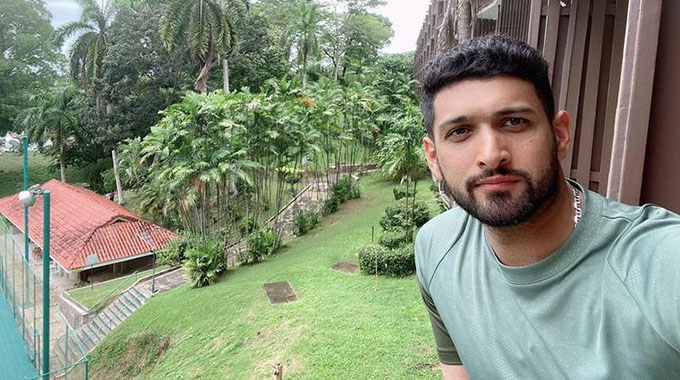 The Sunday Mail
Brighton Zhawi
Sports Reporter
HIS maiden Caribbean Premier League (CPL) cricket stint almost went up in smoke.
He has had four Covid-19 tests inside a few days, has flown in private charter planes and now finds himself stuck in his hotel room.
To freshen up and escape boredom, he and some teammates have resorted to one hour chats on the hotel balcony.
What a spell Zimbabwe's Sikandar Raza has experienced before the first ball of the 2020 CPL season has even been bowled.
Raza (34) was on the brink of returning to Zimbabwe after enduring some visa delays when he was in Dubai, where he was based.
He had been en-route to Trinidad when the visa challenges struck.
The CPL organisers set August 1 as the date for all participants to be in Trinidad to start a 14-day quarantine ahead of the start of the tournament on August 18.
Five South African players — Rassie van der Dussen, Tabraiz Shamsi, Anrich Nortje, Rilee Rossouw and Colin Ingram — failed to travel on the set dates due to visa delays.
Yet Raza could have faced the same fate.
"We applied for the visa and we chose the Dubai Embassy. So I came to Dubai and unfortunately my visa got delayed.
"We were on the brink of coming back home; luckily, I remembered I had a visa with the Dutch Embassy, a huge thanks to the Dutch Embassy.
"I had the visa from the time I was meant to go play in the Euro T20 before it got cancelled.
"So I used the Dutch visa, which was still valid and had totally forgotten about," Raza said.
Raza's team, Trinbago Knight Riders, then took over the processes and ensured he got to the Caribbean.
"They said, 'don't go back to Zimbabwe, we will get you to the Caribbean'.
"My first flight (from Dubai) was to Amsterdam, I had another to Paris, I had another to Fort-de-France, I could not stay because there was a private charter plane that TKR had booked for me and it took an hour to get to Barbados, then another which TKR had organised to Trinidad."
On his first morning in Trinidad, a Covid-19 test awaited him.
"I have done five Covid-19 tests in a month.
"I did one when we stopped training (in Zimbabwe) just for my peace of mind.
"Then I did one because I was travelling to Dubai, my visa got delayed and the test was valid for 72 hours, so I did another one.
"Because I had stayed in Dubai for three days, when my visa came through, I did another one before my departure and when I got to Trinidad, the first morning, CPL organised one for us as well."
Training in Trinidad is yet to start and players are restricted to their rooms.
So how is Raza coping?
"We come out on the balcony once a day for an hour or so just to chill.
"My neighbour is Sandeep (Lamichhane), above me is Rashid (Khan), above him is (Mohammed) Nabi, above him is Ali Khan, that is our side of the hotel where we do a little chit-chat."
Away from the balcony, Raza dedicates time to fitness sessions in his room.
"The room workouts take an hour or so. TKR has provided therabands and some hurdles, so we try keep ourselves occupied in our rooms."
This will be Raza's first competitive match since Zimbabwe's T20 series against Bangladesh in March.
How strange will it be when the CPL starts?
"It's tough to basically appreciate the new normal, but I think everybody is getting round; we are finding different ways to keep ourselves entertained.
"Most importantly, as professional cricketers, we all understand and respect why these measures are in place."
Raza, who has been to a number of T20 leagues, including the Pakistan Super League, Bangladesh Premier League, the Global T20 Canada, Afghanistan Premier League, Mzansi Premier, said he is now relishing his CPL debut.
"I am excited, I really want to do well, it's quite a big tournament and it's nice to do well in these tournaments."
Raza had been used to spending time with his family and his two kids, who would sometimes join in his home workouts.
"It still hurts when you are away from the family. We have been doing a lot of video calls.
"It is tough, let's be honest, but we do what we do for a better life so that we can provide for our kids."
Although he might be a CPL debutant, Raza is not short of exposure at such a level as he comes in with vast T20 experience.
He has 34 T20 international caps and 102 T20 first class ties, with his first T20 match coming in 2010 when he was playing for the now-defunct Rocks, while his international T20 bow arrived later that same year against Bangladesh.
"Progression has been a blessing and humbling. I want to raise the flag high and perform to the best of my abilities.
"Keep praying for me everyone. Those prayers go a long way . . . with the prayers I have gotten to the CPL," Raza said.