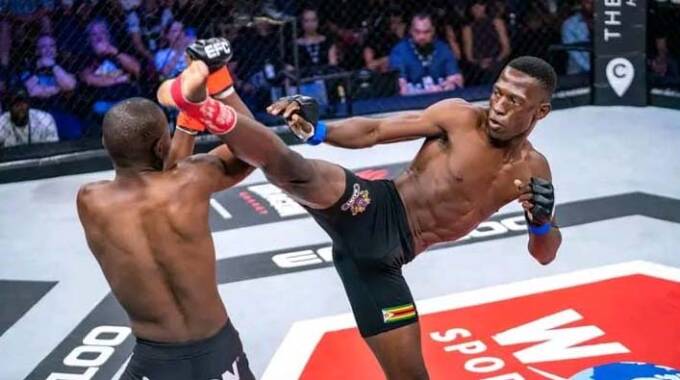 The Sunday Mail
Deputy Sports Editor
WHILE the word "classic" is one of those terms thrown around way too often these days, the duo of South African Nkazimulo Zulu and Zimbabwe's own Nicholas Hwende should be proud of putting up a classical performance at the Extreme Fighting Championship's EFC 100 event last week.
It was a night full of spectacular fights, as featherweight sensation Billy Oosthuizen won by a unanimous decision over Stephan de la Rey, while Tshilumba Mikix clinched the Interim Lightweight title against Cole Henning.
However, it was Hwende's gusty performance against the seasoned and home favourite Nkazimulo "Zulu Boy" Zulu that stole the show.
In fact, there is a good chance Hwende may have earned himself a new moniker, "Cyclops", as the Bantamweight champion fought with one eye for most of the contest to clinch victory by a unanimous decision. The two fighters probably knew that they had achieved something special for both the association and the sport, as they took a few minutes between themselves to share pleasantries and a show of respect after the match.
"Man, I suffered in this cage. I was with a real legend and underestimated him, which he punished me for," said an exhausted Hwende after the fight.
"However, with hard work and my never-give-up spirit, I managed to carry on, even with one working eye.
"If possible, I would really want to go far and reach greater heights.
"I would like to see the EFC continue to promote more good athletes that will be able to go far and possibly fight in the UFC (Ultimate Fighting Championship)," he said.
His opponent took time to talk up recent EFC graduates Cameron Saaiman and Dricus du Plessis.
South Africa's Cameron Saaiman recently made history by becoming the youngest male fighter to earn a contract in the UFC, when he impressed president Dana White so much that the 53-year-old boss gave him the nickname "The Future".
Du Plessis, on the other hand, is expected to face Englishman Darren Till at UFC 282 on Saturday.
If catching the eye of Dana White and the UFC is the goal, then the duo of Hwende and Zulu are well on their way, and this is not the last we have heard of their epic duels.
The two seemed to be building a small rivalry of sorts, as it was Zulu whom Hwende replaced at EFC 96 in August to win the then-vacant bantamweight title when he beat Brazilian Gian Souza.
An injury robbed Zulu of that fight and almost threatened to rob the EFC faithful of watching the EFC veteran fight Hwende when their match had to be pushed from the EFC 99 card.
However, their eventual clash lived up to expectations, as the two headlined Thursday's EFC 100 event.
Zulu Boy dominated the first round, landing some good shots and even attempting to lock in some submission moves.
Hwende came out of that round worse for wear, with his left eye completely closed.
With his vision impaired, he decided to take the fight to the mat, as he escaped a couple of chokeholds and Zulu's numerous attempts at the guillotine move.
The two put up a show in the third and fourth rounds, during which Hwende took control of the match.
The 33-year-old prize-fighter returned to his mat game again in the fifth round, possibly in an attempt to run the clock as victory was almost certain by that time.
In the end, Hwende won by a unanimous decision, with the judges scoring 49-46, 49-46 and 48-45 in the Zimbabwean's favour.