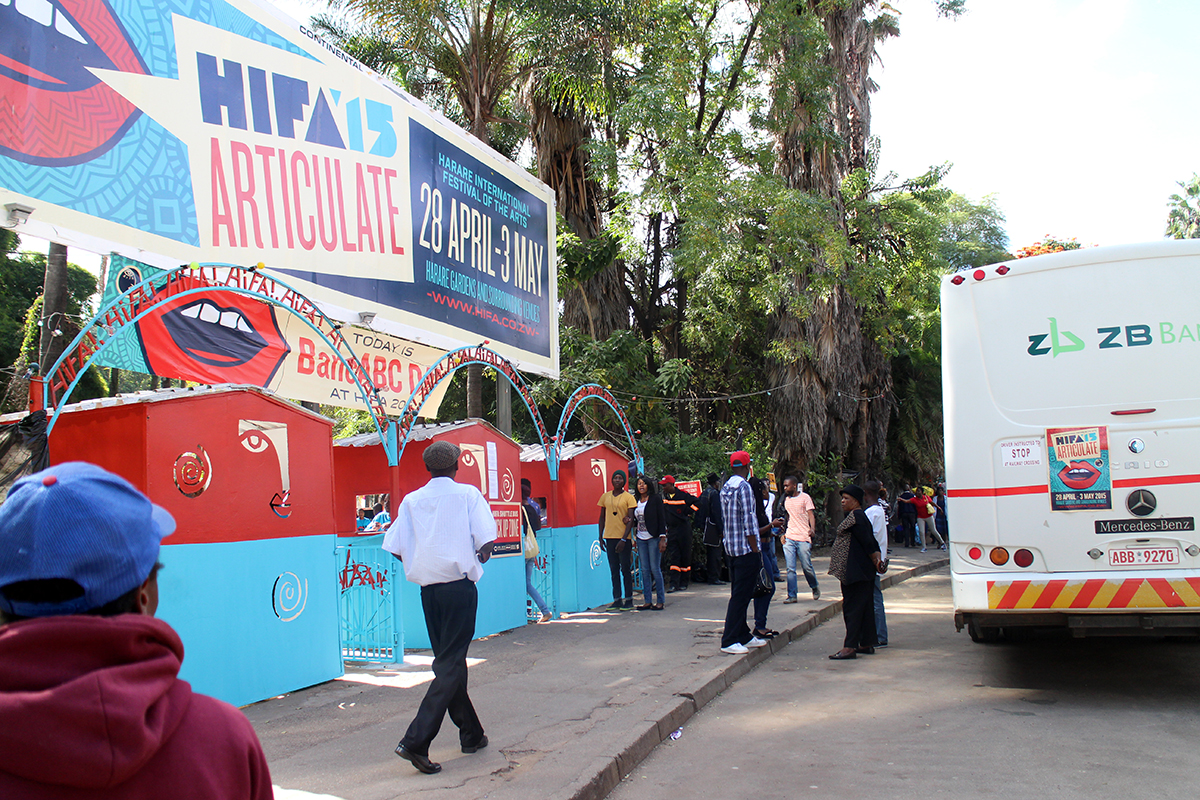 The Sunday Mail
FINANCIAL constraints and donor fatigue almost derailed Zimbabwe's biggest arts festival, the Harare International Festival of the Arts (Hifa) 2015.
Muchadeyi Masunda, the chairman of the Hifa board of trustees, says had it not been for festival founder Manuel Bagorro's vast network and good relations with artistes plus the depth within the festival's board, this year's edition would have been a disaster.
In an interview with The Sunday Mail Leisure last week, Masunda, who sits on multiple boards of some top companies in the country, said a lot of behind-the-scenes manoeuvring had to be done to ensure the festival took place.
"Some of the corporates had made commitments that they were supporting the festival but the culture in this country is that these companies release monies late. As a board we had to do a lot of work in the background, picking up the phone and pushing our partners to come through.
"We put our heads on the block, all of us. The 289 foreign artistes that came would not have done so had it not been because of Bagorro's personal relations — he works with a number of them in Europe and they trust him. Foreign artistes want down payments in order to commit but it had to be done another way," said Masunda.
Masunda said the festival's traditional corporate partners and donors that are attached to various Embassies had their budgets cut because of the "ongoing recession worldwide".
"There is a recession worldwide. Much as they would have wanted to support — they didn't have the resources. These issues also applied to local entities. You can actually count the few corporates that can support events like Hifa. When things are not well in the economy, events like Hifa are the first to suffer.
"Remember it is these few corporates supporting several other events like rugby, golf tournaments and the Zimbabwe International Trade Fair (ZITF)," said Masunda.
Masunda is not alone in expressing relief that the festival "miraculously" took place this year.
Hifa's executive director Maria Wilson, in her statement in the official festival programme wrote: "It is my pleasure to articulate that Hifa 2015, a true miracle is happening. Like all Zimbabweans we have had to face overwhelming difficulties and the Hifa team has pushed themselves to exhaustion point in ensuring the survival of this initiative."
She added: "With tremendous sadness I have watched as a culture of selfishness and greed appears to now be entrenched in our communities, and the spirit of wanting something good to happen in our wonderful country, with no hidden agenda or attitude of 'what's in it for me?', has all but disappeared."
Tafadzwa Simba, Hifa's associate executive director, also voiced his happiness that the event had been held "successfully".
Said Simba: ". . .a miracle has transpired in the hosting of Hifa 2015. As indicated in previous media briefings, the environment in which Hifa was being held and prepared was extremely challenging."
However, the tell tale signs that Hifa was in trouble this year started with their publicity machine. For the first time — Hifa's visibility began basically a week before the festival kicked off.
The online programme, which is usually put up a month or so before the festival, was only available with less than 10 days to go. Publicity material was not in abundance, some journalists even had to buy the official Hifa programme for US$5.
Announcements at Press conferences that four corporate partners had pulled out including Telecel, one of the biggest Hifa sponsors over the years, did not help matters.
Going through the programme itself, there were no talking points or major highlights save for Mokoomba and Salif Keita. In the end, Hifa had a great opening act and a well hyped closing act but nothing in-between.
To dissect the opening act, which had no smooth transitions that are common in productions of that nature, would be a total condemnation of Hifa 2015. So lest the festival organisers view this as a vote of no confidence and abandon this immensely popular festival in Zimbabwe — let it be known that Zimbabwe needs Hifa for a plethora of reasons. The employment it creates, the money organisations like the National Arts Council of Zimbabwe make, the opportunities for local artistes, the business for hospitality players and the activity in an otherwise dull local showbiz industry, are some of the few reasons. However, to truly claim its place among the top festivals in the world — there is need to be on point when it comes to programming. Sourcing funds and ensuring that the festival takes place without hiccups is important but it is the content that makes or breaks a festival.