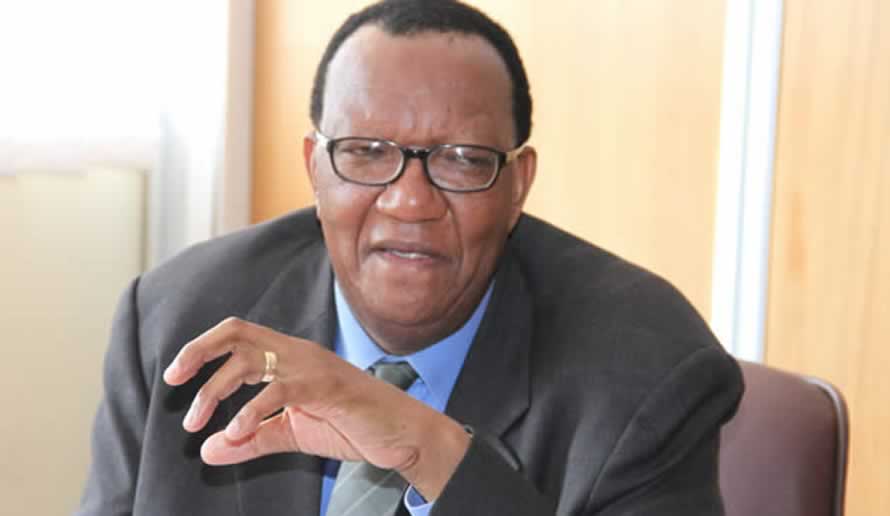 The Sunday Mail
Livingstone Marufu
Government says dry land farmers in Mashonaland and parts of Manicaland that are contracted under the Command Agriculture programme should now halt further planting of maize seed, hold onto inputs and wait for further instructions.The directive comes at a time when the Meteorological Department Services (MDS) has predicted a mid-season drought starting this month. Fears are that if dry land farmers continue planting maize seed, the crop might fail, resulting in unnecessary loss of inputs.
Agriculture expects say the expected rainfall will not be enough to sustain good seed germination. Maize crop favours hot and wet conditions for good growth.
In an interview with The Sunday Mail; Agriculture, Mechanisation and Irrigation Development Minister Dr Joseph Made said, "It's high time our farmers round-up their planting in a bid to pave way for other farming processes like weeding and spraying.
"We encourage all our dry land farmers to conclude the planting process in order to attain best results as planting after January 1 may be a bit late for those without irrigation. Around March, rainfall patterns will slightly decrease.
"We are very happy that most farmers celebrated their Christmas holiday in their fields to take advantage of the rains during that period in a bid to finish planting maize seed under the (Command Agriculture) programme.
"We believe that over 15 000 farmers under the programme will work hard to achieve the desired results (of two million metric tonnes of maize).
"As Government, we are doing all necessary arrangements to ensure that farmers get top dressing in time to guarantee maximum yields."
The minister's statements were elaborated by Agriculture, Mechanisation and Irrigation Development (Crop production) Deputy Minister Davis Marapira who said there are high chances of low rainfall from now until March.
"We advise our farmers in Mashonaland East, Mashonaland West, Mashonaland Central and some parts of Manicaland to wind up planting as the soils are now too cold to grow maize crop at this time of the year.
"The country has received early rains so there is also a possibility that the rain may end around March, leaving much of the maize crop without adequate moisture.
"Our suggestions are that they may continue planting if they have existing irrigation facilities which will take them through, otherwise for dry land farming, it's now difficult," said the deputy minister.
During a visit to Mashonaland East and Central provinces last week, Agritex officers were advising farmers to weed thriving crops and discouraging further planting of the maize seed.
Deputy minister Marapira said there were, however, some areas where farmers could still plant maize seed up to January 15 as the conditions in the regions allow late planting.
"There are some regions like Masvingo, Matabeleland and parts of Manicaland which were predicted to receive normal to above normal in January and beyond. Farmers in those areas have up to January 15 to plant as there are still hot humid conditions best for crop production.
"To that note, we expect the maize crop in these regions to grow fast as it has all it needs to grow in a short space of time.
"For all those who are still planting their cereals, we advise them to plant very short varieties which have a short life span."
According to the Meteorological Services Department, normal to below normal rainfall is expected in Mashonaland provinces and Manicaland this month.
The areas fall under ecological region one and two.
Said the MSD in a statement, "In Regions 1 and 2 (which is) Mashonaland Provinces, Harare, most of Manicaland, northern parts of Masvingo and northern parts of Midlands, we expect low rainfall patterns in January.
"As usual, Region 3 which include most parts of Masvingo, the extreme southern parts of Manicaland, southeast Matabeleland South and the southern parts of Midlands we expect to receive normal to below normal rains
"But in region 4 which are most parts of Matabeleland North, northwest of Matabeleland South, and Bulawayo, there might be normal to above normal rains.
The weather forecasts come at a time when rains have been falling countrywide and favouring good crop growth.
Zimbabwe, which is smarting from a drought, is aiming a good harvest and has invested in the Command Agriculture programme to ensure food security.
Last week, Vice President Emmerson Mnangagwa said farming inputs availed to farmers under Command Agriculture were meant to ensure that the country attains food self-sufficiency.
Addressing farmers during a tour in Mashonaland Central province, the Acting President said farmers participating in Command Agriculture would be required to deliver five tonnes per hectare to Government as agreed to cover the costs of inputs.
"Command farming is a command," said Acting President Mnangagwa.
"You should follow instructions. If you do not follow the commands, you will be dealt with.
"No one is going to be forced to join command farming. Once you join, you have to be accountable for the seed, fertilisers, fuel and other inputs. There is nothing for free."
Zimbabwe Farmers Union (ZFU) executive director, Mr Paul Zakariya said the directive for farmers to stop planting was welcome, but urged the land holders to also consider individual weather conditions in their areas.
"The January 1 deadline is okay, but it all depends on the area that a farmer is situated at. We do not have a uniform view on the subject matter as rainfall patterns differ from region to region and area to area," he said.
"As a farmer organisation, we encourage farmers to move hand in glove with Agritex officers for expert advice, depending on the situation prevailing on the ground
"Given the early rains and early distribution of inputs, the target of two million metric tonnes under 400 000 hectares of land is attainable."
The Government Command Agriculture programme reduce the food import bill for that was around $254 million last year