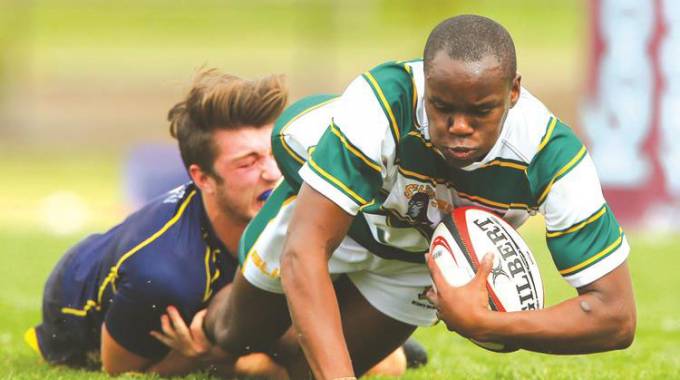 The Sunday Mail
Tinashe Kusema
TAPFUMA and Tadiwa Parirenyatwa are not your ordinary run-of- the-mill sporting siblings.
With a hospital named after their grandfather Tichafa Samuel, being sons of former Minister of Health and Child Care, Dr David Parirenyatwa and coming from a huge family of seven children; the need to stand out and be counted has never been an option.
It simply comes with the territory.
But rather than take the celebrity route of their sister Ruvheneko- a socialite and a radio and television personality- the two have opted for rugby as their chosen careers.
"Is she (Ruvheneko) a celebrity?" jokingly quipped Tapfuma, the older of the two Parirenyatwa brothers. "I just see her as my little sister and one of our biggest fans.
"She comes to all our rugby games, steals my rugby jerseys to show them off, but she is fast learning the nitty gritties of the game," said the 32-year-old.
Rugby and the Parirenyatwa family name are not the only two things that sets these two brothers apart from their contemporaries in the sporting fraternity.
The two recently joined Harare Sports Club for the 2019 national league season, a move Tadiwa has described as the realization of a childhood dream.
"It is no coincidence that we both have signed for Harare Sports Club," said the 23-year-old.
Given our huge age difference, we have never really played in the same team, with the exception of one game, last season, for Old Hararians.
"I actually joined the club (OH) with the hopes of playing with him but we only managed to play only one game, after which he was called in for the national duty with the Sables.
"We then talked about linking up at Harare Sports Club, which we both believe will give us the ideal platform to relaunch our respective careers," he said.
Those expecting a little sibling rivalry between the two, at the Harare giants, will be gravely disappointed as Tapfuma and Tadiwa appear to be as thick as thieves, both on and off the pitch.
The two have more in common than most siblings — including an almost insatiable love for rugby and all things competitive. Their rise to the top have been almost identical, beginning their rugby journeys at St John's Prepatory.
For Tapfuma; he was the multi-talented sports stars who dabbled in hockey, basketball and rugby during his prep days.
"At school I played almost every single sport starting off with soccer, hockey, tennis, basketball and even swimming where everyone called me the tadpole as I was the only black guy in the team at the time," said Tapfuma.
"Fortunately rugby was always my favourite and strongest sport; and as I grew older and went to high school, I dropped the other sports and started concentrating on it," he said.
Tapfuma played first team rugby at St Johns, taking his talents to the Zimbabwe Under-18 and 22 age group teams.
The only blemish came sometime after college where the Sportivo eighth-men finally decided to stop playing rugby to pursue his studies in medicine in South America.