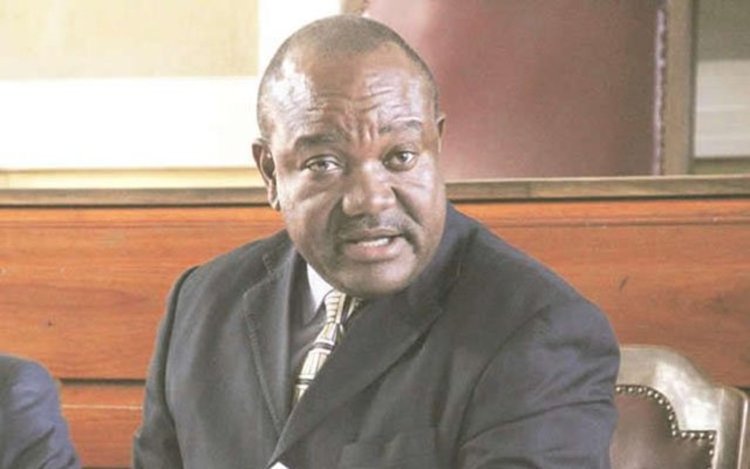 The Sunday Mail
In his 2016 state of the city address, the mayor said "Council approved 14 vending sites in the CBD. City of Harare has about plus or minus 20 000 informal traders in the City against the City's capacity of 6 000 Informal traders. "
When Bernard Manyenyeni was elected Harare mayor in 2013, he was full of zeal.
Those in opposition politics said Harare had found the right man to set the capital city on the right path.
Some said the appointment was the best since William Fairbridge (1897-98) became the first mayor of what was then called Salisbury.
His supporters pointed to his 25-plus years in financial services as a major asset.
They said the likes of Tizirai Gwata, Oliver Chidawu, Jabulani Thembani, Simon Chikwavaire, Charles Tawengwa, Tony Gara and Solomon Tawengwa would all pale in comparison.
In his maiden state of the city address in 2016, Manyenyeni said: "When we came into office, I indicated that the target is to leave council and the city better than we found it. Just over halfway through, I can reinforce that and assure you that it will happen."
Two years later, and a few months before the end of his tenure, Manyenyeni is admitting failure.
In his final state of the city address recently, he was gentleman enough to say the seat was "too hot".
Several issues will define Manyenyeni's legacy; not least of all his handling of the capital's water crisis, the farce around the appointment of a town clerk, the vending menace, traffic congestion on unlit and pot-holed streets, and a deteriorating refuse collection system.
Water and sanitation
Manyenyeni came into office in 2013 when Harare was facing a water crises.
Suburbs like Mabvuku, Tafara, Msasa Park and Borrowdale had no running water. Five years on, the situation has hardly improved.
China Eximbank approved a $144 million loan for Harare Water, largely to rehabilitate the Morton Jaffray, Prince Edward, and Firle plants, and to revamp the distribution network.
The first tranche of $72 million came with controversy as the city splurged on luxury cars.
The second disbursement is yet to be released but council claims the first was used to rehabilitate Morton Jaffray, starting in April 2013.
But the work remains incomplete.
Council says water supply has increased by 150 mega litres, but residents still experience cuts.
Water quality has also deteriorated drastically, due to limited treatment capacity as yet more controversy dogs the awarding of treatment chemical supply tenders to dodgy operators, some of them linked to the mayor's MDC-T party.
After years of adamantly arguing that Harare water met WHO standards, Manyenyeni in 2017 admitted the quality was not up to scratch.
Raw sewage still flows in many western suburbs.
Town clerk
After firing CEO Dr Tendai Mahachi in July 2015, Harare is yet to get a substantive town clerk and directors have taken turns to sit in the chair on an acting capacity.
In 2016, Harare appointed former banker James Mushore.
However, his appointment was terminated on the same day as Government cited breach of recruitment procedures.
Last year, council forwarded the names of Dr Tapiwa Mashakada (MDC- T economic advisor), Dr Cainos Chingombe (Harare human capital director) and Mrs Elizabeth Gwatipedza (Gweru town clerk) for consideration by the Local Government Board.
The LGB also rejected the list.
Manyenyeni has taken the LGB to court over the issue. In the meantime, service delivery suffers.
Vendors
Harare's streets, pavements and road islands have been invaded by vendors and hawkers, making many of them impassable without stepping on wares for sale.
Council has designated vending space, but provided little to sero supporting infrastructure like paved roads, stalls and ablution facilities.
Some vendors have resisted relocations.
In his 2016 state of the city address, the mayor said "Council approved 14 vending sites in the CBD. City of Harare has about plus or minus 20 000 informal traders in the City against the City's capacity of 6 000 Informal traders. The rest of the informal traders will be relocated to the 616 District Market sites."
But vendors remain on illegal sites.
Refuse collection
Despite purchasing two mechanical street sweepers worth $600 000 – said to be 10 times the real cost of such equipment – Harare resembles a dump site.
Termini, in particular, have become hubs of litter.
The suburbs have also been neglected and residents burn rubbish or dump it wherever they can.
Harare City Council recently purchased 30 refuse collection trucks worth $30 million; nine have reportedly been delivered.
In his last state of the city address, Manyenyeni conceded: "The state of refuse collection been remained a source of worry for Council and failure to meet the refuse collection schedule has led to illegal garbage dumps across the City."
Traffic congestion
The CBD is a traffic jungle populated by legal and illegal taxies.
The construction of the Coventry Holding Bay has not resulted in decongestion as public transporters ignore the facility, which commuters say is very inconveniently located.
Instead, transporters and city police play Tom and Jerry, fighting battles on the streets that have resulted in loss of human life and property.
Construction and rehabilitation of new and existing termini has been on the cards for more than three years now.
Many of the projects exist only on paper.
Roads
Since President Emmerson Mnangagwa was inaugurated late last year, some of Harare's roads have started getting some attention, particularly in the CBD.
Over 400km of roads have been rehabilitated, while patching has been done on another 325km – though many of these have no markings.
Much work remains to be done in the suburbs, and many streets and traffic lights are not working.
Health services
Under Manyenyeni's watch, the city's health delivery has improved.
Council has been expanding the scope of services at polyclinics across the city with sites like Mabvuku now offering X-ray, laboratory and theatre services.
Availability of the vital category of drugs ranged between 72-89 percent whilst that of the essential drugs ranged between 73-100 percent at the time of writing.
For that, the mayor deserves kudos.