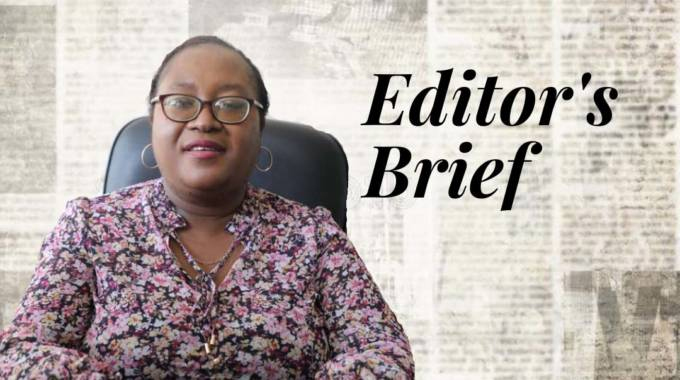 The Sunday Mail
A few weeks ago, I had a chat with a very enthusiastic youth Simon Nyabadza. Our discussion got me thinking that this country is blessed with youths who have immense potential to aid Zimbabwe's economic regeneration.
Editor's Brief
Victoria Ruzvidzo
Nyabadza is in the agricultural field and explained to me a number of innovations he and his colleagues have come up with. I was also impressed by the fact that he came back home after completing his studies in Australia to help contribute his bit to this country's development.
"Ndakaendeswa kuchikoro nenzungu, so I had to come back and do my part (My education was afforded through money from agriculture)."
The discussion we had was a breath of fresh air, where many of our youths are deep in drugs and aimlessly roaming the streets. We have some who have managed to invest their minds and skills into the economy.
This nature of youths is increasingly manifesting over the last few years. We have many who have come up with inventions that are winning prizes and breaking records on the international stage.
A few weeks ago, we had a story about a 16-year-old Peterhouse learner, Tayamika Mandiwanzira, who will represent Africa at the 7th Belt and Road Teenage Maker Camp in China after winning the prestigious international Broadcom Foundation award for her innovation — a solar-powered sterilising unit. Her future is obviously bright and she is set to impact this country greatly.
A number of youths have made the country proud on the global stage. This gives us hope that the future of this country is bright despite such challenges as drug and substance abuse. Indeed, we will hand over the baton to a knowledgeable and highly skilled generation.
These youths need our support materially, emotionally and in every aspect to make sure they deepen their roots in the country's foundation. The Government, the private sector and all stakeholders should create the right environment and give the youths a conducive platform on which they can apply their innovative and creative skills as they do their bit in the country's socioeconomic development discourse.
The youths account for 67 percent of Zimbabwe's population. They make up the largest demographic in the world, meaning the future is literally in their hands. Efforts being made by the Second Republic and other stakeholders to curb drug and substance abuse are welcome and very much needed.
A sober, well-focused youth will surely result in a better Zimbabwe, as President Mnangagwa aptly put it, "Nyika inovakwa, igotongwa, igonamatirwa nevene vayo".
Strategies like affording rehabilitation services to the youth must be commended as lives are being salvaged, with them this country's future. Statistics show that as at October 24, about 279 youths consisting  of 233 males and 46 females had received rehabilitation treatment countrywide. The programme, which shows Government's commitment to ensuring drug-free and  progressive communities, needs to be stepped up to cover the thousands if not millions of youths who have fallen into the drug and substance abuse trap.
It is a war that we must win. There is no other option.
The youth are a vital cog in Zimbabwe's development agenda.
We commend the President for incorporating youthful figures into Government positions across all sectors of the economy,  politics and other spheres.
Minister of Information, Publicity and Broadcasting Services Dr Jenfan Muswere; Youth Empowerment, Development and Vocational Training Minister Tino Machakaire; Minister of Environment, Climate and Wildlife Mangaliso Ndlovu; Minister of ICT, Postal and Courier Services Tatenda Mavetera; Local Government and Public Works Permanent Secretary Dr John Basera; and Zimbabwe National Roads Authority board chairman Dr George Manyaya are among the young and firebrand people who have been placed in strategic positions.
"I am aware that the youth want their voices to be heard and to have a more direct impact on development of policy and other guiding frameworks that affect their issues.
"The engagement by the youth should be understood in terms of inter-generational dialogue, collaboration, learning and substantive decision and that giving them autonomy to explore new ideas is vital for a progressive society," said President Mnangagwa recently.
"In this regard, my Government has put in place various measures to promote inter-generational equity, including reserving seats for women and the youth in both Parliament and local authorities. In pursuance of the objectives of Agenda 2063, my Government, through our legal frameworks, values gender equality and equity in politics."
Youth participation in sectors such as agriculture is applauded and the country needs even more youths venturing into the sector. Zimbabwe surpassed its US$8 billion agriculture target and has now set its sights on making it a US$13 billion sector by 2025. This can surely be achieved or exceeded with more participation by youths.
There are numerous ways for the youth to contribute to Zimbabwe's economic growth and prosperity.
They can start their own businesses, work in existing businesses, or even volunteer their time and skills to help build up their communities and the nation at large. No matter what they do, their involvement is essential to the future of the country's economy.
According to the African Union (AU), Africa has the youngest population in the world, with more than 400 million young people aged between 15 and 35 years. The AU, thus, conceded that such a youthful population calls for an increase of investment in socio-economic development to improve the development index of countries on the continent.
The United Nations also notes that young people are a major human resource for development and key agents for social change, economic growth and technological innovation of any country, developed countries and developing alike.
UNICEF is another global body that is alive to the fact that adolescents are crucial partners for the achievement of sustainable economic growth and social development. It also emphasises that the youth play a vital role in the identification of innovative solutions to the challenges facing their respective countries and the world at large.
The instrumental role they play as alluded to by continental and global bodies should serve as fuel for young people to perform and lift Zimbabwe to its rightful place.
In fact, Zimbabwe's national vision of becoming an upper middle-income society by 2030 should be driven by the youth. They should be at the forefront and show that they are truly the largest and most forceful human resource we have. The country has shown faith in them and that should give them impetus. They have a lot to contribute and they must realise that the onus is on them to help build the country. They need to desist from destructive tendencies such as drug and substance abuse.
In God I Trust!
 Twitter handle: @VictoriaRuzvid2; Email: [email protected]; [email protected]; WhatsApp number: 0772 129 972.