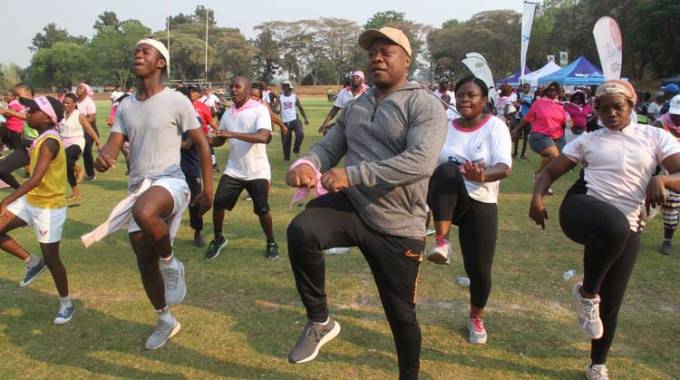 The Sunday Mail
Sunday Mail Reporter
ZIMPAPERS, in partnership with Island Hospice and HealthCare, yesterday held its annual Cancer Power Walk.
The initiative, which was birthed three years ago, creates awareness on cancer.
The event has been expanding countrywide to include Harare, Bulawayo, Mutare and Kariba.
In Harare, it featured a 10km run, and winners walked away with prizes courtesy of Cresta Hotels. Zimpapers Group Chief Executive Officer Mr Pikirayi Deketeke joined the walk and later participated in a Zumba session held at Old Hararians Sports Club in Harare.
Speaking on the sidelines of the cancer walk, Mr Deketeke said participants underwent health checks that included HIV tests, breast examination, blood pressure and diabetes checks.
"This is our third edition of the Zimpapers Cancer Power Walk, we are quite pleased with the response," he said.
"We started this three years ago as a Harare event. Last year we spread it out to Bulawayo and Mutare. This year we took it to Kariba. We want to create cancer awareness among all Zimbabweans.
"We are getting somewhere. We think a lot of people are getting tested. We also see efforts being made by other organisations, including the First Lady (Auxillia Mnangagwa). She is creating a buzz, making sure that a lot of people are tested for various cancers."
In 2015, Zimpapers signed a Memorandum of Understanding (MOU) with Island Hospice. This saw the group providing space to discuss cancer and other health issues on its radio and newspaper platforms.
Mr Deketeke said Zimpapers and Island Hospice are making great strides in raising awareness around the various types of cancers.
"In terms of palliative care for people who are at an advanced stage with cancer, we think we have done a fairly good job with Island Hospice," he said.
Sponsors for the Cancer Power Walk included the Chinese Embassy, Medirite Healthcare, Fusertech, B&P, Procurement Regulatory Authority of Zimbabwe, Premier Service Medical Aid Society, Ekhaya Travel and Econet Wireless. Support also came from Tin Mac Motors, Manicaland Motoring Club, Manica Boards and Doors, Tanganda, National Aids Council, Checkup Health, Cresta Hotels, Ace Ambulance, Ambulance Care and Evacuation, Bantuart, Zorro, Zambezi River Authority, Lake Harvest, Agribank, Choppies, Audio Connect, Kariba Municipality, Bantu Art and Devine Pharmacy.