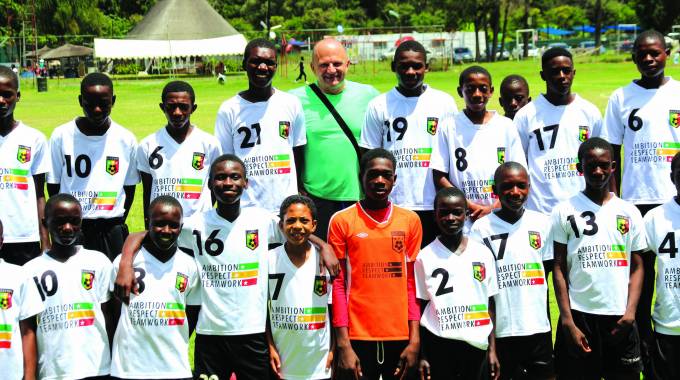 The Sunday Mail
Sports Reporter
WARRIORS coach Zdvravko Logarusic may have spent just a few weeks in the country but the budding talent that he has already seen on show here has won his admiration.
He also believes the abundance of talent stands Zimbabwe in good stead to become a force in African football.
Logarusic has had to wait a little longer before he can take charge of his Warriors in competitive action as the coronavirus has ravaged all international sports, including the 2021 Africa Cup of Nations qualifiers which had been scheduled for next week.
The Warriors had been pencilled in to play Algeria in back-to-back Nations Cup Group H qualifiers before Logarusic would have taken his home-based crop of players to Cameroon for the Africa Cup of Nations Championships, which were scheduled to run from April 4 to April 25. Despite his national teams being forced out of action by the coronavirus, Logarusic, who had a brief spell of camp with the local players, has also been taking time to watch junior football, and he was impressed with what he saw when two of Harare's top academies – Aces Youth Academy Under-19 and Legends Academy – squared off at Hellenic Sports Club last week, with the latter winning 3-1.
"I can tell you Zimbabwe has got talent. You can see the country has a number of good young players. The other day I watched an academy match and I was very impressed with what I saw.
"You (Zimbabwe) have got some nice young players, full of energy and quality," said Logarusic.
The Croat, who has previously coached in Sudan, also took time to revisit Legends at Hellenic, where his Warriors held some of their sessions and mingled with young boys from various age groups. He also gave them some tips on the football career path they have chosen.
Logarusic's visit came at a time when morale has been high in the Legends camp following the breakthrough by their best Under-19 striker Douglas Mapfumo, who rose from the trenches of academy football to burst straight into the ranks of ABSA Premiership outfit Bidvest Wits.
Legends director Farai Dhliwayo told the Sunday Mail Sport that although talent played a huge part in the young players' careers, the coaches at his academy had also gone out of their way to combine both technology and traditional training methods to nurture the players.
"At Legends Football Academy we train and develop boys between the ages of 6 and 19. We believe that development is the ability to teach and improve young players. We have five age bands, which are Under-9, Under-12, Under-15, Under-17 and Under-20.
"We believe that development of a football player is a process which takes a number of years and we have to find that the quality of a player must be measurable.
"To have a player capable of advancing to a professional career he must be developed physically, technically and mentally. To this end, we have adopted many of the techniques that international football clubs and academies are using. For the mental side of our player development, which is a huge component when dealing with young players, we have a professional psychologist Dr Daniel Mulambo working with our players. "The goal here is to develop growth mindsets and build resilience. In terms of the technical and physical aspects, we are using data-driven technology to ensure our players reach international standards.
"We are using PlayerTek, which is a revolutionary GPS (Global Positioning System) player tracking system that analyses and improves the performance of individual players. The device allows a player to capture and visualise their movements on a football field, whilst, in addition, offering data such as distances covered and top sprint speeds achieved. The data can be used as benchmarks for the player, and the system further allows a player to compare their performance metrics with those of a professional player.
"This means that the academy and the player can realistically rank themselves against other players internationally,'' Dhliwayo said.
There is a great deal of optimism at Legends and other academies that Mapfumo's move could open more avenues for a number of fine young players that are emerging in the local game and whose talents have already impressed Logarusic.