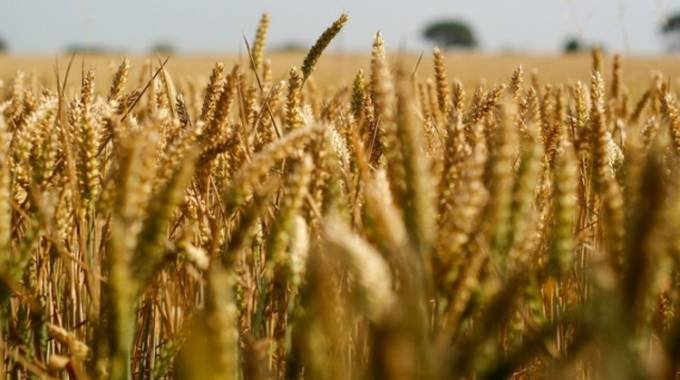 The Sunday Mail
Debra Matabvu
ZIMBABWE is expected to harvest more than 415 000 tonnes of wheat this year, the highest ever in the country's history, marking a 10 percent increase from the previous record haul last season, data collected by Zimbabwe's first satellite — ZimSat-1 — shows.
Using the multi-temporal satellite images collection technique on harvesting between May and August, through ZimSat-1, experts at the Zimbabwe National Geospatial and Space Agency (ZINGSA) were able to accurately project this year's winter crop production.
The technique involves acquiring satellite images of the same area at different times. This is a complex and highly technical data collection technique.
The images can be acquired using a single satellite or multiple satellites. They can be acquired at different times of the day, different seasons or even different years.
Data from images harvested by ZimSat-1 shows that Zimbabwe is projected to harvest 415 000 tonnes of wheat and 15 000 tonnes of barley.
Last year, the country produced 375 000 tonnes of the cereal, against an annual consumption requirement of 360 000 tonnes.
ZINGSA coordinator Mr Painos Gweme said the agency was presently preparing to map the country's summer crop output.
"The Mazowe Ground Station actively monitors satellite data pertaining to the crop farming season, providing valuable insights into crop growth and agricultural conditions," he said.
"Currently, the focus is on winter mapping, while preparations are underway to conduct mapping for the upcoming summer cropping season in the coming months."
Current data, he said, points to yet another bumper wheat harvest.
"The data collection for winter wheat mapping utilised multi-temporal satellite images captured between May and August 2023.
"These images provided essential multi-spectral information for accurate mapping purposes," he added.
"The winter wheat mapping analysis revealed that approximately 79 928,55 hectares of agricultural land were dedicated to winter wheat cultivation, along with an additional 2 884,75 hectares allocated for barley cultivation.
"This highlights the significant focus on these specific crops within the agricultural landscape.
"The projected national production figures for winter wheat are estimated to reach 415 628,46 tonnes, while barley production is anticipated to be around 15 000,7 tonnes.
"These projections are based on an average yield of 5,2 tonnes per hectare, indicating the potential for substantial grain harvests in the sector."
According to data from ZimSat-1, farmers in Mashonaland West province put 26 054 hectares under winter wheat and 784ha under barley, while their counterparts in Mashonaland Central planted 14 316ha of wheat and 543ha of barley.
Mashonaland East had 12 683ha under winter wheat, Manicaland had about 11 000ha of wheat and 857ha of barley crop.
Farmers in Midlands province planted 7 614ha and 547ha of wheat and barley, respectively.
Masvingo province had 3 198ha of wheat, followed by Matabeleland North (1 665ha) and Matabeleland South (2 518ha).
Harare and Bulawayo had the least hectarage under wheat at 66ha and 23ha, in that order.
This year's bumper wheat harvest will boost the country's aspirations to begin exporting the crop.
Addressing the 78th session of the United Nations General Assembly in New York, the United States, last week, President Mnangagwa said Zimbabwe will begin exporting wheat this year.
"The empowerment and capacitation of communal and small-scale farmers have seen us realise food and nutrition security at both household and national level," said President Mnangagwa.
"With effect from this year, our country will become a net exporter of wheat."
* X: @dmmatabvu