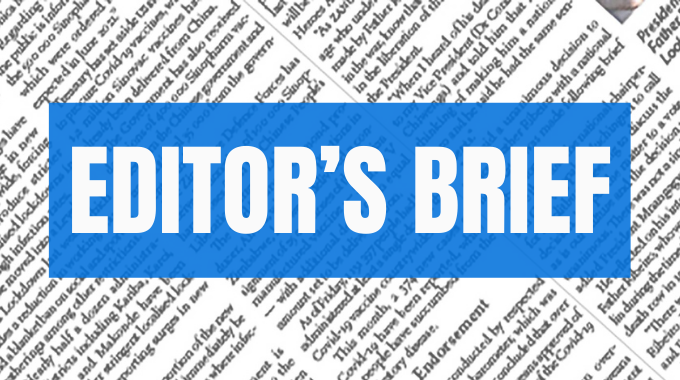 The Sunday Mail
The Swiss Ambassador to Zimbabwe Niculin Jaeger made very refreshing and reassuring remarks about Zimbabwe at his country's national day commemorations on Friday, endorsing this country's current growth trajectory and promising Switzerland would do its best to support these initiatives.
It is not every day that you find a European country speaking so glowingly and encouragingly about Zimbabwe.
The West has really been harsh with us for more than two decades now, the Land Reform Programme having riled them to the extent that they decided not to see anything good about Zimbabwe.
But Switzerland has chosen to be different and Ambassador Jaeger's remarks came as a breath of fresh air.
He said Switzerland continues to be a dependable partner to Zimbabwe's democratisation and development agenda.
"And this is why we are present with our programmes in the four corners of Zimbabwe, ranging from de-mining in the Sengwe Corridor at the border with Mozambique- giving back access to the land for the local farmers while offering a safe passage for animals supporting transnational tourism.
"Tourism is one of the pillars of economic development and the presence of Swiss companies in Victoria Falls are testimony of it, he said.
"As we look into the future, looking for new approaches and agreements on the one hand and on the other hand finding solutions to the challenges from the past, our bilateral relations have always remained positive and cooperative based on mutual respect and a long-term commitment.
"This cordial environment has in turn provided a good opportunity for our two countries to deal with a variety of topics," he said.
Indeed, Zimbabwe needs such support and encouragement as it hurtles towards its Vision 2030 of achieving an upper middle income economy.
It, therefore, does not need the kind of discouragement and energy-usurping interjections from some Western countries.
Zimbabwe, particularly under the Second Republic, is working towards improving its status as a global player and can use all the encouragement it can get to overcome the natural and man-made forces it has had to endure.
It needs more friends than enemies.
"Forty-two years of bilateral relations also mark the beginning of a new bilateral cooperation programme between Switzerland and Zimbabwe that my team has developed. The implementation of a consistent legal framework from taxation to investments in agriculture and industry will be key.
"We continue to support initiatives such as devolution that aims to bring governance closer to the people and enhance their participation in daily political processes," he said.
We wish Switzerland could also whisper to some of its peers so they begin to see the light and the sincerity of Zimbabweans to build solid relationships with its peers in the global village.
Foreign Affairs and International Trade Deputy Minister David Musabayana acknowledged Switzerland's support.
"It is noteworthy that even during trying times for our country, unlike some western countries that took offence with Zimbabwe's Land Reform Programme and burned bridges with Zimbabwe, Switzerland remained robustly engaged with this country. The Zimbabwe Government deeply appreciates that Switzerland remained true to its country's old tradition of neutrality and gave us constructive counsel and support as 'a neutral bridge-builder'," he said.
The launch last year of the Swiss-Zimbabwe business Chamber to promote trade and investment between the two countries will go a long way in boosting relations between the two.
Swiss companies that include Bata Shoe Company, Lafarge Cement, Nestle, Schindler, ABB and Syngenta are contributing significantly to employment creation and foreign currency earnings among other benefits.
Switzerland has indeed as a partner for the long haul. This year in trebled its budget to support Zimbabwe's agriculture, climate change response, health and social protection to US$12 million from US$4 million.
Two months ago it launched a US$10 million Markets and Seeds Access project the food security of smallholder households. Switzerland is doing much more across key sectors of the economy. This is a classic example of what positive engagements can achieve. Hoping other countries will take a cue.
The engagement and re-engagement exercise being undertaken by President Mnangagwa and his team is meant to re-establish old relationships and cultivate new ones in the community of nations.
No country is an island. It needs support from those near and afar so it can achieve its goals. It is in this spirit that such countries as Switzerland come in handy.
The President's visit to that country for the World Economic Forum was productive.
Much in terms of investment and trade has come Zimbabwe's way as a result of the Zimbabwe is Open for Business thrust that President Mnangagwa is so passionate about.
Positive feedback has been recorded. While more tangibles are still to manifest, the feel good sentiment brought about by the drive is critical even in giving impetus to homegrown solutions.
The National Development Strategy 1 identifies re-engagement as critical in setting Zimbabwe up for prosperity.
In line with the aspirations of Vision 2030, Government, through NDS1 will accelerate engagement and re-engagement process aimed at reintegrating Zimbabwe into a favourable global position," reads the document.
Support in this regard even by Zimbabweans themselves can generate better results faster. Cases where some seek to portray the country as chaotic may not actually help matters.
The county needs to do all in its power to create a solid international brand. This is not to say any wrongs must not be highlighted but that this should be done, but with constructive intent. It is about finding lasting solutions as opposed to assuming self-defeatist attitudes.
As Ambassador Jaeger said in fluent Shona "Chara chimwe hachitswanye inda" (No one can go it alone and achieve results), Zimbabwe, as with other countries, needs friends to walk with through its journey to prosperity.
In God I Trust!