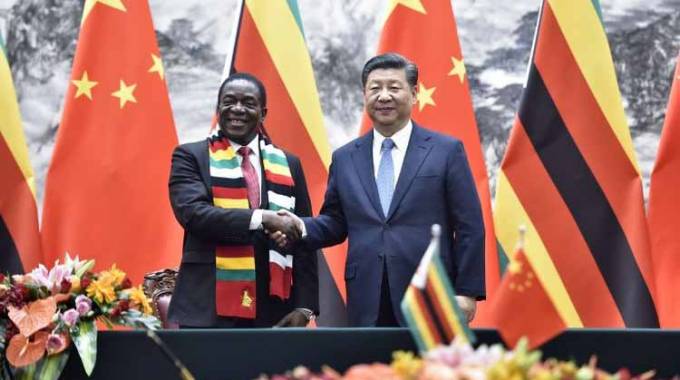 The Sunday Mail
Tawanda Musarurwa
The Zimbabwean economy will emerge the biggest winner following President Mnangagwa's attendance at the 2018 Beijing Summit of the Forum on China – Africa Co-operation (FOCAC).
With Chinese President Xi Jinping tabling a $60 billion facility for African countries, Zimbabwe has already lined up solid projects to access the funding and expedite their implementation.
President Xi said the financing will be provided in the form of Government assistance as well as investment and financing by financial institutions and companies.
Foreign Affairs and International Trade Minister Dr Sibusiso Moyo said at least three projects have been lined up. These include the NetOne expansion project, Hwange 7 and 8 expansion, and upgrade of the Robert Mugabe International Airport.
"In April, the key projects which were approved were, firstly, Hwange 7 and 8, and you are aware that a ground-breaking ceremony was done by His Excellency. The second project is the Robert Mugabe International Airport upgrade and that expansion is already underway, there has been a ground-breaking ceremony; and the third one is the NetOne expansion, which is also already underway.
"What is important for now is that there is clarity of accessibility of funds within FOCAC. The manner in which this was presented by President Xi was such that you can only be a nation that fails itself in terms of accessing these funds. But these (projects) are available, they have clarity of procedure," he said.
Minister Moyo said the private sector should not be left behind in accessing part of the $60 billion facility. The facility will see China implementing eight major initiatives with African countries in the next three years and beyond. The projects will cover industrial promotion, infrastructure connectivity, trade facilitation and green development.
Minister Moyo said the private sector only needs to present clear, bankable projects.
"The projects are all market-oriented, except where the funds are concerned and it means there must be proper feasibility studies. It means both Government and the private sector should really come up with world-class feasibility studies that are firm and viable and this is so that projects can be self-sustaining within the framework of project finance mechanisms," he said.
Notwithstanding the available concessionary loans, Zimbabwe is hoping to utilise China's Belt and Road Initiative (BRI) to better integrate in the global economy. China is one of the most powerful economies in the world.
President Mnangagwa said the BRI is in line with Vision 2030, which will see Zimbabwe achieving middle-income status in twelve years to come.
The Southern African nation must achieve a gross domestic product (GDP) level of over $65 billion by 2030 to attain this status. Countries with per capita gross national incomes of between $996 and $12 195 fall under this category.
Zim feeds into BRI
China's Belt and Road Initiative is an ambitious effort to improve regional co-operation and connectivity on a trans-continental scale. It is meant to strengthen connectivity, deepen economic co-operation based on each other's strengths and to seek mutual development.
The Belt and Road is in line with the purposes and principles of the United Nations Charter, in as far as it upholds the Five Principles of Peaceful Coexistence, mutual respect for each other's sovereignty and territorial integrity, mutual non-aggression, mutual non-interference in each other's internal affairs, equality, mutual benefit and peaceful co-existence. The BRI thrives on the basis of mutual benefits and win-win co-operation.
The initiative involves China underwriting billions of dollars of infrastructure investment in countries along the old Silk Road. China is spending roughly $150 billion a year in the 68 countries that have signed up under the scheme.
President Mnangagwa said the BRI is a significant enhancement of the old Silk Road — an ancient trade route that linked China with a network of countries in Europe, Asia and Africa.
"The Road and Belt Initiative has taken everybody on board so that our economies can talk to each other, so that our economies can help each other modernise and mechanise. We are getting connected and benefiting from each other.
"If you look at the current FOCAC meeting, there are issues that we are going to deal with. There is the issue of transportation and infrastructure development, among many others.
"We believe that all this can be done considering the relationship under FOCAC, where the rest of Africa is making conversation with China, and China is helping Zimbabwe and Africa to develop. This creates the integration of marketing in China and Africa. We we are happy that we are part of this global vision. We in Zimbabwe are committed to the BRI and we do not want Zimbabwe to be left behind because we want to be linked to global markets and the global economy," President Mnangagwa said.
Results from bilateral meetings
Following the conclusion of the FOCAC 2018 Summit, President Mnangagwa met with his Chinese counterpart, President Xi.
Several agreements were made during the bilateral meetings. These are expected to further economic collaboration between the two countries, particularly with regards to agriculture.
Foreign Affairs Minister Dr Moyo outlined the major outcomes of the bilateral meetings.
"The second agreement was to do with the commitment by China to import citrus fruits from Zimbabwe. The obligation will obviously remain with our producers here in Zimbabwe to be able to generate adequate produce which should satisfy the demand of China. One of the issues that was discussed was a possibility of reverse investment integration, where the market itself — the Chinese market — would come here to support the producers in order to create capacity of production to allow exportation to China. We already have the precedence of contract farming in the tobacco sector," said Minister Moyo.
"The last agreement was that of 500 boreholes, which were donated by the Chinese government. These boreholes are meant to supplement water in areas experiencing a deficit. We have had previous support of around 300 boreholes, now they have added 500 boreholes."
More Chinese firms eye Zim
During the visit, several Chinese businesses and organisations lined up to engage President Mnangagwa to express their willingness to invest in Zimbabwe. The Chinese businesses that have expressed interest to invest in Zimbabwe include Huawei Technologies Co Ltd, a global leader in consumer electronics; TBEA, which specialises in electricity generation, transmission and distribution. TBEA has expressed interest in Zimbabwe's power transmission and distribution projects.
The President also met with and signed a memorandum of Understanding (MoU) with the Belt and Road Collaborative Innovation Centre (BRCIC).
Earlier in April, the chairman of the BRCIC met President Mnangagwa and offered scholarships to Zimbabwean students.
Other Chinese businesses that met with the President include Yantai JinAO Protection Technology Co, a gold mining company involved in refractory gold ore extraction and processing; the Touchroad International Holdings Group, which is involved in special economic zone development, resources exploitation, finance and international trade and China Gezhouba Group Company Limited & CGGC, which is one of the largest comprehensive solutions providers for the power industry in China and globally.
Other companies include China Gold, CCCC, a diversified group and 21 Century Space Technology Co Limited, which is involved in the construction industry.