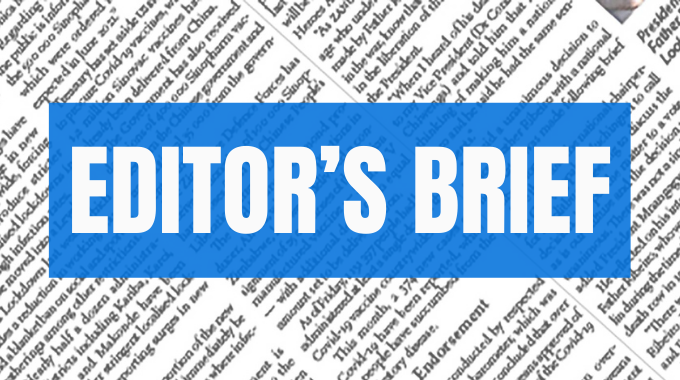 The Sunday Mail
Victoria Ruzvidzo
"The young do not know enough to be prudent, and, therefore, they attempt the impossible, and achieve it, generation after generation", so says Pearl S. Buck.
The statement above is pregnant with meaning and certainly sums up the attitude by the youths and how they have managed to do the impossible because they have not paid attention to any barriers before them. Resultantly, they have pioneered many innovations and inventions that have aided development of the world economy in a big way.
Youths have immense energy and zeal which, if correctly directed, can bring transformation of economies and lives at large. Zimbabwe is replete with examples of youths that have led inventions in the vehicle industry, manufacturing processes, engineering and many that have proved beneficial.
It is in this regard that we applaud the Second Republic for launching a number of projects set to empower the youth. The future of Africa in general and Zimbabwe in particular lies in its youth demographic. At least 63 percent of the country's population belongs to this bracket.
Just imagine what would become of Zimbabwe if all these youths were to be gainfully engaged. Other regions of the world even fear that Africa will soon take over as the leading growth region in the near future because of a strong youth base.
Last week President Mnangagwa launched the Provincial Integrated Youths Skills Development Centres in all the 10 provinces where at least 5 000 youths will be trained annually. This means under this one programme, at least 50 000 youths will be empowered.
This is obviously a highly impactful project that will take many youths off the streets and redirect their energy into meaningful activities. Even those that were barely eking a leaving will now have something weightier to do. The benefits there from will surely change the face of agriculture and the economy at large.
Already, provincial secretaries have been tasked with identifying at least 500 hectares of land to be dedicated to youth projects. Inputs will be provided under the several input schemes that the Government has put in place.
The youths have also been allocated 700 heifers under the Presidential Heifer Pass-on Scheme as part of strategies to empower the youth.
"This is in line with my Government's policy to mainstream participation of the youths in national programmes, across all sectors, as well as in politics and governance architecture,'' said President Mnangagwa at the launch.
This dovetails into the National Development Strategy 1 that has identified the need to empower them in all programmes with targets such as increasing the number of youth who access empowerment programmes in all sectors of the economy to 200 000 by 2025, from 16 000 in 2020.
NDS1 also intends to raise youth participation in decision-making and development processes to 25 percent by 2025 from 3,3 percent in 2020.
"Zimbabwe has the advantage accruing to most developing economies — the youth dividend. As much as 53,6 percent of the population is below 20 years while 62,9 percent is below 24 years. Of those below 24 years, 31,7 percent are females 31,2 percent are males," reads the NDS1 document.
Some of the strategies identified under the economic programme include enhancing leadership development training, reconfiguring technical vocational education, establishing institutional mechanism with the capacity to identify and nurture youth innovations and mainstream youth policy across all sectors of the economy.
Some of these initiatives have already been rolled out. Indeed youth empowerment is multi-dimensional, involving skills, educational, business, moral and financial strategies, among others.
It is, therefore, critical for the private sector to participate actively in promoting youth empowerment. Already we have seen initiatives by a number of firms to empower the youth through sports, education grants and skills acquisition. These need to be consolidated while other firms should hop onto the train. The Government needs the support.
It is also quite interesting to note that the NDS1 realises that many youths in this country have not adopted the culture of hard work and honesty, a situation that needs the development of a mental construct for them to realise the importance of working hard and spearheading the country's development, as is the case in other countries.
It is unfortunate that many youths are engaged in drug abuse and other destructive behaviours that have compromised their future and that of this country at large. We have said this no end. However, empowering them will certainly reduce delinquency. This lot is a very sensitive one. It can be highly productive, but also highly destructive if not guided properly.
The desire is that the former becomes the order of the day in a country endowed with immense resources that need more hands to exploit. It would be instructive to look at other African examples.
We start with South Africa which has a National Youth Policy in place through which it has coined programmes and projects targeted at empowering its youths.
It has a number of projects which include Indoni, My Heritage, My Pride which aims to provide youths with life skills, training, education and encouragement.
Furthermore, the Trendsetter Initiative is artistic-inclined, supporting the arts industry to contribute to local development.
Additionally, a Public Works Programme sees youths being involved in refurbishment, rehabilitation and maintenance of community infrastructure while the National Rural Youth Services Corps Programme is primarily geared at skills advancement. It provides youths with opportunities to work within their communities and to provide services which impact on local social and economic development.
The Harambee Youth Accelerator Programme is a skills acquisition one. SA also has Girl Code (Female Coders) enterprise which empowers young girls and women in the field of coding and technology. It offers workshop and vacation work.
Another one, Digital Africa which, as the name suggests, offers digital skills training. Its focus is on creating meaningful opportunities for the disadvantaged segment of the SA populace.
The SAB kick-start programme (Youth Entrepreneurship initiative) seeks to assist entrepreneurs aged between 18 and 35 through coaching and loan funding.
Kenya has Youth Empowerment Centres which are an integral part of the Kenya Vision 2030 programme. These address the multiple challenges in youth empowerment, focusing largely on access to ICT services, guidance and counselling on drugs and substance abuse and HIV and Aids Prevention.
The Kenya Youth and Employment and Opportunities Project has had 33 167 who have benefited from training and initiatives. Statistics show that 64 percent of the youths who completed the job-specific skills training and internships have been employed while 87 percent of the youths who received grants have created employment for themselves and others.
Indeed youth empowerment is a game changer that should be implemented in earnest as we hurtle towards Vision 2030. Zimbabwe has many enthusiastic and energetic youths with potential to change their lives and contribute meaningful to economic growth.
In God I trust!
"We cannot always build the future for our youth, but we can build our youth for the future — Franklin D. Roosevelt
**********
"When you replace 'why is this happening to me' with what is this trying to teach me?' Everything shifts." — Unknown.
Twitter handle: @VictoriaRuzvid2; Email: [email protected]; [email protected]; WhatsApp number: 0772 129 992.