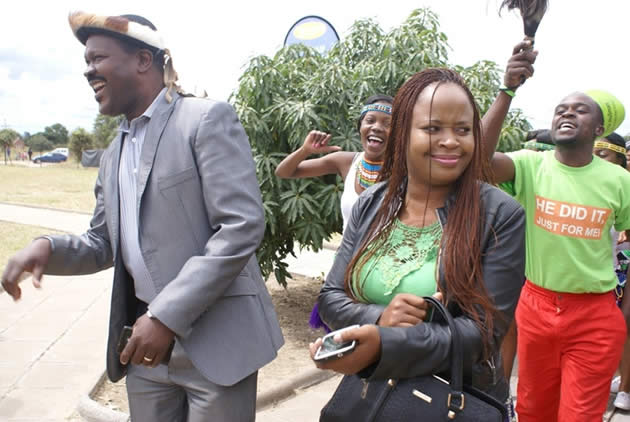 The Sunday Mail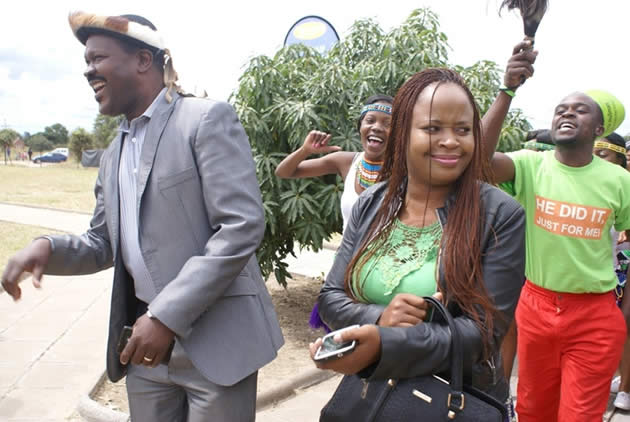 Sharon Kavhu
"I am so scared, honestly I don't know how this is going to feel like, I just have fears of the unknown. "Even though they told me how the process was harmless during counselling, just the thought of having my fore skin being removed from my sexual organ is still terrorising me," said Peter Moyo, popularly known as Young Ingwe, as he awaited his turn to get into the theatre room to get circumcised, last week.
During the circumcision event in Lobengula, Bulawayo, Young Igwe, dub poet Albert Nyathi and his son Umthabisi (12) took the initiative of being circumcised on the day.
"No one from my family has ever gone through such a process. I don't know how it is going to be, I keep asking myself the 'what if . . . ' type of questions," Young Igwe muttered, half to himself, half to the listening ears.
Of course, most people know the young man as someone with so much confidence because of what he does on stage. Ironically, that confidence was torn into pieces as he waited outside the theatre room.
While he waited, Albert Nyathi was being circumcised in the theatre room accompanied by his wife Caroline.
Sitting at the bench like a new ''school kid on the block'', Young Igwe was being teased by fellow artistes Mukudzei Mukombe (Jah Prayzah), dendera maestro Suluman Chimbetu and Sandra Ndebele.
"Imagine if the process closes your urethra and you fail to urinate for the rest of your life," Sandra threw the joke at Peter before the other artistes broke into laughter.
When he finally entered the room, he took less than 10 minutes inside.
Soon after going under the knife, the young man came out with a cheerful face and walked confidently towards the audience.
"I feel so much relieved now, I opted for the Prepex method where the doctors inserted a plastic ring and a rubber just at the tip of my sexual organ," explained Young Igwe.
"The doctor said my foreskin will eventually come off naturally after wearing the ring for a few days because the ring has the effect of stopping blood from reaching the foreskin."
Albert Nyathi also opted for the same method.
"I opted for the Prepex because I have hypertension and besides I just didn't want to receive the injections one gets before the surgical male circumcision," said Nyathi.
"Most people get circumcised at an early stage and initially I thought maybe I was too old for the process, but my wife encouraged me to," said Nyathi.
"As one of the circumcision ambassadors, I just thought that I should also practise what I preached and now it makes more sense to encourage people to be circumcised when I am also circumcised," added Nyathi.
During his solidarity speech, Nyathi also said he was writing a new book called "My Son" that will be tackling  health issues affecting the boy child.
"I have already prepared the synopsis of the book and I expect the book to be out by August this year to also influence the young males to be circumcised," he said.
His wife said she was feeling good after having her two boys circumcised at once.
"I am proud of my husband because he took the initiative for me and I urge all men who have not been circumcised to undergo the process," said Caroline.
"As for my son I could not watch him getting circumcised because I had to attend the counselling session with his father."
After the three men were circumcised, Sulu took time to share his story on circumcision. Sulu was born in a small village in Chegutu where it was a tradition that every new born baby had to be circumcised traditionally before six months.
"It is sad that I cannot recall the moment or the feeling because I was only three months old back in 1982 when my mother got me circumcised," said Sulu.
"Seeing Young Igwe's anxiety before getting into the theatre room somehow made me wish to have had a chance to know how being circumcised feels like.
"My foreskin was removed traditionally when I was only three months old so because I was a neonatal, I cannot recall the moment but my mother told me that I healed after seven days."
He said all the elder boys in his family were circumcised using the traditional ways while his siblings who were born in town have not yet been circumcised.
Sulu added: "I know the essence of male circumcision and I also want to bring my three sons for the process, the first one is five, the second one is four and the last on is three years old."