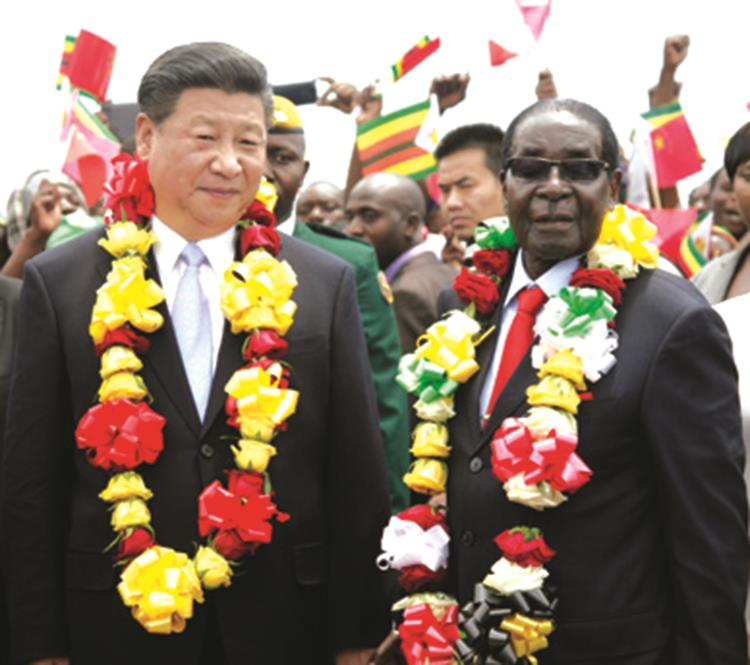 The Sunday Mail
Youyì xiàng chúnjiu – yuè lao yuè hao. If friendship is like wine — the older the better. The Chinese proverb best describes the ties between Zimbabwe and China.
And ample testimony of this came on December 1-2, 2015 when President Xi Jinping reciprocated President Mugabe's 2014 State visit to China to catapult bilateral economic co-operation to greater heights.
Though the major deals were the centre of the show, the discernable warmth and cordiality between Presidents Mugabe and Xi told the story of two leaders with a common understanding, with convergent ideologies.
The warm embrace upon President Xi's arrival said it all, and the hand-in-hand walk-about completed the picture of a friendship in full blossom.
It symbolised the growing friendship between their peoples, moreso capturing their mutual respect and admiration.
They were to give insights into Harare-Beijing relations during the signing of 12 economic co-operation agreements at State House later that evening. A riveting tête-à-tête followed, with nostalgia and present and future co-operation taking prime spots in the conversation.
President Mugabe spoke first: "We, in Zimbabwe, regard China as the best of our friends internationally, and we do that not because the Chinese are rich or beautiful. No. But because China has demonstrated action . . . and they are our all-weather friends.
"I don't know how many times I visited China (during Zimbabwe's liberation struggle). I was remarking to the President that soon after the demise of President Mao Tse Tung, although the Organisation of African Unity established a committee to assist us, most of the assistance for guns, even what they call humanitarian assistance, welfare assistance (was from China)."
He went on: "Almost every year, we went to China to say, 'Please, give us more guns.' And every year, I got many guns that, at least, enabled us to arm a brigade; every year. They also enabled us to train our cadres at the camps, also in China.
"As we host you, we say we are hosting you in your other country, your second country that you helped to free. So, you should feel free that you contributed to our freedom, liberation and attainment of national sovereignty."
On economic independence, President Mugabe said, "This is then the new task that the people have; to turn their natural resources into their wealth, but remain in an environment of freedom, in an environment in which they are the sovereign owners of their country and must guard against those others who want to impose their own weight, their own stance.
"National sovereignty and freedom were an objective of the past. Now that we have attained them, they become the means to further objectives, these objectives being the transformation of our natural resources so that they can become the food they want to eat, the clothes they want to wear, the vehicles they want to drive."
He also said, "That is another form of struggle where we need the technology, the experience and, indeed, the capacity, financial capacity, which our friends have and they can assist us in that transformative process of getting our wealth and getting our people raised not just as individuals, but as a nation.
"We are no longer fighting the liberation struggle. The main area now is of fighting the disease, fighting poverty, fighting backwardness. When we look at you and see what you have done, not only are you a good example to us, but as a good friend, we also think that you are a good helper in this process of transformation.
"Once you have been to a place, we say the first step, footprint you make, is a lasting footprint which calls for yet another, or many more other footprints. We say, Come again'."
President Xi reciprocated: "Respected President, old friend of the Chinese people, it's such a pleasure to be in Zimbabwe. This is my first visit to this country and I'm here to honour the promise that I made to Your Excellency during the visit you made to China in August last year.
"At that time I said to you, Zimbabwe would be my preferred destination on my next visit to Africa. Here I am, keeping my promise. I want to thank you, Your Excellency, for rushing back from the Conference in France to receive us here in Zimbabwe. When we arrived at the airport, we were overwhelmed by the warmth of your Government and your people."
He continued:
"We were deeply touched by what we saw and we could feel the tremendous reservoir of goodwill of the Zimbabwean people towards the Chinese. And I want to thank you and the whole Cabinet of yours for making such fruitful arrangements for my visit."
President Xi praised the African Union Chair for his principled leadership, describing him as a seasoned statesman.
"You have made important contributions to cementing African unity and moving forward Africa's integration process. I am sure, Your Excellency, you will continue to take Zimbabwe and Africa to new and greater accomplishments. President Mugabe is a seasoned statesman and a founding father of Africa who is respected across the continent. In China, we also have people who hold you in the same high regard.
"We are truly all-weather friends. The traditional friendship between our two countries goes back a long way. It has passed the test of time and international vicissitudes and is as strong as ever. Together, our two countries have shared will and woe together. We have supported each other and engaged in sincere cooperation."
President Xi added: "Your Excellency, in your visit to China last year, we both agreed that China and Zimbabwe should be good partners, good friends and good brothers, featuring mutual support, win-win cooperation and common development.
"I am happy to see that over the past year and more, thanks to the efficient work of both sides, the agreement that we reached on strengthening various areas of cooperation has practically been implemented and the fruits of the cooperation have benefited people in both countries.
"I want to reiterate, Your Excellency, that China places high premium on building our relations with Zimbabwe. Zimbabwe is the only stop for my current tour to Africa for the sole purpose of a bilateral visit. I hope, through this visit, we can cement the traditional friendship we have between China and Zimbabwe. Even our practical cooperation, take our bilateral relationship to the next level and deliver more benefits to the Chinese and Zimbabwean peoples."
At the conclusion of the Forum on China Africa Cooperation in South Africa, the two leaders held hands for close to 10 minutes as they bade each other farewell.
They conversed, softly, warmly like true friends do.
As Kenny Rogers and Dolly Parton sang back in 2013, you can't make old friends.