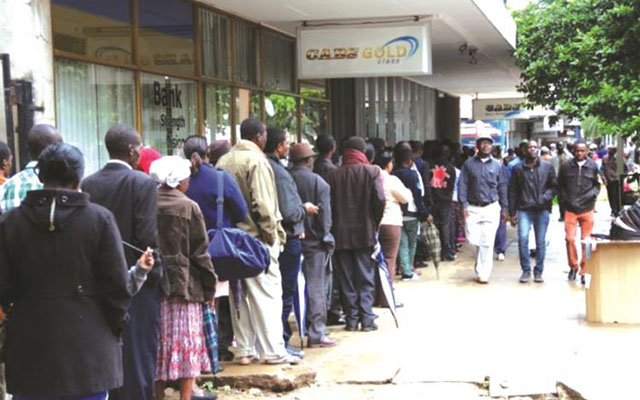 The Sunday Mail
Enacy Mapakame
Government says it is looking into the plight of pensioners and people living in rural areas to ensure they have access to cash during the festive season.
Demand for cash during the festive season usually rises as spending by holidaymakers increases driven by the need to cater for travel expenses, festivities as well as gifts and presents.
The country has been experiencing cash shortages since early last year, giving rise to the use of plastic money and mobile money transactions.
However, most pensioners and the rural communities have limited access to Point of Sale machines and other digital platforms, thereby remaining the most affected.
Reserve Bank of Zimbabwe (RBZ) director (economic research) Mr Simon Nyarota said the apex bank has already injected more money into banks to enhance cash accessibility by depositors.
"This time of the year the central bank always puts more cash into the banks to alleviate cash shortages throughout the banking system," he said in an interview at a currency dialogue organised by Econometer Global Capital, which was held in Harare last week.
"We know banks like POSB (People's Own Savings Bank) and others deal mostly with pensioners, but even the other banks, they have something for the pensioners too.
"Every year we import more money and inject into banks to alleviate shortages," said Mr Nyarota.
Mr Nyarota, however, did not provide the specific amount of funds the central bank has injected into the system.
Finance and Economic Planning Deputy Minister Terence Mukupe said Government is cognisant of the cash shortages and their effects, especially for the rural folk whose transactions are mainly cash based.
Of late, pensioners have been sleeping on street pavements as they queue for cash from local banks, a situation Mr Mukupe said is deplorable and needs to be addressed with haste.
In light of this, he said Government would work on a deliberate policy – beyond holiday seasons – to enable pensioners to access cash from banks hassle free.
"The issue of pensioners accessing cash has been brought to us, we will probably come up with some deliberate policy for them. We know most of them are not able to use POS as well as those in rural areas.
"If we are going to come up with a policy intervention, it has to be sustainable. At the moment all we can do now is encourage banks to help them. We need to be careful about it because if we just say give them money, all of a sudden their accounts will start to balloon and everyone will be looking for an old person to take to the bank," said Mr Mukupe.
Finance and Economic Planning Minister Patrick Chinamasa said the prevailing cash shortages would not disappear overnight and urged people to be patient as Government implements measures to address the shortage of banknotes.