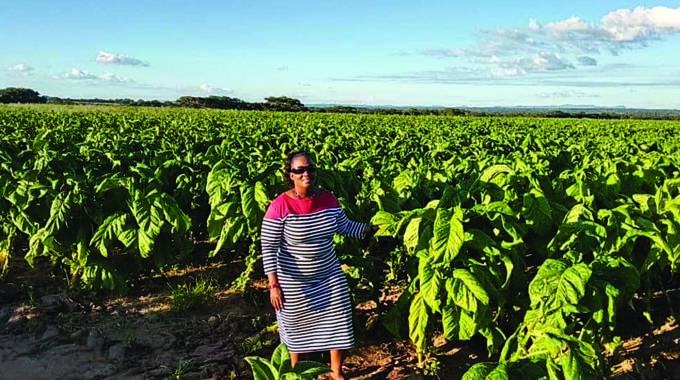 The Sunday Mail
Sunday Mail Reporter
FARMING in Zimbabwe has generally been considered a male-dominated field, but many women are now holding their own in the sector.
Such is the case of 56-year-old Marondera farmer Mrs Angelbetta Madzingira, who is living her dream.
A beneficiary of Government's land reform programme, she is one of the thousands of farmers reaping the rewards of taking a leap of faith and venturing into agriculture.
Her Warwick Farm, located along the Marondera to Murehwa road, is among the most productive farms in Mashonaland East.
Over the years, she has invested heavily in crop and livestock production, as well as horticulture.
She is now recognised as a commercial farmer of repute, and this year, she delivered over 200 tonnes of maize to the Grain Marketing Board. She also did 5 000 kilogrammes of tobacco.
During the winter cropping season, she put 40 hectares under wheat and expects to produce more than 200 tonnes of the cereal.
In an interview with The Sunday Mail, Mrs Madzingira, who is also a human resource consultant, said she has always had a passion for farming.
"Growing up, l had a desire to venture into market gardening and flori-culture, and when the opportunity availed itself through the Government's land reform programme, we applied for land. Due to resource constraints, we could not venture into growing flowers as this is a very capital-intensive project," she said.
"l started doing horticultural produce for export through Interfresh and Mitchell & Mitchell, and we were also doing maize and tobacco. We ran the horticultural project for two years and then realised that we were making more profit with our cash crops as opposed to the export venture. That is when we started focusing on farming high-return crops like tobacco, maize and wheat."
Government's affirmative action of allocating land to indigenous farmers, she said, had transformed the lives of millions of Zimbabweans.
"We have been able to do all that we have done because of the land reform programme. I want to thank Government for this opportunity."
She urged other beneficiaries of land to fully utilise their farms to ensure the nation is food self-sufficient in line with Vision 2030.
"What I want to say to other indigenous farmers is that farming is not about having vast land, but it is about fully utilising the land and managing it effectively to have high yields.
"As farmers, we should make sure that we are, as a country, food-secure all the time.
"Our target is to also grow for the external market and generate foreign currency for the country."
Apart from cropping, Mrs Madzingira has over 150 herd of cattle, over 400 goats and 60 sheep. The farm has 70 permanent employees, while it engages others seasonally.
She is married to retired pilot Mr Wilmore Madzingira and the couple has one child.
"My husband understands my passion for farming and he is very supportive. My message to other women is that they can excel in agriculture. Farming requires paying attention to detail, and that is an attribute that most women are naturally blessed with."