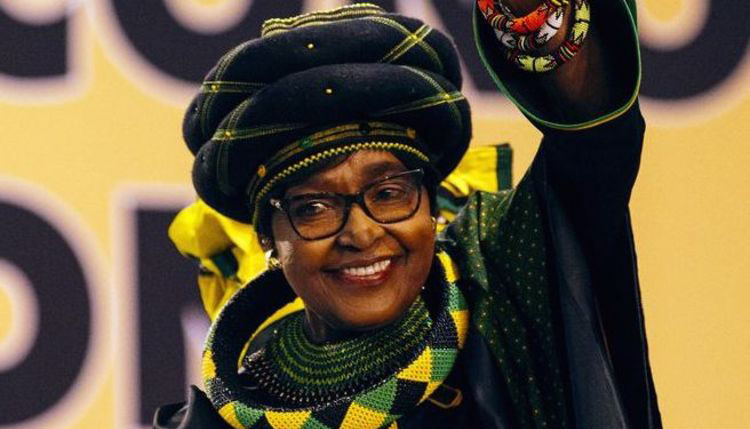 The Sunday Mail
Tau Tawengwa
Firstly, Winnie Mandela is an inspiration to all people across, class racial and gender boundaries.
The other day I read a report about how women across the political divide have vowed to stand by former MDC-T deputy president Thokozani Khupe, who has been in a power struggle with her one-time MDC-T comrades.
This act of solidarity occurred when a group of some of the country's most powerful women came together for a high tea event, during which they pledged their support to Khupe's cause.
One can imagine this elitist incident, probably comprising of women with designer bags, expensive shoes and hair-dos pledging allegiance to support each other in the boardrooms against the barrage of patriarchal oppression.
Of particular interest to me were the comments made by the outspoken MDC-N legislator, Priscilla Misihairambwi-Mushonga, who stated that battle lines had been drawn when men started "beating" Khupe.
"If this is going to be about who is more powerful then watch this space, there will be a time when we will be holding women's rallies regardless of which political party you come from to stand together as women," she said.
"The treatment that we get from men in parties is not right because for half of our lives we have been protecting them."
Honourable Misihairambwi-Mushonga's comments got me thinking.
How important is gender balance in African politics? Is leadership determined by gender? Should female leaders be judged and selected by a criteria different from how male leaders are judged?
Interestingly, the Khupe solidarity event took place less than a week after the death of Winnie Mandela, who is without question a political superhero in the eyes both men and women across the racial and political divide all over the world.
I have often wondered why Winnie Mandela did not try to run for the ANC's top office in her lifetime — after all, she had the wherewithal, charisma and support to challenge any of the leaders who succeeded Nelson Mandela himself.
Yet despite her influence, she did not run for the top ANC office.
In this article I will attempt to see whether any comparisons can be drawn between Winnie Mandela's leadership and Zimbabwe's elusive feminist movement, and I will try to determine why Winnie Mandela did not rise to the ANC presid-                                ency.
African feminism is different from Western feminism in that while the former is solely preoccupied with challenging male dominance, the latter resists oppression based on ethnicity, class, tradition, race and gender.
Now, I don't have anything against the solidarity shown towards Dr Khupe. In fact, I commend such camaraderie and cohesion.
However, when I look at the political history of Winnie Mandela and try to draw comparisons with our prominent Zimbabwean woman politicians, some contradictions emerge.
Firstly, Winnie Mandela is an inspiration to all people across, class racial and gender boundaries.
She inspires women in Deipsloot, Mamelodi and Soweto, just as much as she inspires men in Sandton and Fourways.
Put plainly, she transcended the misconception that leadership is gender, class or race based.
While Nelson Mandela was in prison, she did not relent in her struggle against oppression in the forms of white apartheid or patriarchy in general.
She too could have held solidarity lunches overseas and had high teas about how the apartheid government tried to kill her and separated her from her children.
She too could have held talk-shops about how the ANC was male dominated.
Instead, she was on the streets, on the frontline, hitting back at oppression blow for blow — so much that her radicalism in the 1980s allegedly frightened the likes of OR Tambo and the imprisoned Nelson Mandela, who thought that her radicalism was bringing the anti-apartheid struggle into disrepute.
"Together, hand-in-hand, with our matches and our necklaces, we shall liberate this country," she said in 1986, at the height of the struggle.
In other words, she was willing to necklace anyone, man or woman, who stood in the way of her liberation objectives.
That's how radical she was.
Consequently, perhaps when our Zimbabwean feminists and female politicians announce that the "battle lines" were drawn when men chased and allegedly beat Dr Khupe, perhaps they should pause and ask themselves why there were not any women in the lower party structures springing to Dr Khupe's defence.
Put plainly, unlike Winnie Mandela's politics, Zimbabwe lacks radical women leaders who inspire both men and women across racial, class and gender lines.
The Winnie Mandela type of female leaders who inspire women and men at all levels of society right down to the lady selling at "musika".
I'm not trying to propagate assault or "necklacing", but I am trying to make the point that international respect and acknowledgement as a leader does not come from elitist high teas.
Judging from Winnie Mandela's experience, international respect and acknowledgement is derived from street action, and taking on the oppressive system blow by blow, irrespective of consequences until your demands are recognised and granted.
That's what Winnie Mandela was, she inculcated radical politics to such an extent that her male counterparts in the South African struggle fell short of her courage.
At the end of the day she had the respect of both her female comrades and her male counterparts; she had the respect of the masses – both poor and rich.
Perhaps that is the kind of respect our female politicians and Zimbabwean feminists in general should seek. Why Didn't Winnie run for the ANC presidency?
Winnie Mandela ran for several ANC senior positions including the post of the ANC Women's League in 1991. In 1997, she was nominated for the position of ANC deputy president from the floor of the ANC's 50th national conference.
Winnie Mandela withdrew her nomination with the famous words: "Comrade Thabo I think I do understand what is happening. (To) those comrades who nominated my name I apologise for having to decline."
Her remarks were met with loud cheers and a standing ovation from the ANC audience.
There is a high chance that she could have secured the ANC deputy presidency had she pursued it.
Nevertheless, her alleged involvement in necklacings, kidnappings and murders in the 1980s became her political albatross right up until the time of her death.
The irony is that while Winnie Mandela's radicalism won her international respect, her radicalism also made her too controversial to serve in the ANC's presidium.
Before her death, she publicly declared that Nelson Mandela had "sold out" and betrayed the struggle, perhaps because he was not as radical as she was.
She also publicly showed her support for Julius Malema and his vision to nationalise farms and mines in South Africa. All in all, it was not her gender  but her radical political positions that prevented her from acquiring the highest office in the ANC, especially considering that the ANC has preferred a moderate and appeasing approach to the South African economy and foreign capital since 1994.
At the end of the day, Winnie Mandela will be remembered as a global icon and a true African feminist.