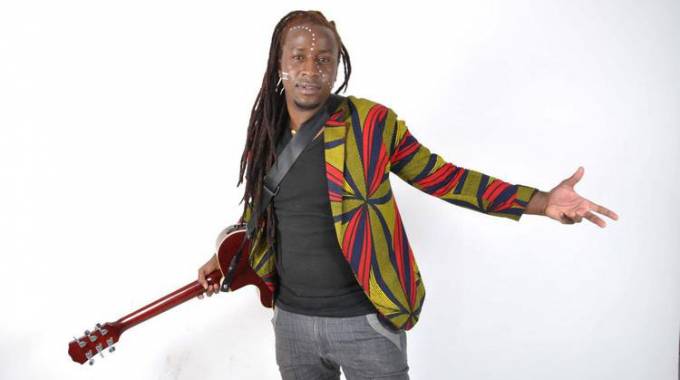 The Sunday Mail
Zion Divaris
CRITICS have run out of superlatives to describe Willis Wataffi's latest offering, "Uhuru/Independence".
Showbiz is abuzz with excitement of having good music on the market, in an industry struggling to cope with the effects of half-baked productions from mostly backyard studios.
It appears — Wataffi has finally shed the "former Africa Revenge" tag so often used to qualify him as an artiste worth being given an ear. His latest and its accompanying videos make him simply Willis Wataffi, no references needed, no talk of reunions and definitely no asking "who the heck he is".
Fortunately as well, musically, the name belongs to royalty. It carries no blemish in terms of quality and compactness of sound. "Uhuru/Independence", his fourth offing, is another astounding project — it is an exhi­bition of his dexterity as a writer, singer and producer.
In a year where the follower of Zim­babwean music is still smarting from the death of the late superstar, Dr Oliver "Tuku" Mtukudzi in January this year, not that Selmor Mtukudzi is not a perfect replacement; Wataffi is that antidote for the gruelling pain that his followers went through.
Coincidentally, he is of Kore Kore descent, the same ancestry as the late Tuku, and he emphatically reminds the listener with ample doses of the dialect. But Wataffi is humble. To him, those who compare him with Tuku "are far too kind".
He also adds that the comparison imposes an unwanted ceiling to his work.
"Firstly, nobody could ever replace the late great legend Dr Tuku," said Wataffi.
"It's natural that when such a tragedy hap­pens people usually are looking for replace­ments because Tuku provided a way of life for everyone in Zimbabwe and the entire world, so it's natural for people to look for stuff out there closer to what they loved about Tuku.
"However, I don't want to be a replacement for Tuku as I have my own path to walk and follow.
"Those who feel that way must not put that kind of responsibility on me or any emerging musician for that matter. We are all walking our different paths and I want to be me. It's an honour to be thought of that way but I do not want that comparison. I must be allowed to take music lovers through my path and footprints the same way Tuku did. He never copied anyone."
Record label
Now running his own record label, and a television and film company, Wataffi believes every artiste must strive to own the means of production.
"The music company has grown into a record label that now has mentorship pro­grammes helping a lot of struggling young musicians. We have signed artistes like Ska­wara, Tshaka, Nandi and AjiMic. They all have recorded projects.
"The film and television company Qaya Rootz Pictures has a team of great people among them the producer and director, Lira, and a team that helps with everyday issues," the singer said.
Wataffi developed a passion for film and television when he was in Bulawayo at Amak­hosi from 1997 to 1999 and now he says he has seen it befitting to do all the music and video production in-house. He also hopes to grow Qaya Rootz Holdings into a full media com­pany with both radio and television channels.
"I think it's best if we are resourceful enough to have everything in-house and be able to grow it into a television station one day."
New album
"Everybody loves a new born baby and we wait till it has grown to see if they will fulfil the promises they bear at birth. We have done everything we could to make sure that the baby is born right and presented to the world. And we are now ensuring that the world receives that baby and see its beauty and longevity.
"Qaya Rootz Musik created its niche a long time ago and we are doing the best we can to satisfy that market and grow into other markets out there which is the world music market. I'm just as excited to share with the world this new born baby and the gifts have been overwhelming."
Promotional tours and management
"I am also working towards getting record deals with global companies so that our work goes international. Apart from that, I will soon be touring the Middle East, North America and the United Kingdom where some of the work will include licensing deals.
"I am also in the middle of negotiating management deals, which will see me hav­ing proper management. I have never had a manager and this should take the work a notch higher. We are in over drive now."
Wataffi produced the album while some tracks are co-produced by South Africa-based Edgar Muzah. Local producer Tammi Bimha of Naletha Music, Casper Beats and Chiwedar mixed and mastered the songs.
"I was looking for a different feel and I am happy we achieved it by working with differ­ent producers," he said.
To confirm his sentiments, the album is a pot-pourri of diverse ethnic African, pop and other new sounds. This is also enhanced by the seamless collaborations with a diverse pool of artistes who would hardly make it onto one playlist.
It takes a genius to bring together Mbuya Stella Chiweshe, T-Gonz and Willom Tight on the same album. On any other day this would be a disaster of Hiroshima proportions but Wataffi achieved class and came up with an album which can be played anywhere in the world.
The sound he achieved will help followers of the now retired Mansa of Mali, Salif Keita, and those of Tuku to move on. More impor­tantly, it will make every music lover marvel at what he has managed to achieve in a space dominated by Zim dancehall.
It gives the African music follower a sense of belonging due to the multiple languages that include Xhosa, Ndebele, Shona, Eng­lish and Swahili. The tracks on the album are "Nhimbe", "Mashayamombe" featuring Stella Chiweshe, "Udaliwe" ft Willom Tight, "Ndife", "Ring on a Finger" ft T-Gonzi, "Ndimi", "Humambo", "Tezvara" ft Tshaka, "Ngirozi", "Nhema", "Jeka Zuva"