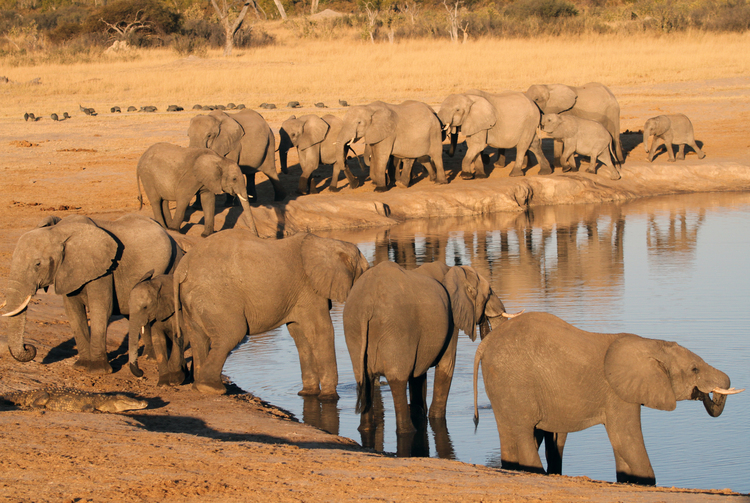 The Sunday Mail
The Zimbabwe Parks and Wildlife Management Authority (ZPWMA)'s emblem proudly reads "In harmony with nature".
Harmony Agere recently in Hwange
It represents the pride and peace that the people of Zimbabwe, through the Authority, shares with flora and fauna.
However, that harmony seems to have taken a dip as serious competition for resources between humans and animals, especially elephants, is emerging in various wildlife districts.
According to sources in Binga, Hwange and Tsholotsho, cases of human and wildlife conflicts are growing as the elephant population continues to grow.
Villagers in these areas have somehow found humour in the situation saying it is now easier to bump into an elephant than to bump into a fly.
According to Government statistics, the country now has 83 000 elephants, almost a double of the country's carrying capacity of about 45 000.
Hwange Rural District Council chief executive officer, Mr Phindile Ncube, said the district has become a hotspot for human and wildlife conflict due to the rising elephant population as well as the settlement of people in conservation areas.
"Hwange has become a hotspot for human and wildlife conflicts because of the rising population of elephants," he said.
"Since culling was outlawed it has become difficult to manage the elephant population and they are now causing havoc because they are destroying crops, homes and even killing people sometimes.
This is partly a result of the resettlements that were done in game parks."
Mr Ncube also backed the Government's decision to sell some of the elephants to reduce the population and raise funds to manage wildlife.
In Binga, Chief Sikalenge of Sialichaba Village, said the elephant population in his area has grown drastically.
"The number of elephants has grown too much and they are destroying our crops, houses and even killing people in some cases. I grew up here and since I was young I have not seen so many elephants."
Chief Sikalenge's Headmen for Siamanzi, Chilyata 5 and Chilyata 7 wards all echoed the Chief's sentiments saying Government should find a way to deal with the situation.
"We plough but we do not harvest anything because of the elephants. They destroy everything in their way and we appeal to Government to do something about it," said Headman Siamanzi.
"They can pass through here at any time and they go around in large groups," he added.
However, Community Areas Management Programme for Indigenous Resources (Campfire) Association of Zimbabwe director, Mr Charles Jonga, said some of the areas where cases of human-wildlife conflicts have been reported are being affected by human over-population.
"A number of Campfire areas are threatened by increasing human populations, which now average 16 people per square kilometre in some key wildlife districts, compared to 10 people per square kilometre when Campfire was formed in the late 1980s," he said.
"National statistics show that Nyaminyami district's population grew at the rate of 17 percent (34 454 to 41 420) and households at the rate of 22 percent (7 475 to 9 565) in the decade after 1991. This shows that the benefits of wildlife have been diluted," added Mr Jonga.
He said as the human population continues to grow, more and more of wildlife's natural habitats are diminishing. However, despite abundant evidence of clashes between humans and elephants, some activists have condemned Government's plans to sell some of the calves.
Actor and honorary director of the animal rights group, People for the Ethical Treatment of Animals (Peta), Pamela Anderson, recently wrote to Environment, Water and Climate Minister Saviour Kasukuwere urging him to suspend plans to export the jumbos.
"I am writing to urge you to do everything in your power to assist in the efforts to stop such profiteering at the expense of wildlife," she said.
"I have been deeply upset by the heart-breaking news about the 80 or so baby elephants who were torn away from their families, many even witnessing their own family's gruesome slaughter."
Exporting elephants is not illegal in Zimbabwe and officials say the trade is within Convention on International Trade in Endangered Species regulations.
According to ZPWMA, an adult elephant consumes at least 300 kilogrammes of food and 200 litres of water per day.
With Zimbabwe having 83 000 elephants, about 16,6 million litres of water and about 24 000 tonnes of food are needed every day for the country's elephants.