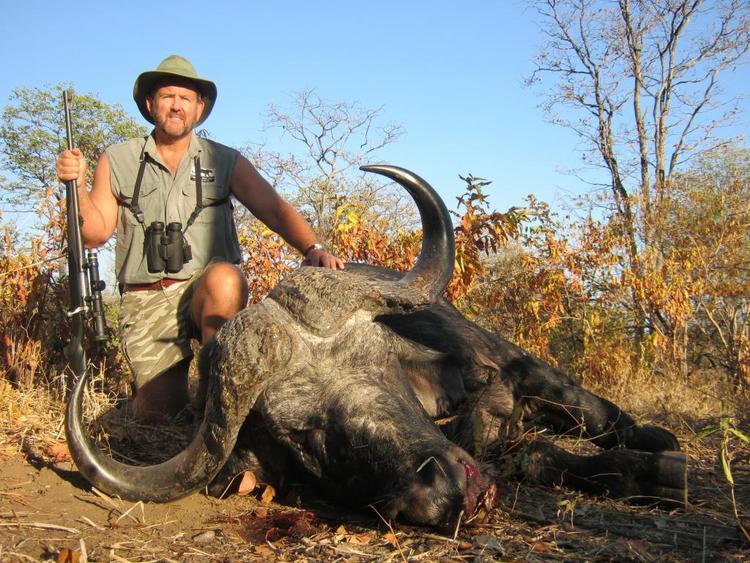 The Sunday Mail
GLOBAL aviation giant Emirates Airlines has sent shock-waves through the South African hunting industry after it became the second major airline to place an embargo on the transportation of elephant, rhino, lion and tiger hunting trophies in less than a month.
The embargo becomes effective on May 15, a spokesperson for Emirates has confirmed.
Emirates Sky Cargo's decision was publicly revealed on Tuesday, in response to an inquiry whether the airline would follow South African Airway's recent example announced in April.
Addressed to Sarah Dyer, a UK representative of Cach (Campaign Against Canned Hunting), Emirates wrote in their emailed reply, "Our policy on hunting trophies is that in addition to the existing embargo on Cites-1 specimens (most critically endangered) effective 15th May 2015, we will not accept any kind of hunting trophies of elephant, rhinoceros, lion and tiger for carriage on Emirates services, irrespective of Cites appendix".
Chris Mercer, executive director of Cach said he was "impressed beyond all expectations at Emirates' strong moral stance.
"Firstly, placing the embargo takes courage, but emphasising it is 'irrespective of Cites appendix status', that shows conviction," Mercer said.
According to Emirates, "this decision is to support international governments, inter-governmental and non-governmental organisations that are managing wildlife population towards sustaining the task to eliminate illegal trade and transportation of hunting trophies worldwide and saving wildlife heritage".
Conservationists commended South African Airways for its bold decision to stop transporting hunting cargo after SAA Cargo executive, Leratho Mphete, issued a policy and procedures advisory on April 21, notifying internal stakeholders the airline had imposed the embargo with immediate effect.
International Fund for Animal Welfare spokesperson, Neil Greenwood has added his voice to the praise being directed at SAA for the embargo saying, "The proverbial gauntlet has been thrown down — now it will be interesting to see which other international airlines will clamp down on illegal wildlife trade. Or will pressure from the hunting industry be too much to bear?"
Hunting trophy gauntlet
"This audacious move by SAA and its decision makers needs to be commended. SAA is a major stakeholder in Africa's tourism industry and has taken a positive, proactive and strategic decision to help conserve our rich and diverse natural heritage," Greenwood said.
The Professional Hunters Association of South Africa, whose outfitters and members make arrangements and apply for hunting permits on behalf of foreigners, said it would be attending to the matter urgently after receiving a letter notifying it of the SAA Cargo embargo.
Unlike South Africa Airways, Delta Airways which is said to be the main transporter of hunting trophies out of South Africa, has zero restrictions in place according to Safari Cargo Services.
Delta has not responded to an inquiry on if it was feeling the heat from a petition launched on Change.org by Chris Green, chair of the American Bar Association's animal law committee.
Change.org has since received over 57 000 signature-strong petitions for the CEO of US- Atlanta-based Delta Airlines, Richard Anderson, to join the list of airlines refusing to carry hunters' exotic trophies.
"The export of lion 'trophies' hunters bringing home animals' heads and bodies to stuff and mount has increased ten-fold," said Green.
Delta accepts trophies
In a carefully-worded statement to traveller24, while avoiding answering a list of questions, Delta media officer Lindsay McDuff gave a standard-form statement which read, "Delta accepts hunting trophies in accordance with all US domestic and international regulations, which prohibits the possession of trophies or other items associated with protected species.
"Customers are required to produce detailed documentation of trophies to US Customs and Border Patrol officials as their trophies undergo inspection."
Cach's Mercer said Delta's statement "hides behind dysfunctional conservation regulation in order to avoid their responsibility, and to avoid making themselves an accomplice to the degradation of African wildlife by an out-of-control hunting industry".
With strict new ivory laws in certain states like New York and New Jersey, McDuff did not answer whether Delta had received any new or recent directives over the transport and import restrictions of hunting trophies to the US.
"As one of the world's largest airlines and the only US carrier with direct service to South Africa, Delta Air Lines is in a key position to help protect these and other vulnerable wild animal populations from further hunting and poaching pressures," Green said.
"By refusing to play a role in the wildlife trafficking supply chain, Delta Airlines can demonstrate the strong and ethical leadership that has made it such a successful and respected company.
"More importantly, Delta will be helping preserve a valuable natural resource that provides one of the primary reasons customers choose to fly Delta to visit Africa and other wilderness destinations.
"As a loyal, 'Diamond Medallion' Delta customer who has logged over 650 000 miles with the company, I can attest that eco-tourism now accounts for a full 12 percent of GDP in some African countries.
"As the chair of the American Bar Association's animal law committee, I also am acutely aware how over-hunting has devastated threatened and endangered species.
"It is a tragic circumstance driven almost exclusively by the US$20 billion illicit trade in imperilled animal body parts," said Green.
However, with a strong American hunting lobby, it does not appear Delta will cave in to threats of a boycott.
Recent seizures of ivory, rhino horns, lion and tiger body parts, illustrate how unscrupulous organised-crime syndicates using fake permits, false declarations, mis-labelled consignments and other nefarious methods including passenger couriers, have successfully by-passed security procedures through corrupt activities. — Traveller24.