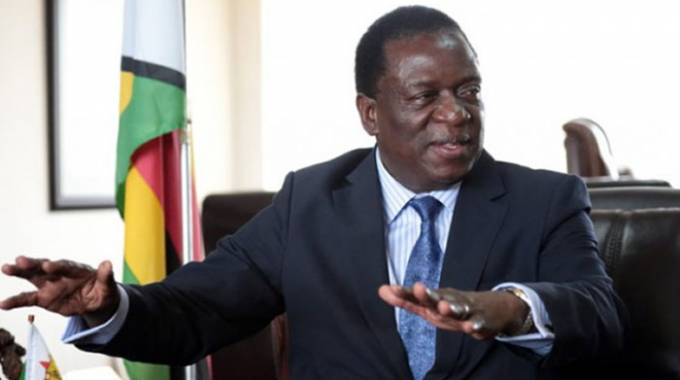 The Sunday Mail
Delrone Sauramba
If we are to measure President Emmerson Dambudzo Mnangagwa's performance without bias, we have to measure his achievements since he ascended to the highest office in the land.
On the economic front, Zimbabwe has been a hive of activity since the day ED declared that the country was open for business.
That the cash crisis is not yet resolved is inconsequential considering the headway that has been made in attracting FDI, which is a major solution to that challenge.
Industries that had been closed are coming back to life.
We all know that the only sure way of dealing with the current liquidity crunch is by building up the capacity of our industries. Billions of dollars in investment pledges have been made in a relatively short space of time.
The international community has warmed up to Zimbabwe all because of the man's diplomatic forays.
One key development under ED is that the country has experienced the most peaceful campaign period since Independence from Britain.
The man himself has been subjected to the most severe form of violence, having escaped death by a whisker after an assassination attempt at White City Stadium on June 23.
The MDC-Alliance has tried to insult the man, hoping to force him to react so that they cry foul, but they have been allowed to traverse the width and breadth of Zimbabwe canvassing for votes, lying and disparaging the current Zanu-PF leadership.
No one is interfering with their campaigns, which is understandably frustrating for the opposition.
It can only be disingenious to fail to appreciate that Zimbabwe is on an entirely new trajectory.
Someone would think that a man who has charisma, who can quote scripture verses and articulate himself eloquently automatically qualifies to be God's choice for a king. I have learnt of people who do what the masses want to see, as well as say what the masses want to hear then show their true colours when given the levers of power. That some guy in the opposition circles went to a Theological College part-time and graduated with a diploma does not fool me for once.
I know some who have doctorates in the same, but they are wolfs in sheep's clothing. Vane zvavari kutaimira.
We all know that many Zimbabweans, including voters, profess to be Christians, but I am quite convinced they cannot be fooled by those who sing Christian hymns at political rallies.
I know of a very powerful Zambian pastor who has been trying to be president for years.
He recently decided to get back to the pulpit, zvaramba. You don't flatter God, who knows exactly what is in your heart.
One moment you are threatening violence, the next moment you are quoting Scripture: we cannot be fooled.
The Bible says in Exodus 22:28 :"You must not blaspheme God nor curse the ruler of your people."
People have gone on and on about how ED has been in Government for 38 years.
He was not President; he was an appointed office bearer as minister holding various portfolios. He was an appointed office bearer as Vice-President.
The man actually suffered persecution for being a perceived threat to Robert Mugabe. There were some miscreant who knew what is in him and it made them feel insecure.
Chamisa was with Morgan Tsvangirayi (may his soul rest in peace) when the party splintered. The main reason for the splits was that Tsvangirai Morgan had become dictatorial in his leadership style. Welshman Ncube, Tendai Biti and Elton Mangoma were labelled rebels and heckled for it.
Mangoma was on the receiving end of the party's instruments of violence.
Can we also say Chamisa is just like Tsvangirai, the serial womaniser, simply because he was there in the MDC set up all along. He has hounded out of the party the only elected vice-president. A video of his supporters shouting obscenities at Dr Thokozani Khupe is there in the public domain. They disparagingly called her "hure" (prostitute) for not accepting Chamisa's shenanigans. They also tried to burn her alive.
So, who do you want to fool?
I remember listening to the video clip posted by Chamisa's Facebook wall when ED was dismissed from Government last year. He celebrated the development, saying this had given MDC an early Christmas present. That was before ED bounced back gracefully to assume the reins of power. Chamisa knows who he is up against; that is why they are now talking of non-issues at Zec. The idea is to cry out loud and get sympathy so that when you are nailed in the elections wowana pekuhwanda. The guy mentioned that if he looses to ED in the coming election, he will resign.
Let him get ready for an implosion at Harvest House soon after being walloped. On the 30th, President ED Mnangagwa will get a fresh mandate from the people of Zimbabwe. He will be measured by this full term and knowing ED the way I think I do, he will sign off with a sterling performance.
The new Zimbabwe is upon us. Captain ED is steering the ship from troubled waters and needs our support.
I wish all Zimbabweans a peaceful election. Aluta continua!