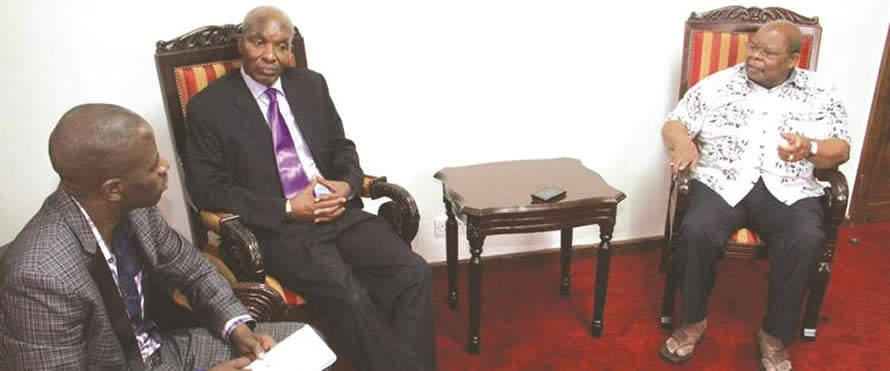 The Sunday Mail
Former Tanzania President Dr Benjamin Mkapa is a man who speaks his mind, especially on issues to do with the development of Africa. Since leaving office in 2005, he has been traveling around the world defending and advancing Africa's cause. Our Deputy Editor Munyaradzi Huni flew all the way to Tanzania to chat with Dr Mkapa. In this interview, Dr Mkapa is as frank as ever. He explains Dr Nyerere's vision for Africa, Tanzania's costly role of hosting several liberation movements and the relationship between Africa and Europe.
He attacks some African leaders who have developed a sickening penchant for photo sessions with the former colonial masters. Below, we publish the first part of the interview. In the second part, to be published next week, Dr Mkapa  for the first time reveals why he could not take up the mediation role between Zimbabwe and Britain and concludes by giving MDC-T leader Morgan Tsvangirai a political jab. Read on …
MH: Thank you so much for taking time off your busy schedule to afford us this interview, Your Excellency. Your Excellency, you were the President of Tanzania from 1995 to 2005. How has life been since you left the presidency? What's keeping you busy these days?
Dr Mkapa: I have spent most of my time on the international scene because I get invited to international meetings of former heads of state and government in Africa which is exemplified by the Africa Forum under Cde Joaquim Chissano (former President of Mozambique). I am also invited to what is called the Inter Action Council, which is a Council of former Presidents and Prime Ministers worldwide. We are more than 80 or so there. I am also a member of the Club of Madrid, which also brings together former Presidents and Prime Ministers who were democratically elected and who left office democratically. There we discuss the state of the world and I attend many of those meetings because I think I can present another view of Africa to the international community. Then there is the South Centre which is the product of the work of the South Commission which was chaired by the late Mwalimu Nyerere. It sought to facilitate co-operation between countries of the south in all spheres but especially economic and social co-operation. It also facilitates a more equitable interaction between southern and northern countries.
MH: During these meetings and as your interact, what comes out really in terms of the attitude towards Africa by outsiders?
Dr Mkapa: I think there is a predominant feeling in the developed countries that Africa, for the most part, are failed states. That's the expression they use. They say while we won our independence, we are not managing development well. I take the opportunity to tell them that we are trying our best against very heavy odds because the functioning of the international economic system was designed in such a way that we would be servicing developed countries, not servicing ourselves. Those are some of the impressions I have to correct. To explain our effort towards self-reliance and national building.
We inherited the political systems of those who were colonising us, we inherited their economic systems and now being independent it means you must redefine all these associations and economic interactions.
MH: When you look back at the two terms you served as the President of Tanzania, would you say you managed to follow the vision of the country's Founding Father, Dr Nyerere?
Dr Mkapa: Yes, I think I did. I will cite two important characteristics of the United Republic of Tanzania. First, it was the furtherance of African Unity because Mwalimu was able to join independent Tanganyika and Zanzibar into the United Republic of Tanzania. I was able to consolidate that union throughout the 10 years, and I feel good about it. The other aspect that I felt I did my best was to renew the philosophy of self-reliance — trying to do as many things for our selves. This does not mean rejecting assistance from friends such as the Scandinavian countries, and this does not mean we should not borrow from outside Africa. Mwalimu used to say "drop the bucket where you are." That really to me was a translation of self-reliance. And when you have to borrow you have to borrow sensibly and cautiously. So I was able to put the economy in very good shape as I was leaving office. I furthered the cause of education because as you know Mwalimu in Swahili means teacher. There were other social welfare indices which went towards building an egalitarian society. I also opened up the economy to the outside world.
MH: What exactly was Dr Nyerere's vision for Tanzania?
Dr Mkapa: Well, he wanted to see a united country, a developing country and people developing in conditions of equality and justice. That's why he embarked on the socialist path. I think he achieved a great deal so much. On the unity front you must remember that we are a country of about 125 tribes. He was able to unite us to a point where the issue about tribes is not a factor at all in all spheres of development and governance. That was a great achievement indeed. We are also a multiple religious society — Christians, Moslems, traditionalists, etc — we are also here, but we have not really witnessed much tensions between people of different faiths. That's because Mwalimu planted seeds of unity.
MH: And what was his vision for Africa as a whole?
Dr Mkapa: He preached African unity. You may have read that during the independence struggle in Eastern Africa, Mwalimu and his party then in Tanganyika, the Tanganyika African National Union, was prepared to hold back the independence of Tanganyika so that we could get independence together in a larger unit called East Africa. He held back the independence of Tanganyika waiting for the territories of Zanzibar, Kenya and Uganda, who were also evolving towards independence. You know we were the first to get independence. He wanted these countries to get independence at once as East Africa, but, of course, as you know, others were not ready and I am not blaming them. He was a great advocate of African unity. He did not believe that the unit could be got by waving a magic wand. He believed that it was the regional approach that would achieve this.
MH: We understand that at some point you were Dr Nyerere's Press Secretary. You obviously worked closely with Dr Nyerere. How would you describe the Dr Nyerere that you worked with?
Dr Mkapa: I was his Press Secretary towards the end, almost the end of the liberation struggle in Southern Africa, barring South Africa. The struggle was reaching its peak in Southern Africa, so I spent a lot of time at the meetings of the Frontline States rubbing shoulders with freedom fighters. What struck me was the single-mindedness with which he was able to mobilise our people in Tanzania to back the liberation struggle.
MH: Yes, Your Excellency, many people have always wondered how did he manage to mobilise the people of Tanzania to support the struggle considering that Tanzania got its independence without fighting a war.
Dr Mkapa: Well, he was a great teacher. He would explain the circumstances which required us to assist the liberation movements. He said time and again that our independence was meaningless unless it was linked with the independence of other African states. He was able to persuade our people that our dignity was so much less while there were Africans oppressed in Southern Africa. Therefore, he said we must mobilise to assist those who were already struggling to gain independence. He was a charismatic figure and there is no doubt about that. He was a very charismatic person among our people. He had such tremendous integrity.
MH: Your Excellency, we see that Tanzania got its independence in 1961 and about two years down the line, this young country accepts the huge responsibility of hosting liberation movements, giving them training bases. The OAU Liberation Committee was also in Tanzania and Dr Nyerere was the leader of the Frontline States. What was the motivation of taking up all these delicate, demanding and risky responsibilities?
Dr Mkapa: First it was the conviction that Africa is one. We are one people really. He was to repeat this before the South African parliament after the end of apartheid in 1994 to tell them that I have travelled around the world and no one asks me about the situation in Tanzania, in Liberia, in Kenya or some other African country. He said they just ask me, how is Africa? They see me as an African. So you can see this was a really ingrained feeling that we are one people. So as I have said, our freedom and our capacity is diminished when you have other people still under colonial domination and exploitation. So he had the courage and that's what distinguishes him, he had the courage to argue the case before the oppressors and he had the courage to ask for sacrifices from his people. The combination of those two really enabled us to follow behind him.
MH: In his own words, Dr Nyerere said "I am a schoolmaster by choice and a politician by accident." Now we see this sea of transformation where this schoolmaster becomes an influential and leading figure in African politics. Explain to us this transformation.
Dr Mkapa: (laughs) Well, I suppose he was continuing with his teaching commitment. He really would argue and explain himself well to his colleagues in Africa about our relations with our former colonial masters. How they continued to try to dominate us, why we should try as much as possible to build independent economies. Not tie them totally to the economies of our former colonial masters. He said we should argue new economic relationships. So you see, he was continuing his teaching.
MH: From 1977 to 1980, you served as the Minister of Foreign Affairs under Dr Nyerere. During this time, the liberation struggle in Rhodesia was intensifying. Can you briefly tell us about Tanzania's foreign policy during this time.
Dr Mkapa: The one thing that distinguished the foreign policy was to see the liberation struggle succeed. I interacted a great deal with the Americans, with the British and we interacted very pro-actively indeed to see whether we could find common ground. This is what I remember most. There was a bit of internationalism in terms of the Non-Aligned Movement and so on, but those were really by way of reinforcing or helping the liberation struggle.
MH: And how much did Dr Nyerere contribute to the crafting of this foreign policy?
Dr Mkapa: Ooohh, he was the craftsmen and I was the faithful implementer of his foreign policy and vision. There is no doubt he was at the helm.
MH: You said as Minister of Foreign Affairs you interacted with the British. How were your interactions?
Dr Mkapa: To the extent that we were arguing, we were arguing about how long can we tolerate colonialism and apartheid. You remember the Americans had this concept of constructive engagement. We said you can't have constructive engagement between oppressor and the oppressed. We said you should support the oppressed so that the oppressor can free the oppressed. We would argue whether colonialism should take six months, one year and so on. I can tell you this was the time when the Frontline States were most active because Mozambique had got its independence in 1975, we were arguing for independence for Namibia. We then brought in Botswana, the military government in Nigeria which was led by General Obasanjo. They felt so acutely with us that the independence of the African was really diminished with apartheid still continuing and so they decided to be part of the Frontline States. They said we may not be geographically close but in terms of the cause we are together so they joined the Frontline States.
MH: When the Smith regime declared UDI in November 1965, clearly Dr Nyerere was furious. In his own words he said "our anger and suspicion arise from the fact that Britain is not even now — 14 December 1965 — committed to the principle of independence only on the basis of majority rule." He continued saying "Africa is not hungry for blood." Was Dr Nyerere a tough talker?
Dr Mkapa: When it came to colonialism and apartheid, he had no compromise. Absolutely no compromise. He was tough.
MH: Also when Smith declared UDI, at that time Harold Wilson was the British Prime Minister. Dr Nyerere had no kind words for the British leader.
Dr Mkapa: Yes, of course. You remember that the Organisation of African Unity had resolved that after UDI, if the British do nothing, then we cut diplomatic relations with them. Tanzania was the first to do this and others had to be persuaded to line up with us. That shows you how committed Mwalimu was to this cause and he had to be tough and rough. This helped in terms of negotiations for independence.
MH: Up to this day, many people wonder what motivated the decision by Tanzania to host liberation movements and provide them with training bases?
Dr Mkapa: The decision to establish the Liberation Committee was the decision of the OAU and then it was up to countries to offer to host the liberation movements or not. In our case, it was the logical thing to do because we were the easiest way towards the occupied territories — Mozambique, Zimbabwe, South Africa. So our geographical location played a role. We had also assisted liberation movements to our north, so really, small as we were, we thought we should assist these liberation movements. We were also prepared to make the sacrifice.
MH: As the host of these liberation movements, how difficult was it handling this mammoth task considering that there was quite a number of the liberation movements, that sometimes there were fights among the leadership of these liberation movements and on the other hand, Smith in Rhodesia remained stubborn?
Dr Mkapa: We would always say we will support the fighters. If you had a political party with a fighting army, we would support you. We would also urge understanding between armed groups in one country. We would say concentrate on the enemy and work for unity, for collaboration. Don't turn guns on each other. Turn the guns on the oppressors.
I know sometimes we would be accused of favouring one liberation movement against the other, like in your country's case there was always a question of ZAPU and Zanu. Who was more ZAPU? Zambia was more ZAPU? We were more Zanu and so on. All sorts of accusations, but the leaders would mean so often and speak so frankly. They would speak among themselves and at the end of it we would be called in. There is no doubt that there was a lot of interaction and so on. There was a lot of suspicion, but in the end, thank God it all worked.
MH: What was Dr Nyerere's strategy to the liberation struggle because we read that he had a one country at a time approach?
Dr Mkapa: It was political work which he would leave to the newspapers, remember I was a journalist at a number of newspapers. This political work would also be done by the Ministry of Foreign Affairs through the Non-Aligned Movement, through the OAU on one side. The other one, was practical assistance to the liberation movements. This is the way it worked. He would do his own political work with the leaders of the liberation movements.
It wasn't plain sailing because sometimes our reading of the situation would be different, but somehow the liberation leaders would unite to get rid of the oppressors.
MH: Your Excellency, we also understand that your country played a leading role in sourcing material for the liberation struggle. How did you do this?
Dr Mkapa: (laughs) Well, you must ask our military about that. I know they established the camps for the freedom fighters and we would facilitate their departures and so on, including working with our defence forces.
MH: When you look back, Your Excellency, what would you say was the cost of the liberation struggle to Tanzania?
Dr Mkapa: It's difficult to estimate because we really had to devote resources to help the liberation struggle. We had to be the channel for the military support for the liberation movements because obviously countries like the Soviet Union, China, Yugoslavia would provide the tools to fight the war. But they had to go through somewhere. We facilitated the passage of the war materials. Once or twice we had some bombings in the southern part of the country when the Portuguese would try to bomb us into silence, but we never gave up. It was the conviction and the courage from Mwalimu which we instilled into the population. I come from the southern part of the country and the favourite theme after the liberation struggle was "now it's our turn to develop like the rest of Tanzania." The people there co-operated completely with the freedom fighters.
MH: If one goes to Mozambique, the places of significance to the liberation struggle in Zimbabwe are clearly marked. The places are protected. These places that used to be training camps in Tanzania, are they protected areas to show their importance?
Dr Mkapa: I think something is being done, but the scale could be larger. I know the South Africans have been to Morogoro where they had a major base. I think Zimbabwe has also been to Iringa where you had a very important training camp there. The preservation of those sites is still a challenge to our country because they are part of our history.
MH: What exactly do you think needs to be done to preserve these sites?
Dr Mkapa: We should learn from the other countries such as Cuba. How did they preserve the first place they invaded as they started their struggle? We should learn about archives, important sites and how to protect them. We are beginning slowly to do this, but we need to speed up this exercise. This doesn't require much. The real worry is whether the new generation will appreciate the importance of preserving these things.
MH: Do you think the new generation really understands the importance of these sites?
Dr Mkapa: First, how much of the liberation struggle do they know? That is the key question. Because once they got independence, those who were born after independence, who in your case would be in their 30s, to them it's just some history, just books. I think the approach to civic education needs a major, major overhaul and approach. The Americans know their history from Lincoln up to now. They know it from Washington up to now. They even make us know it and you find out that we know their history more than they know it. I think our civic education must really be changed because this history goes to define our Africanness.
MH: Your Excellency, do you think Africa today is still on the path of the vision that was set by its founding fathers?
Dr Mkapa: (pause) Well, in terms of proclamations it is, but in terms of real movement (laughs) very, very slowly. I contrast, for instance, the pace with which the Frontline States were helping the freedom movement in Southern Africa. They would meet. Not for photographs, you know. Not for those photo opportunities you see those days. No. They would meet there and apprise each other, where are you, what is happening in your country? How can we solve this and that. After this they would assign tasks. Zambia, you do this. Mozambique, you do this. We will do this. We will do this. That's how we were able to combine energies and fight the struggle. Then we have said we are going to try and integrate the economies. I find we are not moving as fast and earnestly as we did during the political struggle. So you may have your summits, photographs taken, but actually moves on economic co-operation in investment, in trade and so on are just too slow.
MH: What do you think is contributing to this slow pace?
Dr Mkapa: Courage and conviction. I have to come back to that. It takes conviction and courage. Leadership, leadership! But of course maybe now the problems are greater than they were during our time, I don't know. But I think they could be a little more earnest in their approach to the economic struggle.
MH: Do you think the new breed of leaders that's emerging in Africa has the capacity to wage the economic struggle in the same way that the founding fathers waged the political struggle?
Dr Mkapa: (long pause) The youths could, but what political education are the ruling parties giving them? Not only the youths of the party but the youths of the country. What political education are they giving? We have universities now, to what extent are they African in the sense of giving ourselves the opportunity to appraise ourselves? To chart the way, to knock us from time to time, to shock us, to encourage us, to say we can do this ourselves. If we leave it to those big, developed countries, no. We won't go anywhere. They are in a crisis now because they are saying you are waking up now and you may deny them the resources, they exploited from you and build their industries. So we have arguments now about economic partnerships between Africa and Europe. I know they have been having this summit up there, the EU-Africa Summit. I am glad your President didn't go because I think as Vernon Mwaanga, a former colleague of mine, said, it's very silly to choose for us who should attend those meetings.
MH: I am glad, Your Excellency, you have brought up this issue. You still have some African leaders who flock to Brussels even though it's clear that Europe is trying to divide Africa. Why do you think this is still happening?
Dr Mkapa: Ooohh, yes I support the stance that was taken by your President. You ask me why this is still happening, well, I think, one, it's almost like a sickness now, aid dependency is still holding us hostage and is still very much above our thinking. Aid, aid, aid. The European people will tell you we will give you this much by way of aid and for that reason we say this is an opening that we can't lose. Secondly, and really I am not running down the leadership, but some people like the ceremonies and photographs which come out of there. No. Truly. A whole leader of a country being happy to have those photo sessions smiling to the camera. It's because we have not initiated the rethinking of relations between Europe and Africa. I am very conscious of this now that I am out of office and I see things differently because I go to these international meetings as chairman of the South Centre. South Centre is supposed to encourage Africa to rethink, not only relations between themselves but relations between us and the developed world particularly the industrialised world. For instance, do you know that there is more trade between African countries than there is between Africa and Europe? The growth is greater between African countries than it can be with Europe. So when they come to me and tell me on the basis of reciprocity you open up your market, we will open up our market, I say to them, wait a minute, what would I make to be able to sell in your market? Competitively with your market? But if you brought your goods into my country you will kill the local industries because our people psychologically think your goods are superior, better than ours. This really does tell you there is a certain aid dependency, not only materially but also psychologically. You know, it's so pathetic.
They say we should open up now in terms of what they call the Singapore issues, you can go and invest in Europe and Europe should come and invest in Africa with no conditions. Just what do you have to invest in Europe? But they have got a lot to invest in Africa.
And if there are no conditionalities, what happens? They will renew the state of our economies being extensions of European economies or American economies. Yes, extensions!
Continues next week
MH: So, what do you think needs to be done for Africa to get out of this psychological trap of aid dependency?
Dr Mkapa: Well, I ask you to question us. You are the shock troops now. For economic integration. We were the shock troops for independence. There must be shock troops now for the kind of economic growth and cooperation which will sustain that independence which was brought about by the political struggle. The shock troops are the youths.
MH: If Dr Nyerere were alive today, do you think he would be happy with the way Africa is conducting its affairs with the outside world?
Dr Mkapa: (long pause) I think he would be aghast. (Laughs) No, he would really be aghast because ahhh, I just don't know. They are now moves to work together. I really just don't now. I mean you, can you imagine we have all these so called peace keeping forces. Its blacks from Africa but its all paid by Europe and America. Whether they are in Somalia, in the Central African Republic – the men may be blacks from here from Uganda, from Zimbabwe, but they are paid for by the United Nations which is totally owned financially by America and the developed economies. And as you know, the British told us, "he who pays the piper, plays the tune." Remind us of this please. You the younger generation. Its your duty.
MH: This issue between Africa and the rest of the world, do you think the problem now is more to do with Europe and America's attitude towards Africa or its more to do with problems within and from Africa?
Dr Mkapa: I don't think the European attitude towards us has changed that much. It hasn't changed that much. Look, those countries were dependencies and no one wants to accept this. They were dependencies. They depended on our economies, our cotton, our copper, diamonds, our land as in your country's case. They came to take away your land. Now they are framing new ways in which to sustain that relationship of dependency on us. Unfortunately, we are game.
MH: Let's turn a bit to Dr Nyerere. How would you describe his relationship with President Mugabe?
Dr Mkapa: They had a very good relationship. I can say that at the height of the Zanu and ZAPU tensions if you may call them that, a very difficult time for us, but he was never partisan. Of course there are those who will tell you that in the end, Tanzania tilted towards President Mugabe. (Laughs) But generally Mwalimu tried to be as frank and cooperative with both sides. I do know that there were moments of tensions but by and large the two worked very well.
MH: From what you read and hear is happening in Zimbabwe, is there anything that surprises you really about the developments in Zimbabwe at the political and economic front?
Dr Mkapa: No, not at all. Nothing surprises me because you are determined to be economically independent, own your country, to own your land, your resources – because of this you will be the target of attack from those who want to continue depending on you. So nothing surprises me really. But what really I enjoy is the fact that you have a leader who will stand up to these crackers. That gives me great comfort.
MH: Would you say Zimbabwe has taken the lead in living the dream of Africa's founding fathers of total independence?
Dr Mkapa: Yes! I have just told you its truly independent. It will not be pushed around. It has charted its own development path and it has taken back its land, now its resources and it has defined its destiny. That's the best way. In terms of cooperation, with your neighbours you are ready but the other neighbours maybe somewhat slow because of influences I don't want to talk about. So what further evidence of true independence would one want? Setting the economic independence wheels in motion.
MH: Your Excellency, there was Cde Mugabe the freedom fighter and President Mugabe the leader of a free Zimbabwe. Has he changed in any way?
Dr Mkapa: I don't know the internal politics of your country but all I can tell you is that his politics hasn't changed at all. He is displaying them very well indeed.
MH: Do you think the Africa's founding fighters are given due recognition?
Dr Mkapa: Not enough recognition. History books, their biographies, so that we can put their lives in context, you know. So children and grand children can learn and be inspired in future. Not enough is being done. The only example I have is Mandela now at least there are institutions that are trying to carry forward his legacy. There is an institute of Science and Technology here, there is a similar one West Africa, Nigeria to facilitate research on Africa. But honestly not much is being done and its really sad.
MH: Sometimes your Excellency these founding fathers are misunderstood because they seem to be ahead of time in terms of their policies and vision. An unfortunate example is what happened in Ghana when almost after 20 years, some Ghanaians started to appreciate Nkrumah's vision. Do you think a similar situation is repeating itself in Zimbabwe because President Mugabe seems to be ahead of time?
Dr Mkapa: Ooh, yes. Its unfortunate this is happening already in your country. Very sad. If there any skeptics in your country about President Mugabe's vision, they will come to understand better in future. Even here we had our skeptics, we still have. When we changed to the multiparty system here, the opposition said we are coming with vigor and our party is finished. But all they wanted was to get into power. Press them about what they will change, nothing. So its just power for power's sake. Nothing. And pretty soon the population begin to realize that these are just big talkers and nothing else. You will find them losing by-elections, losing elections and so on. Of course they will tell you its the government oppressing them.
MH: President Mugabe has called on Africa to honour Dr Nyerere for the role that he played during the liberation struggle. How exactly do you think Africa should honour this great man?
Dr Mkapa: President Mugabe is right in calling on Africa to honour Mwalimu. Its think he is not sufficiently honoured and acknowledged. But then he was a very modest man you know. He didn't expect to be honoured. That was his nature.
I think Mozambique has a highway road named after Mwalimu. I think Zimbabwe also has a road named after Mwalimu. I agree with your President more needs to be done. At universities why can't we have structures named after him? Institutes named after him and so on. But the real honour you can give to our founding fathers is to take up the causes they pioneered. The consolidation of their cause requires economic liberation. Your President asked me to come and give the Chitepo Memorial Lecture and I unfortunately couldn't come so I sent my Prime Minister to speak for me. But there I was emphasizing the second liberation in Zimbabwe which is economic liberation because you must own the economy.
MH: But your Excellency it looks like this economic liberation is a mammoth task for some African leaders.
Dr Mkapa: Show that you are starting the economic liberation. I know that its a mammoth task but show that you have started this task. Build an economic mind using your resources.
MH: Do you think Zimbabwe has taken a lead on economic liberation?
Dr Mkapa: Certainly of course. With the land, Oooh you are way ahead. Zimbabwe has taken the lead. They were opposed to it because they were saying you are setting a bad example for South Africans. The leaders have to show us that Africa wants to own its resources.
MH: How can the leaders go about starting this economic struggle?
Dr Mkapa: First you do have institutions in Africa, we have Sadc, we have the East African Community here – why don't we have a summit where we say, how do we speed up this process of economic liberation. You know what the biggest obstacle is, everyone thinks you can embark on this mammoth task with a win-win strategy. They all win and win equally. You will not move. If that were so, we wouldn't have won the political struggle. In terms of the OAU some countries had to sacrifice. We did. Zambia did. Mozambique did so that others could gain their freedom. You can start at the same level of benefit from economic freedom. You can strategize where the benefits will be spread gradually. I don't see much of that. All I see are political meetings. I remember at one summit, I think it was in Botswana, someone said "you know we must give substance to these meetings because what is the difference between this and the OAU summit, or the United Nations?"
MH: In 2006, when you came to Zimbabwe, that time is was really fashionable to attack and demonize Zimbabwe. Some of the country's neighbours had even joined the bandwagon of attacking Zimbabwe and President Mugabe but you went against this tide and stood by Zimbabwe. You boldly stated that "Tanzania stands by Zimbabwe." Why did you take that stance?
Dr Mkapa: Well, there I think you can rightly describe me as a disciple of Nyerere. (Laughs) He would have done the same. Yes. We played our little share in your country's liberation struggle and why does anyone want to divide us? I know some of your neighbours were attacking you but I was speaking for Tanzania. We have a long lasting history. The motivation was to see Zimbabwe succeed. Just as we wanted Zimbabwe to be free politically, we want to see it free economically. Your success is our success. This is a challenge to other countries to dare. You must dare! Dare! Really!
MH: Do we have such African leaders who can dare?
Dr Mkapa: I don't know how you are going to identify them but I am sure there must be.
MH: Your Excellency at some point there was talk that you were supposed to media in the bilateral standoff between Zimbabwe and Britain but this mediation didn't really take off. What happened?
Dr Mkapa: (pause and laugh) No we didn't take up the mediation.
MH: Why?
Dr Mkapa: (pause) Because I am partisan. (Laughs) I am giving you an honest answer. I am partisan on those matters really. What can you mediate? No, no in this instance I was partisan. I don't want to bloat my partisanship on this issue but no I couldn't mediate. Mediate what? We played a part in the liberation of Zimbabwe and look am partisan when it comes to that independence. You know one of the memorable moments in my life, I vividly remember was being at Rufaro Stadium, the flag going up and the British flag going down. I represented Tanzania during those independence celebrations. I almost cried. I couldn't believe it. Absolutely. I was Foreign Minister and Nyerere sent me. After all that we had gone through and you people had sacrificed so much to get the Brits to lower their thing, now you want me to mediate. Mediate what? Everything is clear. I couldn't take up the mediation. I am too partisan when it comes to Zimbabwe. No. No. No. Zimbabwe is too dear to me.
MH: The bilateral standoff between Zimbabwe and Britain continues. How exactly do you think it can be solved?
Dr Mkapa: I wish I could tell you that there would be a more enlightened British leadership to concede that they don't really have a case. I wish I could say that but I don't see that coming. Just look at the results of the last election. How did Britain and these other countries take them? Africans, Obasanjo says the elections were largely free and fair, but they say no, not by our standards. Well, how can I negotiate with such a people? Its actually an insult. So will there a new breed of enlighten British leadership, I don't know. I doubt it. But it may happen. Miracles do happen, even in politics.
MH: Do you think Europe and America will ever change its attitude towards Africa? This big brother mentality?
Dr Mkapa: They can be made to change if Africa gets together. That's why the negotiations of the new economic partnership between Europe and African are critical. On this point I am very glad that Nigeria has for once said these terms are not of mutual benefit to Nigeria. So if that spirit were to spread to other countries, Europe will change this big brother mentality and we might be able to negotiate new terms of association.
MH: Watching developments now away from the Presidency, if you were to give advice to Africa what would you say?
Dr Mkapa: I think the regional associations should be more proactive than they are. Wether its Ecowas, the East African Community or Sadc. They should be more active and more results-oriented than they are now. A greater degree of earnestness in moving towards integrating our economies, opening our borders to trade and so on. This will help us to understand each other better and will help us in our dealings with the rest of the world.
MH: With all these intricacies, what do you think is the future of Africa. Is there hope going forward?
Dr Mkapa: You know I would like to see us putting a little bit more conscious effort to learn our history and culture. This will prepare us to tackle the problems of development with a clear purpose. This is what the founding fathers did. This is what I see as totally imperative. We have taken so much from our former colonizers – tools, values etc yup know. If we were to redefine on the basis of our history and our culture, if we would define our development targets, I think there is a great future for us. You know why? I believe we are more intelligent that those exploiters who came to our land two centuries ago. Our children go to their universities and they beat them academically hands down. We must be well grounded in our history and culture.
MH: You were the chairman of Chama cha Mapinduzi for a number of years. When you look at the liberation movements now, do you think there is still that unity that used to exist?
Dr Mkapa: The pace of cooperation is much slower now. We used to have party delegations meeting often and then we had multiparty conferences meaning, ruling parties from the various Frontline States so to speak. During our biannual conferences we would invite delegates from other ruling parties to come and be guests. This way we exchanged notes on developments. We would make our people remember who we are and so on. This has slowed down a little bit I don't know why. Maybe because we are aging I don't know but we should go back to the way we used to do things.
You must have heard this, there are those who think, I don't wether I should call them imperialists or exploiters, but they realize that as long as the liberation parties are in power, the parties that came out of the liberation struggle, as long as they are in power, it would be very difficult for them to penetrate or subjugate us indirectly. And so the best way is to make sure that we get out of power. So why then don't we look at it the other way round and say the more we consolidate, is the only way we are going to consolidate our ndugu, our brotherhood and our independence. So we should meet more but meet to a purpose. Not just for photographs smiling to the cameras.
MH: Why is there suddenly this liking for these photo sessions by some leaders in Africa?
Dr Mkapa: Isn't it what our oppressors do? (Laughs) You know I hate this nonsense (standing up and demonstrating) of standing up and shaking the hands of the oppressors smiling to the camera. That's foolish. Anyway.
MH: While Africa is fast developing the love for these photo sessions, the imperialists are busy planting their puppets as opposition parties. A black man being used to fight another black man.
Dr Mkapa: Let's exposé the puppets. You did that in your country and look where you ended up. (Laughs) I have tried to explain to people that this man in your country, what's his name by the way, this opposition man eeehh, Tsvangirai. I said it would be very difficult for him to build credibility in that country. What history does he have? Its a country whose independence was brought by the shedding of blood. How is he associated with the struggle? I said its very difficult. Some people couldn't believe me. But as elections approached, I remember one person who was very close to me saying you know I really hope that he doesn't win. (Laughs) I said Oooh, you! He said yes. He said the man is impossible. So I said exposé these people.
MH: My last question Your Excellency and this one is a bit personal. If one day you are to pass on, how would you want Africa to remember you?
Dr Mkapa: As a loyal Tanzanian. A dedicated African nationalist.