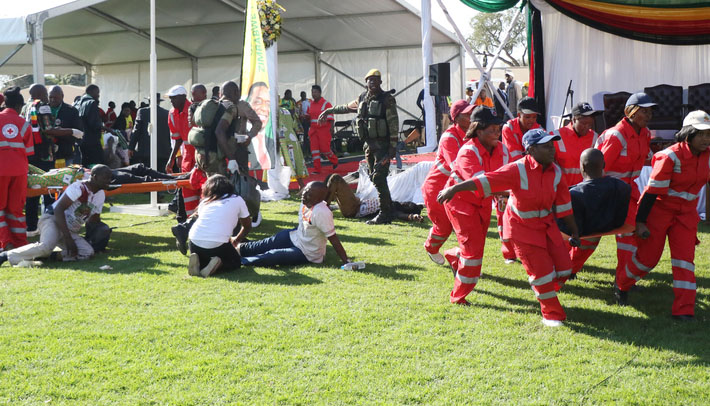 The Sunday Mail
Nduduzo Tshuma in Bulawayo
Time can stand still.
I learnt this at the moment that blast interrupted jubilant cheers at White City Stadium as President Emmerson Mnangagwa left the VIP podium after delivering another rousing speech.
The moment was a lifetime.
Smoke, panic, confusion, blood, screams and cries. Cde Kembo Mohadi, Zimbabwe's Vice-President and a veteran of a bruising liberation war, could be seen hobbling while clutching one of his wounded legs. Cde Christopher Mushowe lay on his back momentarily before he was hoisted up by aides desperate to whisk him to safety. Ahead of him was Vice-President Dr Constantino Chiwenga, a steely look in his eyes as he surveyed the mayhem, while Health and Child Care Minister Dr David Parirenyatwa and other senior officials hurriedly walked away.
There in the madness also stood Cde Emmerson Mnangagwa Jnr, probably wondering how many more attempts would be made on his father's life.  In that lifetime of a moment (or was it a moment of a lifetime?), security details rushed to protect their charges as people stampeded from the scene of the blast. Two men in military fatigues fell injured, a security aide's leg appeared to have been reduced to shattered bone while another lay motionless as blood gushed from a deep wound on his head. I had seen that man with the bleeding head earlier at Ekusileni Hospital and now he lay waiting for help that would soon come in the form of female Red Cross paramedics.
And then time seemed to zoom back to its normal pace and the clock ticked.
There was Zanu-PF Youth Secretary for Administration Cde Tendai Chirau flitting from one injured person to the next to check how they were holding up.  Cde Davis Muhambi was assisting the Red Cross folk with their stretchers.
A State security officer I know lumbered past me clutching his bloody leg and said, "Ndakuvara sha. Come and get my phone and call my wife, she is here among the crowds; tell her that I have been injured." And then something came to me in a rush. Just before the blast, I had grabbed our Chief Photographer, vaSaushoma, and told him to let someone else capture the President's departure because I wanted him to accompany me to a brief interview with Cde Mabutho Moyo, one of the "boo boys" who – at this very venue – last year invited former President Robert Mugabe by heckling his wife, Mrs Grace Mugabe.
Only God knows what would have happened to my colleague had I not asked him to hold off the prestige of capturing the President and instead do an assignment on a "boo boy". I also recalled in that instant how security details lunged towards the President, throwing their bodies in the line of any danger, while their colleagues virtually hefted the Head of State and Government to his vehicle.  And even injured, security men formed a barricade to stop panicked citizens from inadvertently rushing to the scene of the blast as they sought to flee from Lord knows what. The moment became minutes, and I hauled myself away, watching a camera guy helping a female ZBC colleague who had been injured by shrapnel. (I was to learn that two other ZBC staffers had been injured.)
And as I glanced back, I saw the striking image of Cde Joshua Malinga in his wheelchair, looking aghast at the carnage.
Time can stand still.
And when it stood still yesterday, I wondered what kind of evil wanted to steal the march of progress.