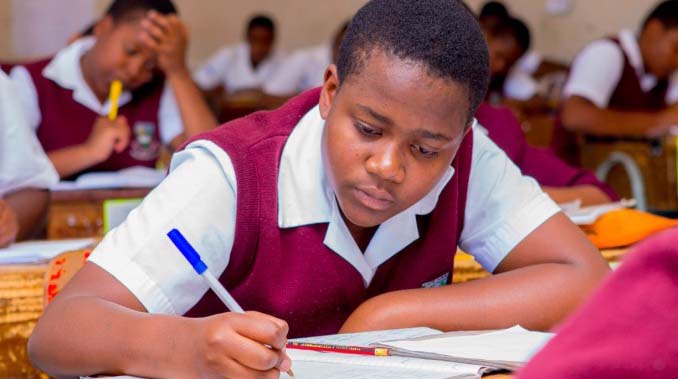 The Sunday Mail
Leroy Dzenga
Senior Reporter
IT is now 18 months since the Education Amendment Act was promulgated.
Government schools, in terms of the amended law, are compelled to offer free basic education in line with provisions of Sections 27 and 75 of the Constitution.
Section 27 of the Constitution states that, "the State must take all practical measures to promote: (a) Free compulsory education for children; and (b) higher and tertiary education."
Section 75 adds that: "Every citizen and permanent resident of Zimbabwe has a right to – (a) a basic State-funded education; and further education, which the State, through reasonable legislative and other measures, must progressively make available and accessible."
In terms of Section 2 of the Education Amendment Act, "pupils (grade one to form four) shall not be required to pay fees or levies and the State shall provide them with learning and teaching material, facilities, infrastructure and resources subject to the provisions of section 75 of the Constitution."
The passing of the amendment was hailed as a progressive move by Government that would guarantee universal education.
However, many feel that implementation of these provisions have been slow in coming.
Government says it is still lining its ducks in a row, taking progressive steps towards making free basic education a reality.
Director of advocacy and communication in the Ministry of Primary and Secondary Education Mr Taungana Ndoro said authorities were taking steps to make free education a reality.
The first step, he said, was ensuring that there are enough facilities.
"We are rehabilitating schools and also building additional classrooms to de-congest existing infrastructure.
"Provisions have also been made for extra space within our schools with 17 new schools being constructed," said Mr Ndoro.
Government is funding the construction of 11 primary schools and six secondary schools countrywide, he said.
"We also have completed 950 classroom blocks within existing schools and rehabilitated 139 classrooms.
"The Ministry has also rehabilitated boreholes in 955 schools and drilled 212 boreholes."
On direct tuition funding, Government has opted to start with underprivileged learners through the Basic Education Assistance Module (BEAM).
BEAM is a Government-funded programme that provides school fees, examination fees and levies for underprivileged children.
"We have the BEAM which is currently assisting with free education, but going forward we have what is coined VOPSE (Vision of Primary and Secondary Education) in which we are encouraging all schools to venture into commercial activities and become business centres.
"Ultimately we expect that proceeds from those ventures will lead to free education," said Mr Ndoro.
The Parliamentary Portfolio Committee Primary and Secondary Education is actively lobbying for implementation of the law.
Speaking to The Sunday Mail, the outgoing committee chairperson, Priscilla Misihairabwi-Mushonga, urged patience.
"It is being progressively implemented," she said.
"We do not just wake up one morning with free education.
"If you read the Constitution you will see that it sets parameters through which free education can be provided.
"There has been progress, if you see there has been an increased budgetary allocation in BEAM, which means that more underprivileged learners will receive the financial support necessary for them to progress.
"There has been good progress, we now have Grant-in-Aids that are being readied for initial roll out."
Grant-in-Aids are when Government pays money to a school in order for all learners to access free learning.
"The Ministry told us they are working on a plan in which they will give money to some schools in select districts, and the learners will go for free.
"We understand that this is a start, where they will understand how best to nationalise the free basic education drive".
Parliament is waiting for a comprehensive roadmap from the Ministry of Education on free basic education roll out.
Said Ms Misihairabwi-Mushonga: "There is always capacity. As a Portfolio Committee we are lobbying for the setting up of a trust fund to pay for the free education.
"We are engaging with the Ministry of Finance to see whether we can look at taxation (to fund the programme).
"If we are talking of the extractive sector, taxes from there should be enough to fund free basic education.
"We are going to present a proposal to Parliament soon".
Experts believe that while State funding of free education may bring pressure to Treasury, it remains good investment.
Dr Peter Kwaira, a senior lecturer at the University of Zimbabwe`s Department of Technical Education, said the country stands to benefit immensely from implementing the free basic education policy.
"If we use our resources wisely, it can be funded. This will not be an expense as such, but an investment into the future of the country, the same way that we are finding finance for infrastructure projects and other development works we are witnessing," said Dr Kwaira.
He said if the country was to realise its upper middle income aspiration, then its human resource should be given a fair chance to progress through education.
"People who are educated are useful to society, there is a larger pool of human resources and that is a critical ingredient to any country that seeks growth.
"Some of us are products of deliberate policies by Government to make access to education easier just after Independence. If it was not for that maybe there would be no Dr Kwaira to talk to.
"There are countries which import skilled labour because their education policies are not implemented properly.
"We are reading reports of children dropping out due to lack of resources, that should be sorted out immediately and I believe that the implementation of the free basic education policy is a good instrument to solve that," said Dr Kwaira.
Studies have shown that a significant number of pupils dropped out of school as a direct result of the Covid-19 pandemic, heightening calls for the speedy implementation of the free basic education policy.
Besides free education being a Constitutional obligation, Zimbabwe is also signatory to the United Nations' Sustainable Development Goals (SDGs), a collection of 17 interlinked targets aimed at eradicating global poverty if fully implemented.
SDG 4 states that: "By 2030, ensure that all girls and boys complete free, equitable and quality primary and secondary education leading to relevant and effective learning outcomes."
With Treasury continuing to record successive budget surpluses, experts say some of the excess resources should be channelled towards providing free education.