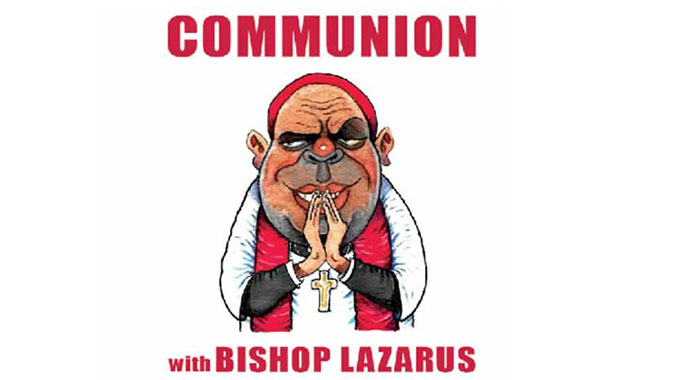 The Sunday Mail
NOTWITHSTANDING the ill-willed and unremitting prayers of doomsday folks who so desperately want the coronavirus to devastatingly announce itself in Zimbabwe, thank God most of us are still safe — at least for now.
By all their dystopian accounts, we should all be history.
Last month, on February 26, the Bishop watched with utmost trepidation as some haughty chaps from across the Atlantic whipped out a neatly compiled colour-dotted map — the Global Health Security Index — put together by the United States-based Johns Hopkins Centre for Health Security purportedly showing countries that were at high risk of the novel and deadly virus.
Surprise! Surprise! Zimbabwe, as does most African countries, figures in this infamous list of the hopelessly unprepared, which surprisingly also includes China.
Fast forward to today, 25 days later, new infections in China — the former epicentre of the disease and home to more than 1,3 billion people — have dropped to double-digit levels, while new cases in the US, which was considered to be the most prepared by the health index, are galloping exponentially.
In fact, Europe is now the epicentre of the disease.
While the US grapples with marshalling sufficient test kits, China is already testing a vaccine for the pandemic.
How the world has changed!
Meanwhile, our tea-shaped republic only recorded its first case last week.
And this is not fortuitous, but it is by God's grace.
Topsy-turvy
You see, diseases have a mind and life of their own.
You can spend more than US$750 billion on defence, part of which will be used for missile defence systems, and yet be overrun by an army of tiny germs.
You can live in an exclusive community, have a brimming bank account and possess the best medical insurance that money can buy, yet you can still be easily and effortlessly floored by the new disease, as we are currently seeing in the developed world.
You can be forgiven for mistaking the victim's list to a Hollywood A-listers Hall of Fame.
Also, billions of people from countries who ordinarily thought they were shielded from the pestilence are presently hunkered down in their homes for fear of becoming the next coronavirus statistic.
In Paris, in scenes that hark back to times of the great world wars, Parisians now need a special permit to enjoy a stroll in their city.
Heretofore, humanity in this part of the world, which has perennially been viewed as the sick men of the world, has been relatively enjoying a blissfully carefree and perfectly normal life.
How ironic!
After seeing unbelievable TV footage of panic-buying shoppers — some of whom even had the bestial instincts of engaging in fist fights for odds and ends such as toilet paper in supermarket aisles — in countries we have always been reminded at every turn as "civilised", the Bishop told some folks that had the roles been reversed, we would have been dutifully told by those elites among us — whose insights do not extend beyond their Twitter timelines — that we are an inherently uncivilised and disorganised lot.
Now that all this upheaval is happening in their spiritual capitals, their silence has become loudly clear.
The song by Mary, the mother of Jesus (our Lord), in Luke 1 is very instructive.
"My soul glorifies the Lord and my spirit rejoices in God my Saviour, for he has been mindful of the humble state of his servant.
From now on all generations will call me blessed, for the Mighty One has done great things for me — holy is his name.
His mercy extends to those who fear him, from generation to generation.
He has performed mighty deeds with his arm; he has scattered those who are proud in their inmost thoughts.
He has brought down rulers from their thrones but has lifted up the humble." (Luke 1:46-52).
Epoch-defining
Bishop Lazi believes that as soon as this virus retreats to the depths from whence it came from, we really need to reconfigure our dates.
2020 is as good as done.
The novel coronavirus has become an epoch-marker; it has arguably defined the modern age and is beckoning at a new renewed era.
The fact that all major human distractions — sport, entertainment and useless conferences — have been brought to a screeching and jerking halt should force people to take stock and reflect about where we are going as humanity.
At a time of heightened politicking, bigotry, misogyny, racism and prejudice globally, the new disease outbreak has profoundly changed our views of the world as we know it.
It has literally turned the whole world topsy-turvy.
Overall, we have learnt that despite inequalities in wealth, the white man is as much as vulnerable as the next black man.
We have also learnt that existential threats — which can be both endogenous and exogenous — are the same for the whole of humanity.
We hope that the "haves" have learnt that they cannot securely quarantine themselves in balkanised isles of power, privilege and wealth away from the bothersome "have-nots".
The world is inextricably interlinked and interconnected than they think.
We might also see a new world led by a new superpower in the form of China, which has done extraordinarily well in not only commendably marshalling its population to fight the pandemic in a disciplined manner, but also moving with huge strides to develop a vaccine, particularly at a time when those who ostensibly self-apportioned themselves the role to lead are at sixes and sevens.
The unipolar world is well and truly dead.
Obscene
Have you seen how these cash-flush economies have been throwing money at the current global crisis?
The UK, in addition to setting aside £12 billion (US$14,4 billion) to fight coronavirus, has also come up with a £350 billion (US$420 billion) stimulus package to rescue both distressed businesses and households.
Cumulatively, the whole kitty amounts to more than US$434 billion.
Also, the US is putting together a package that will amount to more than US$1,3 trillion, including tax deferrals, to keep its economy ticking. Incredible!
Similarly, New Zealand will be shelling out US$7,3 billion ($12,1 billion New Zealand dollars) to fight the disease.
Observably, all these obscene amounts can help lift the world out of poverty.
If only the world showed so much urgency and vigour in fighting poverty, it would be a different place.
To put things into perspective, a 2018 report compiled by non-governmental organisation Oxfam International indicated that 80 percent of the global wealth generated in 2017 went to the richest one percent of the global population.
And we must not forget that income in- equalities and poverty — largely deepened by globalisation — are at the heart of the political upheavals across the world, which have resulted in the emergence of far-right political parties, some of which are unapologetically bigoted, racist, misogynist and thoroughly conservative.
Post-coronavirus, the world needs to change course and recommit to a mutually beneficial path for all our sakes.
Thankfully, the Lord only gives us burdens we can carry.
1 Corinthians 10:13 says: "No temptation has seized you except what is common to man. And God is faithful; he will not let you be tempted beyond what you can bear. But when you are tempted, he will also provide a way out so that you can stand up under it."
Clearly, coronavirus has become the proverbial ant in African folklore, which threatened an elephant and eventually felled it.
The elephant did not see it coming.
But, as we have always done, we shall overcome.
Bishop out!