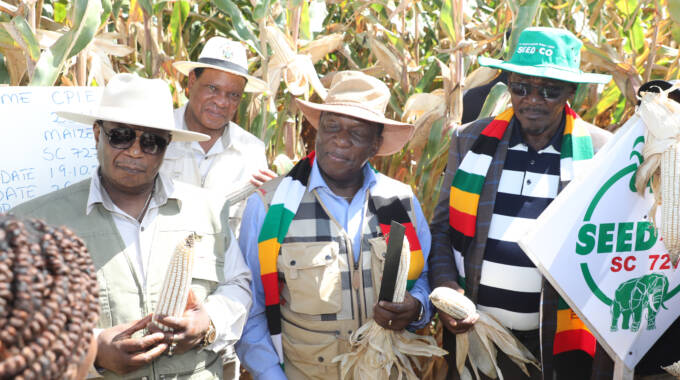 The Sunday Mail
Debra Matabvu
ZIMBABWE will never be food insecure again following robust interventions and policies introduced by Government to boost production and productivity in agriculture, which has continued to deliver bumper harvests, President Mnangagwa has said.
Addressing guests at a field day at his family's Pricabe Farm in Sherwood, Kwekwe, yesterday, President Mnangagwa said programmes such as the climate-proofed Pfumvudza/Intwasa scheme had resulted in household food security, which translates into national food self-sufficiency.
Government, he said, will continue to facilitate the mechanisation of agriculture and the development of dams and irrigation schemes to insulate agriculture from the vagaries of climate change.
"Our task, our challenge, is to make our land productive, and Government must assist our farmers at every level to be productive," he said. "We must modernise, we must mechanise for us to be self-sufficient.
"It is a priority of our Government for our people to be food secure. We are now in the second year of being food secure.
"We will never again, under the systems and model of agriculture we have introduced, be food insecure."
Government, said President Mnangagwa, has delivered support to communal farmers, who, in turn, have risen to the occasion through producing adequate food for household consumption.
Only those who fail to climate-proof their production by taking up conservation farming under the Pfumvudza programme remain exposed to hunger, he added.
"It is the philosophy of the Second Republic that we must develop an agricultural production model first, which must provide food security at the household level," he said.
"So under the late Cde Perrance Shiri, who was the Minister of Agriculture, before we hade Cde (Anxious) Masuka, we introduced Pfumvudza.
"Pfumvudza is designed to provide food security at the household level, at the village level and at the community level, and that we have achieved.
"If there is a household or family that does not have enough food, it means that they are not taking up Pfumvudza.
"If you follow what is required under Pfumvudza, you will never go hungry."
Government, he added, will continue to provide input support to farmers at household level to facilitate production on Pfumvudza plots.
"I am happy that it is a success. In fact, we are expanding that model of agriculture.
"So, if the household has food security, it follows that the village will have food security and it follows that the community will have food security."
Apart from providing input support, authorities are also fast-tracking development of irrigation infrastructure to ensure that food production is not affected when the country receives unseasonably low rains.
Government is also exploring ways to facilitate mechanisation of smallholder farmers as way of enhancing productivity.
"I have asked my people — the Minister of Agriculture and his experts — to say how many hectares in this country should be under irrigation in order to produce enough food for a year for the nation.
"And they have made that calculation. So we have a programme to make sure that number of hectares is under irrigation. We are doing this because of climate change.
"There is no guarantee anymore that we will have enough rainfall each year.
"So whether there is rainfall, as long as we have water bodies and we have more than 10 000 water bodies in this country, we will not go hungry."
He said Government was implementing a dam construction programme designed to mitigate against climate change.
"And we have succeeded; we will never again go hungry.
"If we receive poor rains, the area under irrigation can produce adequate food for our people.
"Yes, we will continue increasing hectarage under irrigation."
The economy, he said, was beginning to reap the fruits of adopting science, technology and innovation.
"Those who have developed their countries have developed them on the basis of applying science, technology and innovation.
"This is why we have introduced Education 5.0, which embraces science, technology and innovation."
All State universities, said the President, now have innovation hubs where talented young people are developing home-grown solutions to challenges faced by the nation
Government was determined to make sure that Zimbabwe does not remain behind in the digital world, he said.
"This is why we have the Ministry of ICT.
"We are making sure we give computers to primary and secondary schools in the countryside so there is no difference whether a child is being educated in the rural side or in town; they all have computers.
"We want all our kids at every level to have access to science, technology and innovation.
"While we do that, we also make sure we are competitive.
"There is demand for our students when they finish university from beyond our borders."
The adoption of science and technology had become the bedrock of the country's import substitution programme.
Through innovation hubs at State universities, Zimbabwe was now developing an ever-increasing basket of products it used to spend millions of dollars importing.
"So I sat down with my Minister of Agriculture and my Minister of Science and Technology and asked Professor (Murwira) which subjects students must study in order produce products.
"We still allow people to study religion, but we want to study things that uplift the lives of our people.
"What we eat we must produce and what we wear we must produce.
"Unless our science people say this we are not able to produce, then we must import from other countries.
"We have listed over 3 000 items that we import and looking at them we found that most of those items we have materials in this country to produce, but because we have been stupid and foolish, we didn't think that it was possible."
At Pricabe Farm, President Mnangagwa has 500 hectares under maize and 200 ha of soya beans.
An additional 35ha is under various horticulture crops.
Part of the farm is also used for fish farming and cattle ranching.
Yesterday's event was attended by Vice President Dr Constantino Chiwenga; Zanu PF Vice President Kembo Mohadi Defence and War Veterans Affairs Minister Oppah Muchinguri-Kashiri; Local Government and Public Works Minister July Moyo; Minister of Higher and Tertiary Education, Innovation, Science and Technology Development Professor Amon Murwira, members of the diplomatic corps, traditional leaders, farmers and Kwekwe residents.
Twitter: dmmatabvu