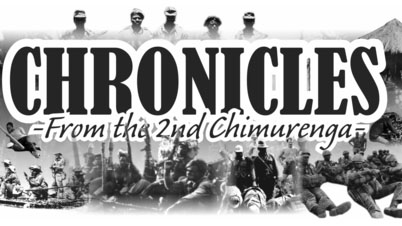 The Sunday Mail
We conclude Cde Joshua Madzudzu's (JM) narration of war experiences. This week, the former liberation fighter tells our reporter Norman Muchemwa (NM) of his experiences at the war front in Gaza Province.
***
NM: Having trained to fight in the war, which is what you yearned for, what was your next move?
JM: Sure, I itched for combat and I was immediately deployed to the war front. There was no wasting time because the guerrilla war had intensified. Those strategising during the war knew Ian Smith felt the heat and there was need for more confrontation. Chero patakapedza training, taiziva kuti mabhunu muRhodesia akanga asingacharari nekuti vakomana vakange vamuka chimoto chaicho. Ndicho chimoto chataifanira kuwedzera.
I was deployed in Gaza Province operational area under Sector Four. As Zanla forces, we operated in three war provinces: Gaza, Tete and Manica. In Gaza Province, where I was deployed, it encompassed Gonarezhou, Chikwalakwala, Beitbridge, Gwanda and Kezi areas.
NM: We understand there were Zipra forces in Gaza Province and cases of clashes between these comrades and those in Zanla were common. Did you experience such confrontations?
JM: The whole of Sector Four was under Zanla forces and we operated in the area without any problems. I remember encounters with Zipra forces here and there, but our group never had any clashes with them.
However, there were some unfortunate incidences of clashes between the two liberation forces. Our troop had around 150 comrades divided into various sections in the operational zone. Cdes Bere Chipanicheusiku, Hokoyo, Gondo and Guyo were some of our senior commanders.
NM: On the war front, which battles did you fight?
JM: One of the worst battles was at Chikwalakwala. It erupted after we had gone there to collect ammunition. The area housed one of the biggest arsenal in Gaza Province. It had constant supplies from the rear in Mozambique.
Only a few comrades knew the exact location of the weapons. This was for security reasons. Those comrades received weapons from another group coming from Mozambique and ensured they were in a safe place.
They would then allocate war weapons to us fighting at the front. We had come from Sitaudze Base to collect the weapons.
Upon arrival and collecting the weapons, the leaders advised us not to return to our station since the following day, April 28, 1978, if not mistaken, was our commemoration of Chimurenga Day. At night, we beefed up security at the base in guard positions. I was assigned to be in charge of the night patrol team. I deployed some members from the team to various positions while four other comrades were to join me in patrol.
Around 2am a jackal encroached into the base, more specifically, the area where some comrades were sleeping with a group of recruits who were en-route to Mozambique for training.
There was commotion and the base commander, Cde Vhuu, who passed away recently, came to inquire what was happening.
I briefed him, but he was angry why we had failed to see the jackal, worse straying into the base. During the liberation struggle, encounters with animals such as jackals were a bad omen.
NM: What happened to the jackal and since you say the animal was considered a bad omen, what action did the comrade take?
JM: It somehow managed to escape, but we were relieved of our duties and a new team took over the guard until morning.
During the liberation struggle, we worked closely with spirit mediums and they are the ones who told us zvinhu zvaiera or zvinhu zvaishura.
In every area of operation, taitanga tasvika kumasvikiro enzvimbo, ndivo vaititungamirira murwendo rwedu.
Taiudzwa mitemo yenzvimbo. For example, in one area in Gwanda we were told by spirit mediums that we should never fire a gun there unless we had been fired at first. Ndiyo yaivawo mutemo yenzvimbo yavo.
So we worked well with the spirit mediums and they played a significant role during the liberation struggle.
Takaudzwa kuti shiri yainzi chapungu iya ukaona the direction it was heading, we were supposed to follow that direction because ndokunenge kuri safe.
Failure to obey such signs would lead to serious consequences and even death to the comrades after an attack. After the jackal incident, at around 6am, Cde Vhuu left with a group of other comrades to scout for a location to establish a new base. Before leaving, he had instructed us to take positions and be alert while we waited further instruction upon his return. The base was on high alert. While in our positions and at around 9am, an airplane flew above the base.
The senior comrades that had remained quickly alerted everyone that it was a fighter plane. In no time, the plane flew back and again, over the base. Before we could give each other instructions, two fighter jets flew past while dropping bombs and after that, five helicopters hovered near the base with soldiers dropping from ropes.
As they dropped off, they fired at us. We also opened fire and in some cases managed to shoot the soldiers before they got to the ground.
That battle was serious. Pakafiwa nema comrades ipapo ini ndikatosvika pakukuvara gumbo (showing the leg). Takarova two helicopters, imwe ikadonha while the other one managed to land at a distance. The battle lasted until around 6pm pachirovanwa chete.
NM: How did you survive this battle?
JM: The terrain saved us because the base was in a bushy area. I believe one of the groups coming to collect war material that morning was the one that was tracked by the Rhodesians, leading them to the base.
How I survived is a miracle, we would fire, retreat, rest, change positions and get ammunition and so on. At dusk, the Rhodesians began leaving the area. After the attack, we were supposed to return to our sector with material, but a new team took over that task and we remained in the area for some time.
During that time tairova maambush nema hit-and-run so that the enemy would feel our presence in the area. I operated in this area until around March 1979 when I joined a team that was going to open a new operational front in Kezi, Matabeleland South.
I was to operate in that area until the ceasefire period in December 1979.
NM: That was the end of the war, what became of you during that period?
JM: At ceasefire, I went to Sezani Assembly point in West Nicholson, Gwanda.
We camped at different points with our Zipra counterparts, but in the same area and only separated by a river. One of the days, there was an exchange of gunfire between Zanla and Zipra forces. This was a result of the tensions between the two forces. I remember one Cde Pedzisai was killed during that incident. The tension resulted in Cde Rex Nhongo, some Zipra commanders and senior Rhodesia soldiers coming to the area to quell the tensions. The visit resulted in our separation as Zanla comrades and we were transported to Tongogara Assembly Point, now Tongogara Refugee Camp. We were disarmed as part of the ceasefire agreement.
Takabva tapiwa ma picks and shovels, tisu takagobora part of Chisumbanje Estate.
While still there, pakauya nyaya dzema deployments. I was to be part of a team that joined the Ministry of Health since I had trained as a medic. I am still with the Ministry of Health and Child Care.
NM: Finally, comrade, as someone who fought for the liberation of the country, is your role appreciated?
JM: We have some of us who are fortunate kuti takawana mabasa and some are in leadership positions.