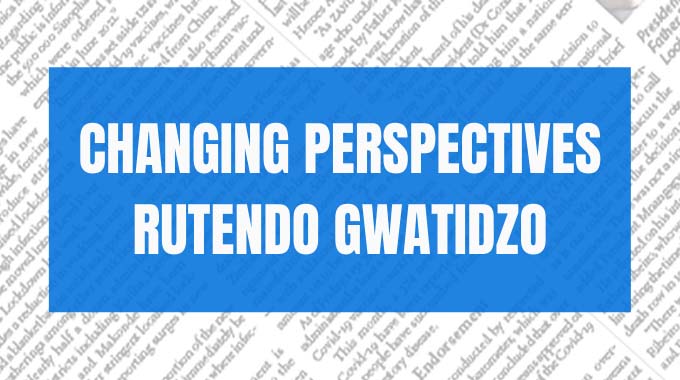 The Sunday Mail
Changing Perspectives
Rutendo Gwatidzo
Message to fathers
Happy Father's Day to all fathers.
Fatherhood comes in different ways, which can be biological, adoption or one can simply be given responsibility over minors spiritually, culturally, socially or traditionally.
The common denominator here is that fatherhood symbolises provision, protection, responsibility and reliability, just to mention a few.
It sounds like it is so much work for fathers, but then, that is being a father.
Allow me to take this opportunity to appreciate all responsible fathers who constantly walk on the edge for the sake of those they father.
Fatherhood is not easy, especially under harsh economic conditions.
I would like to challenge and encourage all fathers who have failed or who are failing to live up to their responsibilities as fathers due to various reasons.
There is nothing as fulfilling in life as living up to your natural role as a parent.
Knowing that- you have given your best is what will give you peace of mind.
Fathers ought to lead by example.
The question to ask yourself is: What kind of example are you?
Do not stop doing right because things are not going well for you.
Continue to make a positive difference with the little that you might have.
Do you know that even when you feel like you have nothing to give, there is always something you can give?
It might not be material, but you can still impact someone's life positively.
If you think you are too small to make a difference, wait until you spend a night with a mosquito, then you will realise there is a lot you can offer to make a difference.
Message to all leaders
While we talk about fathers today, let us also talk about leadership.
The saying "do as I say" worked well in the past.
Nowadays it is more impactful when you ask people to do as you do.
Nowadays people look for practical leadership.
Employees follow what their leaders do and children follow what their parents do.
Instruction is good, yes, but, example is worth more.
Yes, you cannot get it right all the time, but, when you do wrong, be quick to make it right knowing that many are looking up to you.
The mark of a good leader is seen in the ability to walk the talk.
One of the things that brings about success in any organisation is culture.
With many organisations, the culture that they speak on paper is divorced from what they actually practice.
Visions, missions and value statements are diametrically different to what leaders and their teams practice.
This is mainly because culture can be easily transferred through seeing.
What the leaders do, the rest of the teams follow.
The best example that any leader can have is character.
The best leaders are those who know the way, show the way and walk the way.
John C Maxwell, an American author, once said: "Nothing speaks like results. If you want to build the kind of credibility that connects with people, then deliver results before you deliver a message. Get out and do what you advise others to do. Communicate from experience."
I challenge all leaders to make their lives exemplary, where they live what they teach and walk their talk.
The same applies to all fathers as well.
If every leader behaves in this way, the training required in organisations will become less and less.
You cannot be successful with others if you can't be successful with yourself.
It has to start with you in most cases, otherwise you move in circles.
Often-times, what you are speaks louder than what you say.
In most cases, whatever you do as a leader, your subordinates do the same in excess.
What you also do as a father, your children are most likely to do the same in excess. In biblical terms, whatever you sow, you shall reap.
Sow good seeds and enjoy the bumper harvest.
I challenge you to guide and inspire your children and generations to come through your behaviour more than your words.
The ultimate results of good leadership are actions, not words. Be encouraged, be inspired, you can make a difference through your positive actions.
Rutendo Gwatidzo is a culture change strategist. She has over 10 years' experience operating as an HR consultant focusing on training and change management. She's also a speaker, a mentor and an author. Contact detail — 0714575805/ [email protected]; Rutendo Gwatidzo official FB public page.