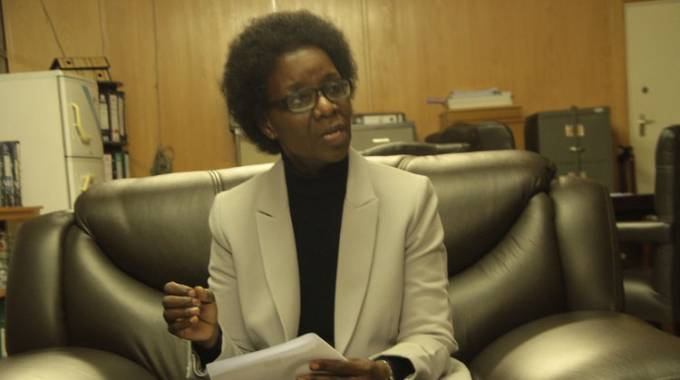 The Sunday Mail
President Emmerson Mnangagwa recently appointed Dr Agnes Mahomva as the new permanent secretary in the Ministry of Health and Child Care (MOHCC). The sector currently faces a lot of challenges, from shortages of mainline drugs to broken down medical equipment in public health facilities. Our Reporter Debra Matabvu last week talked to Dr Mahomva on her plans going forward.
*****
Q: You were recently appointed permanent secretary in the Ministry of Health and Child Care. What is your vision for the ministry?
A: Thank you for asking that very important question. My vision is for the Ministry of Health and Child Care to be a ministry that provides timely high-quality health care for every Zimbabwean, regardless of who they are and where they come from. I feel this is very important. Many times we talk of all sorts of issues and challenges and we end up missing the point. It is about the ministry providing high-quality and timely services for every Zimbabwean.
It does not matter who you are and where you are. I say this because it reminds me of way back when I became a doctor – more than 30 years ago – and my husband had gone away to specialise. I remember telling my children's nanny that if the child got very sick whilst I was on call and she could not, for some reason, get hold of me or our general practitioner, she should immediately take the child straight to Harare Hospital A2 paediatric outpatients and casualty department. This is because Harare Hospital A2 unit was where the best and timely high-quality paediatric care was at that time. The service was even better than in most private institutions. My vision for our ministry is to get us back there and to do even better . . .
Q: You were in Geneva (Switzerland) recently where you met with global players in the health sector, what were some of the issues that were discussed?
A: When you talk of issues, sometimes people think of challenges. However, it was such a pleasure meeting global players at the recent World Health Assembly in Geneva. They were eager to discuss and learn more about some of the many achievements in our health sector such as our very high immunisation coverages that continue to hover around 90 percent; our reduction of mother-to-child transmission of HIV from about 30 percent in 2000 to now around 6,5 percent; and of course our innovative domestic health funding models such as the health levy (airtime tax). They were very eager to learn from us and help other countries that are challenged as ourselves.
However, in addition to that, they discussed the issues of strengthening our primary health care (PHC), which is something we did very well back then. I think that is why we had strong systems back then. So they wanted to learn and know how we can move that forward, specifically to achieve the universal health coverage (UHC), which was the theme of the assembly.
Global players such as the Global Fund and Global Alliance on Vaccinations and Immunisations (GAVI) were keen to discuss how we are addressing our co-funding challenges for the programmes that they are supporting us on.
We also talked about how to strengthen our health system (all six pillars) in order to support and reach universal health coverage.
We also looked at the human resources aspect, monitoring and evaluation systems.
Q: Most hospitals have been facing shortages of drugs and protective clothing. What short- and long-term measures are you taking to rectify the situation?
A: Whilst we do have some challenges with drug shortages, our support and supervision visits have indicated that these shortages have mostly been a result of suboptimal stock management at various levels.
In other words, drugs are available but have just not reached the beneficiaries due to poor stock management. What we are doing in the short term is providing on-job training, mentorship and additional support and supervision visits on stock management. If you have limited drug quantities, it becomes very important to be able to do proper stock management. For example, if there are five boxes, it is not prudent to take them to one clinic.
The other thing that we are looking at is to strengthen governance at every single level. This will help us to improve how we do our business and hence help stretch the available small amount of foreign currency so that we can import more drugs.
I am glad to say at this high level we were talking of governance and people were saying, 'you do not have a NatPharm board', but I am glad to say we now have a board and they will help us with some of the issues such as monitoring that I have been talking about so that we deal with corruption.
We have also mobilised additional domestic and global resources for medicines and other commodities.
The innovative health levy, for example, was specifically set up to help us buy medicines.
At global level, we continue to receive Global Fund, PEPFAR and GAVI funding for drugs, vaccines and other commodities through our grant applications.
We are also exploring Public-Private Partnerships and joint ventures that we hope will give us genuine win-win situations on drug procurement and on long-term local drug manufacturing initiatives.
We have to date signed some MOUs with companies from India, China and Europe, just to name a few.
Q: In 2014, Government put a 5 percent mobile airtime levy, which was ringfenced for the procurement of drugs and medicines. How much has been collected over the years? And how much has been collected this year alone. Why has it been insufficient to boost medical supplies over the years?
A: The mobile airtime levy, also known as the health levy, has been in place since (circa) 2017 and has to date collected about $63 million (RTGS).
Indeed, this levy was ringfenced for procurement of medicines and, yes, the MOHCC has managed to procure medicines using this fund.
I do not think it is fair to say it has not augmented supplies. This innovative way of fundraising has saved us a lot. It has really helped us.
Unfortunately, the current harsh economic situation has seen the foreign currency from this local fund slowly go down.
This has, in turn, made it difficult for us to import the quantities of medicines we had hoped for.
This has, however, not dampened our drive at all.
We are confident we can, and in fact are still able, to reasonably stock up all our health facilities through innovative partnerships such as the recent partnership with India, China, Global Fund and others as highlighted earlier.
We will therefore continue to work on such partnerships.
Q: There have been issues of cartels in the pharmaceutical sector. How is Government going to deal with such malpractices?
A: Good governance at all levels is key and critical. We are reviewing and strengthening our monitoring procedures and processes, as well as taking fast and immediate investigations and appropriate action on any suspected and confirmed cartels.
We are also delighted that as of today, we now have a NatPharm board that has been tasked with paying attention to issues of corruption and issues of ensuring that drug availability at all levels is high. These are people who have been in the industry and also in the private sector.
When we introduced them, there were two issues that the Minister (of Health and Child Care Dr Obadiah Moyo) highlighted – corruption and medicine stocks.
They need to immediately investigate any rumours of corruption and not wait until it is too late.
The other issue the new board was tasked with was to help move the stock of medicines. When we started, not too long ago, the rate of movement stood at 57 percent. It was actually one of our 100-day cycle (targets) and we tasked them move to a higher percentage.
We will also be training and capacitating the staff so that they quickly pick up any corruption and cartels.
Q: Government has been working on inviting investors /partners in the health sector, which partners or countries have you managed to lure to the country's health sector to date?
A: I am very proud to let you know that the Health and Child Care Ministry is probably one of a few ministries that has managed to attract many partners and donors. These partners and donors include the Indian government that recently donated US$2 million worth of drugs.
Part of the donation was officially handed over to the ministry last week and the rest is expected any time soon.
We are also working with the Indian companies for partnerships on provision of hospital equipment, medicines and construction of health posts.
Several MOUs have been signed with some Chinese companies for joint ventures that include construction of hospitals and provision of medicines and medical equipment.
Health Development Fund (HDF) project partners and donors that include Sweden, EU, UK et cetera are also working with us on programmes that focus on provision of high-quality maternal and child health services.
We are also working on setting up bonded warehouses for medicines, like we are doing with fuel, where we know fuel is already available. We do not need to import the commodity each time it runs out. We need to do that with medicines as well. We have signed a number of memorandums with some of our partners. We are now just trying to make sure we move forward with the incentives.
We think Zimbabwe is well-placed to get a more funding from Global Fund mainly due to our well-documented programme achievement.
In addition to that, we have also paid close attention to our existing partners. We talked about Global Fund which is giving us huge amounts of money. So what we are doing is to strengthen our partnerships. We produce results so that when they are ready to distribute funds for the next round, Zimbabwe is in a favourable position.
We are also working on paying up some of our commitments because at times to get the huge amount of funds, you have to pay something as well. So we are very happy to be working with these partners.
Q: There have been talks of revamping the national pharmaceutical company, how far have you gone with this?
A: Governance structures are being strengthened. A new board has just been appointed and the emphasis was to look at corruption issues and quality of medicines.
In the meantime, we have strengthened our monitoring system by introducing a barcode system that allows us to effectively track all medicines and commodities.
We are completing the upgrading of our recording system from paper-based to an electronic system. This will go a long way in supporting an efficient stock management system.
Regular monitoring and support visits, including spot checks, are in progress.
On-the-job training and mentorship of health care workers is being done to strengthen stock management as mentioned earlier.
Q: How far has Government gone with the implementation of the 2010 National Alcohol Policy draft?
A: A draft policy is indeed in place and will be implemented once it has been approved by Cabinet.
Q: Zimbabwe recently introduced a new HIV/ AIDS drug. Have you started distributing the drug?
A: Yes, Dolutegravir (DTG) rollout started this year with sensitisation of health workers to provide the drug as part of a three-drug combination of ARVs.
Since May this year, health facilities have started enrolling patients on DTG-based regimens. However, we have started with the newly diagnosed HIV positive patients for now. Our plans are to enrol the existing and eligible PLHIV (people living with HIV) on treatment from August 2019, where we expect to have received additional supplies of DTG from our suppliers.
Q: There is also an increase in non-communicable diseases. What measures are you putting in place to fight the scourge?
A: It is very true. We are seeing a lot of high blood pressure, diabetes and cancers and other non-communicable diseases, yet we currently do not have good data on the actual magnitude of this problem for Zimbabwe. Fortunately, we have secured some funds to conduct a scientifically sound national assessment this year. This will help us plan appropriately and enable us to target and use our limited resources efficiently and effectively. In the meantime, we have done quite a lot, including sensitisation of communities on risk factors for NCD such as smoking and sedentary lifestyle (involving little physical activity).
There has also been vaccination against Human Papilloma Virus (HPV), which is associated with cancer of the cervix
We have conducted mass drug administration for bilharzia, a disease that is associated with bladder cancer.
We have introduced vaccination against Hepatitis B, a virus associated with cancer of the liver.