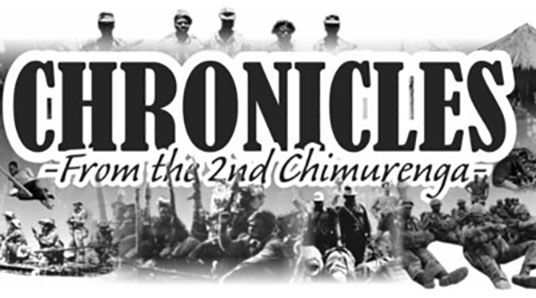 The Sunday Mail
This week, CDE NOBERT MAVHUNGIRE (NM), whose nom de guerre was MUCHADURA MABHUNU, continues recounting his tortuous journey to join the war. He narrates to our Deputy News Editor LINCOLN TOWINDO (LT) how he took part in a daring ambush on a Rhodesian military convoy despite having received limited military training.
********************
LT: Last week, you concluded your story with the commanders telling you to join them on their journey to Mozambique, where you were supposed to undergo military training. How did you react to this shocking revelation?
NM : The news that I was going to join the comrades going into Mozambique came as a shock, but I took it like a man and showed no emotion.
The commanders sent for my wife and told her I was going to join other freedom fighters in Mozambique.
She did not object to that.
They also told her that we would come back to take her along to Mozambique after I had undergone training.
So, we began preparing for our departure.
LT: How long had you stayed in that cave and had Cde Jivas fully recovered from his injuries?
NM: We had stayed in that cave for about three months.
During that time, I had helped Cde Jivas in his recovery by taking him through basic physiotherapy.
He was now able to walk on his own with little assistance from other freedom fighters. After he had fully recovered, we were now ready to go to Mozambique.
However, before we left, we were alerted to the presence of a convoy of about 13 Rhodesian military vehicles that had passed through our area on its way to Uzumba. Cde David Hondo, who was our detachment commander, ordered we set up an ambush.
A plan was quickly set in motion; we were to attack the convoy on its way from Uzumba while crossing a local highway bridge.
We were divided into small groups and given different tasks to undertake during the ambush.
In no time, we were alerted that the vehicles were on their way back, and we were ordered to take up our positions.
I remember some of the comrades in our group.
There was Cde Masunganyoka, who had an FNG submachine gun; Cde Masweets had a light machine gun (LMG); and Cdes Jivas and Nhamoinesu had RPG-2s. Obert Mushambaropa had an RPG-7 and Show Handireki had a Mortar 60.  By any standards, that was a very strong and well-armed team.
As the vehicle convoy approached the bridge, my heart was pounding; I had never faced such a situation before.
Unsurprisingly, the rest of the comrades were all calm and collected, maybe because they had seen battle before and I was still a rookie then.
The order then came for us to attack.
Cde Mushambaropa, who had the bazooka, fired a missile towards the convoy as it approached the bridge.
A huge explosion followed as the Rhodesians scurried for cover.
They had no idea what had hit them.
Another order came directing those with submachine guns to fire at the confused enemy.
The Rhodesians were decimated. All their vehicles were destroyed.
We had won the battle.
I could not believe what had just happened; I had just participated and witnessed a total obliteration of the famed Rhodesian military by a group of determined freedom fighters.
Our team did not suffer any casualties or injuries during that battle, but the enemy had been totally obliterated.
By the time enemy reinforcements came, we had already vanished.
We later assembled at our gathering point and celebrated our victory.
Our team headed into Uzumba, where another detachment operated under Cde Kambanje.
We asked for permission to enter their zone after debriefing them on our latest victory. Our commanders told them that we were on our way to Mozambique.
We were given the right to pass through.
LT: Having fought in two battles already, was there any need for you to proceed to Mozambique for training?
NM: Yes, there was, and aside from that, the comrades were on a mission to collect supplies from the rear.
So, the mission to Mozambique was going to proceed.
We walked along what we called Bhinya Road, which was riddled with all manner of booby traps, as we approached the border.
Among us was Cde Ken Karongwe, who was responsible for removing all these traps, which included landmines and some anti-personnel explosive devices and trip wires.
I was told that to survive the mine-infested road, I was supposed to walk the same path that would have been cleared by Cde Karongwe. Cde Karongwe would take lead. He would defuse bombs and trip wires while we all followed closely in his footsteps.
At last, we reached the crossing point, a place that was called Kumabanana.
This place was a deployment base for ZANLA forces, where fighters coming from the rear would pass through as they were deployed to the front.
Those coming from the front would also pass through this base.
The commanders at the base demanded to know why the comrades had brought along an untrained man from the front.
They were told that I was supposed to go for training since I had already been involved in battle twice.
Cde Jivas had also taught me a bit as he recuperated, so, they said I had a bit of training. We were directed to go to Chingwere Base, where we would receive our materials before the comrades return to the front.
At Chingwere, the commanders also wanted to know what an untrained cadre was doing with fully trained freedom fighters.
They asked whether I had been involved in any battle, and they answered in the affirmative.
So, the commanders said there was no need for me to go for any further training since I had undergone some basic training.
In fact, they said I should go back to the front and work as a carrier of materials for the comrades.
We were then directed to collect our supplies from under a bridge on the border close to Nyamapanda and Changara.
The materials included bazookas, landmines and mortars.
We proceeded back to the front through Kumabanana.
After we had walked for some distance, the comrades started complaining that the materials were too heavy and that we needed to leave some of our supplies behind.
I was carrying on my back two very large containers, as well as my gun.
These materials were so heavy that my back started bleeding.
The commanders then decided to open the packages to remove some of the heavy materials in order to bury them.
We would come back later to collect the supplies.
We then proceeded with our journey until we reached Chiutsi village.
We rested for a short while before proceeding.
The commanders then said since I was a local in our area of operation, they were going to deploy me with the advance team.
Our area of operation spanned Musami, Chivake, Shamu, Matemadombo, Hukuimwe, Dombodzvuku and Makuvaza, where some of our bases were located.
Next week, Cde Mavhungire will recount the deadly encounters they had with Rhodesian forces during his tour of duty.