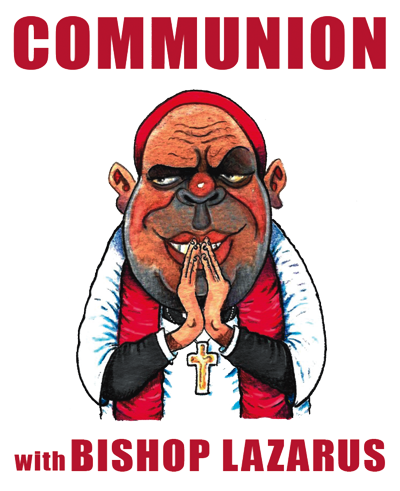 The Sunday Mail
WILL The Herald Columnist Nathaniel Manheru and the Higher and Tertiary Education minister, Professor Jonathan Moyo please Stop It! These two were at each other's intellectual throat two weeks ago and War Veterans minister, Tshinga Dube has become a victim of their tough exchanges.
"I thought I understood how Zanu PF worked, but this has confused me," confessed the bemused War Veterans minister. Hey, Manheru and you Prof Moyo look what you are doing to a whole minister? If you are confusing a whole minister, just imagine what you are doing to the ordinary person? Stop it!
While Manheru's article was reduced by the desperate private media into a fight between the columnist and Prof Moyo, Bishop Lazarus saw a completely different frame from the column. And this Bishop can brag a bit about it.
You see, some months ago, Bishop Lazarus swore that, it's possible that some diamonds were stolen in Chiadzwa but was emphatic in saying hakuna US$15 billion yakabiwa. US$15 billion? Stolen? Just like that? Ahhh, vanhu kwanai.
Let's rewind a bit. On June 12, 2016, Bishop Lazarus under the headline; "What's the fuss about this US$15 billion?" wrote the following:
"If those who have been mining diamonds at Chiadzwa stole US$15 billion, let's see how things add up. According to the Kimberly Process, Zimbabwean diamond prices are around US$55 per carat.
"If we divide that figure by US$15 billion, it means the companies mined around 264 million carats. We then divide the 264 million carats by the six years that the companies have been in operation and we get around 49 million carats a year.
"Now this can't be realistic macomrades. Even Russia which is the number one producer of diamonds doesn't even get close to 49 million carats.
"I know those with mischief are already saying, but Bishop the US$15 billion came from President Mugabe. Well, let me be very clear here. Yes, the President spoke about the missing US$15 billion on his birthday, but so what? Saka kana kukanzi munhu akamhanya tsoka dzichirova gotsi, does it mean kuti munhu uyu gotsi rake rakatozvimba nekurohwa netsoka? Come on guys, let's be a bit serious.
"When I listened to the President speaking, I got the sense that he was just trying to emphasise the point that our diamond money was misused. He was not talking about the US$15 billion literally. He was speaking figuratively. Let's not act like dimwits. Kuita kunge marema so, just to fool the gullible."
That was your Bishop in June 2016. After this article, some said Bishop vakumhanya mushini, kwanzi dzarasa. Well, Manheru "at the risk of contravening a sacred act" and at the risk of blowing his cover, made quite some interesting revelations regarding that 15 billion.
Manheru wrote: "Here I go: It's a fine Monday morning, and we are having a prayer with the great one. Then a great conversation started: Sir, this claim that we lost 15 billion worth of diamonds?" Great, cacophonous laughter from The Great One.
"What $15 billion, young man? What was the value of rough diamonds traded worldwide last year?
"Another roaring laughter! 'About $14 comma something billion Sir!' 'So, ooo!?'
"Yet another round of reckless laughter. Then the bombshell: 'Figure . . . that is a figure I just mentioned so that it might sound tarrying kikikikikiki!' 'Ahh, shef (ahh, boss), now you have caused a problem for us with the opposition."
"More laughter! 'that's for you to deal with. I wanted to dramatise the need for us to take control of our diamond resource; to ensure full accountability of its exploitation, and I achieved the national focus I wanted."
There it is vanhu vamwari. In case you missed the point — the Great One here is President Mugabe and he was saying, he mentioned US$15 billion just to dramatise the need to take control of our diamond resources. Sandizvo here what this Bishop said on June 12, 2016?
Bishop Lazarus voti the President was "just trying to emphasise the point that our diamond money was misused…He was not talking about the US$15 billion literally. He was speaking figuratively." Gare gare Manheru oti the Great One said "I wanted to dramatise the need for us to take control of our diamond resources."
Hamuoni Bishop Lazarus vakaita chiporofita here apa? I know Jeremiah 9 vs 23 says: "Thus says the Lord: 'Let not the wise man boast in his wisdom, let not the mighty man boast in his might, let not the rich man boast in his riches." But hey, the temptation is very high. Mashoko a Bishop oda kuti tome, tome neaGushungo? Ahh, a little bragging wouldn't kill. Ndiri wenyama ini!
It's good that this US$15 billion story has finally been put to rest. Hakuna madiamonds eUS$15 billion akabiwa. Ngatitaure dzimwe nyaya nhaika.
Talking about talking — there has been lots of reckless talk in recent weeks. Politicians turning into a circus and grown up men turning into little boys — here is the list — Saviour Kasukuwere, Kudzanai Chipanga, Douglas Mahiya, Victor Matemadanda, Godfrey Tsenengamu and Temba Mliswa. Energy Mutodi is a hopeless nuisance and honestly, all those wasting time on this dimwit need mental surgery. Can't you see Mutodi needs urgent medical help?
It's good to be back, but then its so unfortunate that I come back in this silly season of reckless talk. Vanhu vari kuhumana kwete mbichana. Kasukuwere, ahh? Chipanga, yowee? Mahiya, hezvo? Matemadanga, yuwii? Tsenengamu, inga? Mliswa, hesi mhani? Chirwere cheverbosity has gripped these supposed politicians.
Proverbs 12 vs 18 says: "The words of the reckless pierce like swords, but the tongue of the wise brings healing," but these supposed politicians care no more. As Psalm 59 vs 7 says: " Behold, they belch forth with their mouth; Swords are in their lips, For, they say, "Who hears?" Bishop Lazarus can add — "For they say, who cares?"
The focus of this sermon is Kasukuwere because he is the national commissar and we expect better from him. Tumwe twese utwo haiwawo little puppies with no teeth.
Asked by a local weekly newspaper about allegations that provincial chairpersons and commissars had confronted him for hobnobbing with Temba Mliswa, Kasukuwere in his usual reckless style said: "You are reading too much of the State media. I think the State media has sunk to very desperate levels; very low life kind of journalism. I don't want to waste my time reading or discussing The Herald."
The State media has sunk to desperate levels? Shuwa, shuwa Tyson? What desperate levels? The State media are the leaders in the market by whatever measurement Tyson may think of. There is no desperation at all.
In fact, Kasukuwere is the one who is sounding and looking desperate. The tide is clearly against him. War veterans are ratcheting up the pressure and since the Norton embarrassment, the man has not yet recovered. I saw him at the Zanu PF conference, Tyson was never himself. He kept wondering and praying kuti mhepo hadzisimuki. At one stage during one of the committee sessions, he almost ran away from his shadow. The full story about this incident is coming soon. Just hold on dear congregants.
Kasukuwere said he doesn't "want to waste my time reading or discussing The Herald," but a few days later, I mean just yesterday, he was in The Herald, almost the whole page giving his views on different issues. Now who is desperate here vanhu vamwari? Kana ndimiwo? Who is showing desperation here? The Herald or Kasukuwere?
In The Herald interview yesterday, Kasukuwere said: "My appeal to you at Herald House is grow up…" Kikikikiki! Honestly, Tyson needs to grow up. I am actually being serious here. For starters, why was Kasukuwere granting an interview to people at Herald House if they still need to grow up? Akadii kuenda kune vacho vakura?
Kasukuwere's problem is that he is taking things personal and in the process he is seeing shadows everywhere. I am sure no one at the State media hates him.
It was clear from the interview that Kasukuwere is really rattled by VP Mnangagwa when he described him as "big" company, but so what? He should manage his fear kumba kwake.
By granting him the interview, I hope Kasukuwere gets the message that it's nothing personal and basa richaitwa whether G40 or Lacoste zvese zvasvotwa.
Ephesians 4 vs 29 should guide Kasukuwere. It says: "Do not let any unwholesome talk come out of your mouths, but only what is helpful for building others up according to their needs, that it may benefit those who listen." As a big brother, you expect Kasukuwere to know better.
But you get the feeling Kasukuwere wants to intimidate the State media but that is a sheer waste of time. Hatidzosi tsvimbo ngekuti gudo rabata mahobi. Chaya dhongi newaya!
Bishop is out!