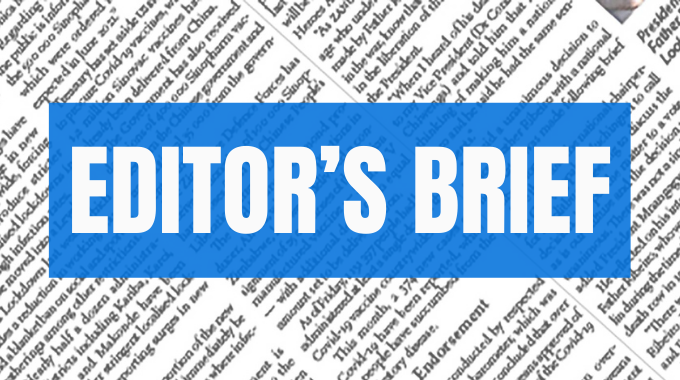 The Sunday Mail
Editor's Brief
Victoria Ruzvidzo
That Africa is endowed with great resources is common knowledge globally, but what is fast emerging is its growing skill and talent — either imported via its Diaspora or its relations with countries such as China, India, Japan or those of the West.
With this, we have seen that even deserts can be developed and amount to something big and highly competitive.
Africa can do that.
Forget the negative tag it carries around.
My visit to Egypt has been quite revealing.
The ancient city of Cairo, with its old and in some cases dilapidated buildings, will deceive you into thinking there is not much about this country, but the past few days have disabused me of this notion.
On first impression, someone can be excused for thinking Cairo resonates more with history than modern-day Africa, but that would be highly naive.
It is a grand city with a rich history.
In fact, the old buildings have been deliberately allowed to stand till this day to preserve its history.
And it is building a whole new administrative city 70km from Cairo.
To think that this is happening in a country that is 90 percent desert challenges the mind.
Africa is truly blessed.
In the new city, whose construction started five years ago, resources, skills, technology and the desire for a high-quality life, have confluenced to produce a modern green city that could compete with any other in the developed world.
Modern architecture and the need to promote sustainable development will result in 70 percent of the buildings using solar energy and other renewable sources.
It is in this new city that Egypt is also building the tallest building in Africa, the Iconic Tower.
It stands 400 metres high and has 57 floors.
At least US$30 billion is budgeted for the construction of administrative city in terms of government offices, housing for six million people, embassies for all African countries and other foreign missions, a business district and other amenities of a modern city.
The first phase, set for completion within the next two years, has already seen a number of buildings go up.  Heavy construction is currently going on between Cairo and the Suez Canal where the city is located.
The project's spokesperson, Hazd Elhussieny, walks with gusto as he takes delegates on a tour of some of the facilities under the project.
He knows his country is making history, and doing so in style.
He sees the expressions on our faces and knows that indeed this is going to be a project of great impact and even envy.
The architecture and ambience — evident already — leaves one mesmerised and quite excitable about prospects of not just Egypt but Africa in general.
My country Zimbabwe comes to mind.
We can surely do it too.
Through the administrative city, Egypt intends to decongest Cairo, a city with a population of 23 million people, almost twice that of Zimbabwe.
Such massive construction and other world-class developments in its industry are happening in a country which is 90 percent desert.
This says a lot about the continent's potential.
It is not unusual to preserve history, for there is much to glean from it.
But that, however, does not in itself negate moving in tandem with modern developments and trends, and Egypt captures this, as do other world-class cities such as London.
One can easily juxtapose the old and the new.
There are enduring lessons here, for it reveals where a people came from and where they are headed. There are salutary lessons on the importance of history and yet still indicate the trajectory taken.
Most visitors find the past appealing and fascinating as encapsulated by the old.
The new green city is indicative of how things are panning out in the modern era.
One is filled with awe.
Africa has much to offer, hence the significant contributions to the fiscus by tourism.
The natural and human resources on the continent are immense.
These belie economic performances of most nations across the continent, where typically more than half of the people live below the poverty datum line.
We cannot continue to be synonymous with under-development, poverty, economic regression, disease, conflict and wars.
It is an indictment on the continent as a whole. It brings urgency on the need to transform communities and economies.
Our demographic dividend puts us in very good stead.
With a youth population of about 65 percent, Africa is set for growth. What must we do differently to catalyse the envisaged scenario?
The continent is regrettably fragmented.
It appears most countries are bent on working independently.
Yet no single country has the resources to drive the interventions that the technological era demands.
We have strength in numbers.
Further to that, when we pool human and financial resources together, we attain much greater progression.
We need coherent and collaborative policies and thrust.
The African Union, particularly the Agenda 2063 strategy, has potential to catapult Africa to its rightful place on the globe.
The recently launched African Continental Free Trade Area is an auspicious platform for boosting intra-Africa trade.
Furthermore, we derive optimum benefits from individual countries' strength.
Thus, there is need for mindset shifts.
We fashion the future we want.
We look within and fully utilise our capabilities and capacities.
None but ourselves will do it for us.
We need to have a clear identity and develop self-confidence.
We are certainly not an inferior people.
We are entirely capable of determining our destiny.
Everything starts in the mind.
If we think we can do it, we will. If we think we cannot, then we will not. It becomes a self-fulfilling prophecy.
While Foreign Direct Investment is always welcome, we must concurrently drive our internal agendas, those that capture and resonate with populaces.
ln some instances, foreign capital is purely driven by selfish interests with scant regard for local communities.
ln any case, our resources should benefit Africans the most.
Where the benefits are mutual, then, by all means, we explore these.
Zimbabwe adopted the open for business mantra as we recover and get firmly set on the growth path.
This recognises that we live among a community of nations and we want to partake in it and from it.
The benefits are already beginning to show with keener interest shown by investors and countries.
More than that, more foreign companies have set up shop.
There are easily discernible benefits here, with capital, technology, skills transfer and markets being available.
It is also noteworthy that deals are being structured in a manner that makes them a win-win situation.
Being open for business means we not only partner our fellow African brothers but the international community at large.
Here, innovations have been underlined with the setting up of innovation hubs.
Encouragingly, they have already begun to bear fruit.
Witness the various products on display at the Zimbabwe International Trade Fair held last month.
There is always need to re-imagine and reinvent in a rapidly changing environment, tapping into technological advances, and this accent on innovation is laudable.
It is in sync with the demands of an evolving world, and youths also get a platform to unleash their creativity for everyone's benefit.
In God I Trust!