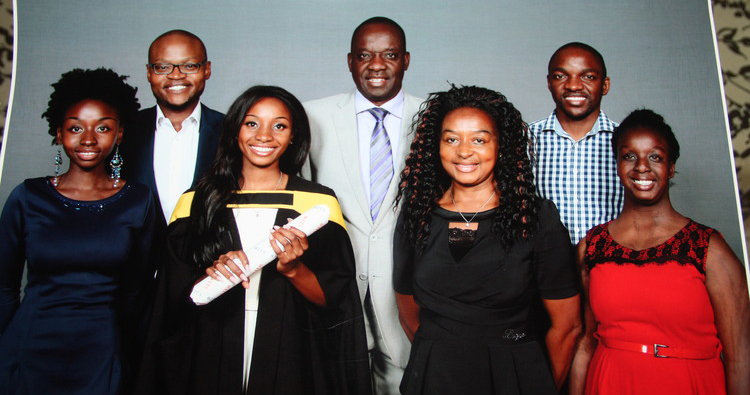 The Sunday Mail
Fatima Bulla —
CO-founder of His Presence Ministries International, Pastor Petunia Chiriseri, says she has received physical and emotional miraculous healing following the death of her husband Apostle Charles Chiriseri.
The couple was involved in a tragic accident that occurred along the Harare-Bulawayo Highway near Mbembesi in September. Apostle Chiriseri died on the spot.
Pastor Chiriseri is still recovering from the injuries sustained during the accident at her Harare home after spending close to a month in Mater Dei Hospital's intensive care unit. She said her children strengthened her following her husband's untimely death at 59.
"I thought I was going to be one of those widows who roll on the floor, weeping myself to death. I thought I was going to be a mess emotionally. We had been friends with Charles since I was 18. We got married when I was 22. So it's almost a lifetime.
"The emotion is just not there. I think we are just a miracle family because of what he invested in the spirit. I mean I sigh all the time, (that) my friend is gone, my husband is gone (and), I have broken down a couple of times.
"But I know the emotions of sorrow from when I lost my mum, my dad and my brother. This is not it. We are just so strong, there is peace! This is just but God and it's marvellous in our sight. When Jesus said God will send another comforter, the Holy Spirit, the name of our church has risen to the occasion. His presence just comes and holds my heart," she said.
Speaking on her injuries, Pastor Chiriseri said she had to rely on morphine for pain relief from the first day she got into hospital. However, she said she encountered a healing miracle along the way.
"I had a divine visitation on the same day of the major operation on my knee. The operation was from 9am-4pm. The doctor kept telling me this was a major operation. And the pain when I came out, my goodness, I can't describe it. I was on morphine from day one. I am told I was double my size from the trauma I went through, but I had this miraculous healing.
"It was after my spiritually cheeky daughters and sisters-in-law had been in there. They left at 9pm after having prayed, asking God to take away the pain.
"I was lying there thinking, 'how does God take away pain when it's from an operation'. I think it was on day 10. lt was hard to understand with my mind but my spirit just received it. They left and the pain became so unbearable.
"I thought here I am going either to lose my mind or die if it continues for another minute. So I just broke down and cried. I don't think I even prayed, I could barely move or breathe.
"Each time I breathed my four broken ribs were sore, they couldn't touch me, they couldn't bath me. It was real agony. I just whispered and said Lord I'm just desperate. I don't know if I even finished that word, God just gave me a prophetic declaration to declare. That time I declared, suddenly, immediately, I was without pain," she said in amusement.
Pastor Chiriseri said when she rung the hospital bell, nurses thought she was in need of morphine.
"I used to be turned with a draw sheet so that I would not have bed sores. I couldn't breathe. I couldn't move. I had to ring the bell and call the nurse who was attending to me. When l did he said, 'no mama we can't give you any more morphine'.
I said, 'no I don't want morphine. I want you to come and see what the Lord has done, He has healed me'
"I started lifting my hand. From that moment I sat up. From that day, I have not had any pain from the operation and injuries – the lungs and the broken ribs. l am only taking pain killers for the aches that come from sleeping," she said.
The mother-of-five, including an adopted one, said at one time she got worried that her children were not breaking down in grief.
"I was even checking on the children saying, 'hey you guys are strong. You need to be crying, who has cried, how many times have you cried?' They would say, 'we will cry when the emotion comes'.
"It's just a miracle. Physically the healing is miraculous, emotionally it's miraculous, (and) spiritually we could never be moved. He left us in a good space. We know who we are, whose we are and what we are about. That has brought revival to the church," said Pastor Chiriseri.
Describing her husband as an organised, unifying and loving person who worked behind the scenes, Pastor Chiriseri said these attributes ensured that life moved on following his death.
"He had apportioned the church to the ministers he had groomed the previous year. We planted churches. For the first nine years of the ministry, we had 10 branches.
We branched out the 10th one into nine mega churches and he entrusted the ministers he had raised. He just said I sense God saying I need to raise church planters, a new layer of leaders. So he took us through the whole year of church planting and growth.
From last year to the time he died, all he did was just apostolic visits. That was true to his character, he didn't build the church around the man of God, he built around the God of man.
Pastor Chiriseri said HPMI assemblies founded in 2006 through this initiative have expanded to 45. Having taken overall leadership of the church, Pastor Chiriseri has held meetings with pastors who make up the decision making council to map the way forward for the ministry.
"Ever since I came home I have just been focusing more on the leadership. God could have healed my family miraculously but people have different levels of processing their emotions. I need to understand how they are processing emotionally the apostle's home-going. That was the first meeting which I thought was very necessary for them to cascade to the congregants."
While life goes on, Pastor Chiriseri said her family's routines will keep memories of Apostle Chiriseri etched in their minds.
"We would sit for a late breakfast on that table. We used to call it our Monday branch. Every Monday he would ask every one of our children about their plans. He practically empowered them on life. I think that's what has made them strong," she said.
The couple's children, Yasha and Zoe, who were based outside the country, have moved back to Zimbabwe to assist within the ministry.