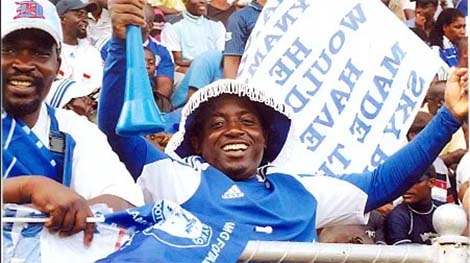 The Sunday Mail
Online Reporter
Dynamos and Warriors fan Chris "Romario" Musekiwa has spoken out against violence that has dogged the Premier Soccer League in recent weeks.
The popular cheerleader, who is arguably DeMbare's number one supporter, also urged authorities to deal decisively with perpetrators of violence.
"We have also noted with great concern that some incompetent and inexperienced match officials are being tasked to handle high- profile matches pitting the nation's biggest clubs.
"With such kind of officiating, we wish the likes of Felix Tangawarima, Wilfred Mukuna, Wonder Kalota and Tichaona Chapfika (both late) and Kenny Marange were still up and about to officiate,'' said Musekiwa.
"Those who lead crowd trouble must be heavily dealt with and the laws of the land must punish them as well.
"Such kind of behaviour may compromise sponsorship and even close doors for those that intend to come on board."
His sentiments come in the wake of chaotic scenes that forced the abandonment of the high-stakes Premiership match between Highlanders and Dynamos at Barbourfields Stadium on Sunday.
Highlanders and Dynamos fans invaded the pitch at different intervals during the game.
A section of the Dynamos faithful, however, went haywire when they invaded the pitch to protest a late Highlanders goal and tore apart the nets while vandalising goalposts.
Earlier on, Highlanders' supporters had also taken matters into their hands after Bill Antonio's crude tackle on Bosso defender Andrew Tandi.
The Battle of Zimbabwe clash was eventually abandoned.
The Premier Soccer League management committee have responded by suspending the competition and calling for a workshop on security at games.
The workshop is slated for Friday in Harare and matches will only resume next week.