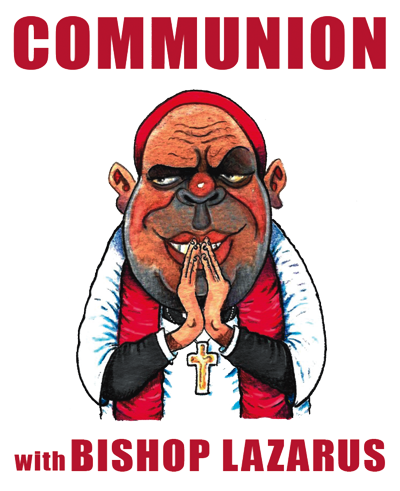 The Sunday Mail
THE HONOURABLE MP for Buhera South, Cde Joseph "Chinoz" Chinotimba, was breathing fire last week. Responding to one of my sermons where I questioned why MPs wanted diplomatic passports, Cde Chinoz had no kind words for munhu wamwari. "A bishop does not attack people in public. Our dear Bishop Lazarus doesn't know what he is talking about. When I made that intervention on diplomatic passports, I was not soliloquising," said Cde Chinoz. Soliloquising? From our own Chinoz? Don't ever lie to me kuti Cde Chinoz havana kudzidza.
And he was not yet done with poor Bishop Lazarus.
"It was not monologuing, neither was I musing," said Cde Chinoz with the pomposity of a man who knows exactly what he is saying.
Before I could recover and find my dictionary, Cde Chinoz was signing off, telling poor me that I required "immediate psychiatric examination!" Kwanzi naChinoz dzangu dzakarasa. Kikikikiki!
Well, Cde Chinoz is quite a funny character. I like his sense of humour, so why not some laughter as we wait for the day he will find the time to answer my question why exactly MPs require diplomatic passports?
In the meantime, let me say it was good to hear from you Cde Chinoz!
Enough about Cde Chinoz.
So MDC-T leader Morgan Tsvangirai is battling cancer of the colon? Bishop Lazarus is praying for his speedy recovery. Hate him or like him, Morgan has brought a vibe to the country's national politics and, honestly, we want him back in the political ring. But then all we can do is pray to God for his recovery.
Bishop Lazarus hopes that Morgan's illness will teach the lunatic fringe in the private media that politicians — whether ruling or in opposition — are human beings, who, like everybody else, can fall ill.
We are human beings before we are politicians, and we are Zimbabweans before we become Zanu-PF, MDC-T or whatever political party. There is no need to cook up stories or write unfounded lies about anyone's health. It's barbaric and unprofessional.
And now to today's sermon.
Vice-President Phelekezela Mphoko last week tried to explain why since his appointment as VP he has been staying in a Harare hotel.
"The day I was appointed VP of this country, I was staying at Meikles Hotel. According to Government regulations, I had to move out of Meikles because it is a private hotel. I moved to a Government hotel which is Sheraton (Rainbow Towers). The Government has got shares there…"
Let's briefly dissect the above statement by the VP.
VP Mphoko's family runs Choppies supermarkets and we are very sure he is standing on solid ground financially. But what message is he sending as a Government official (remember he was Zimbabwe's Ambassador to South Africa) staying at a private hotel instead of staying in a Government hotel?
Let's not even go into what Meikles Hotel stands for in this country. Let's not also mention that Sheraton stopped existing in this country many moons ago.
VP Mphoko continued his explanation: "People don't know what they are talking about. The house that the Government has bought me is not even worth US$3 million. It's $1 million and something. I live in a Government hotel. It's as good as staying in a Government house. It's as good as Tsvangirai who is staying in a Government house. Tsvangirai is staying in a Government house which is as good as staying at Sheraton (Rainbow Towers)."
I beg to differ, Cde Vice-President. A five-star hotel stay and living in a Government house can never be the same thing.
More so at a time civil servants have not been paid.
The VP went on: "The Presidency is an institution governed by strict security, strict protocol, not anything outside that. Long back I used to drive from South Africa, park my car along the road and sleep but I can't do that now. The men i travel with can't allow me to do that …"
We hear you Cde VP. But no one is saying you should sleep on the road. No. A US$1 million Government house will do just fine. And security will be tighter there than at a hotel.
Maybe we are failing to understand our dear Vice-President? Cde VP, will you please come again?
Bishop is out!