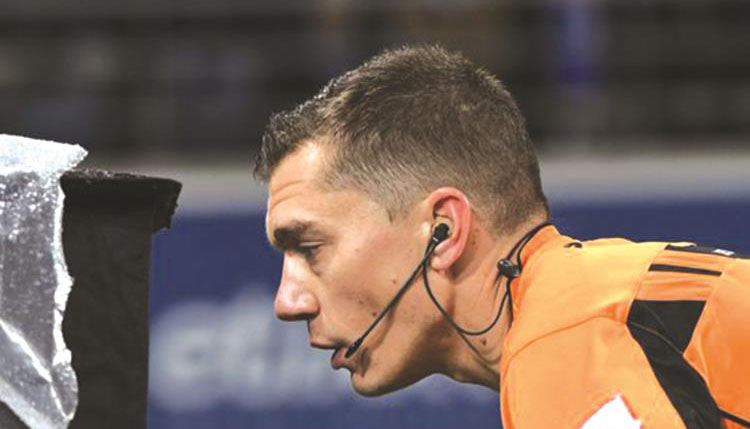 The Sunday Mail
Get used to the sight of a referee making a box with his hands — you might be seeing a lot of it at World Cup 2018.
The referee's hand signal means he's about to run over to a small screen to watch a replay of a controversial call. Video replay by the video assistant referee (VAR) has already appeared in major soccer leagues the world over, but it's coming to the World Cup for the first time in Russia.
The FIFA World Cup embraced expanding technology during the 2014 tournament in Brazil, welcoming goal line technology for more accurate readings as to whether a ball really crossed the goal line.
VAR takes a giant step beyond the simple and immediate technology.
Referees now have the option to use video review when a "clear and obvious error" involving goals, penalty awards, red cards or mistaken identity needs a review.
"It's great to have technology in football because this is also a fair(ness) thing," FIFA chief commercial officer Philippe Le Floc'h told The Associated Press.
The main on-field match official can initiate a review, but earpiece technology already in place with the two sideline assistant referees will expand to include a referee with access to a video monitor to check decisions eligible for review. IFA will install an operations centre in Moscow connected to all Russia World Cup stadiums via a fibre-optic network.A group of four video officials will communicate and monitor games.
The lead VAR official will communicate with the match referee. While one assistant follows the match live, another focuses on offsides and a third offers support and verifies protocol.
The World Cup will install two additional cameras to the 33 cameras already used by broadcasters to help specifically with offside decisions.
Fans in the stadium will receive the final VAR call on stadium screens.on each goal line from various points along the upper levels of the stadium or roof. With a margin of error plus-minus 0,6 inches, the system provided clarity without interrupting the game's flow. – Popularmechanics.com