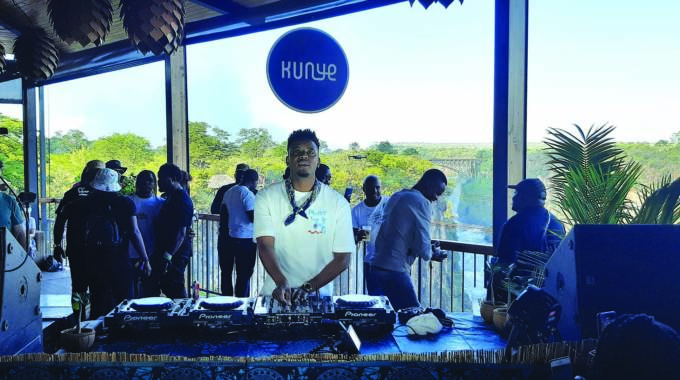 The Sunday Mail
Andrew Moyo recently in Victoria Falls
EXCITING, explosive, electric and equally disappointing are some of the words that can be used to describe the just ended Vic Falls Carnival.
It was certainly an event of many moods, characterised by both highs and lows.
While the organisers seemed to have gone out of their way to make it a memorable 10th-anniversary celebration, not everything went according to plan.
 Absentees
The excitement was diluted from the start with the absence of DJ Maphorisa, Kabza De Small and Sha Sha.
Although all the other performers on the lineup 'understood the assignment' as netizens might say, the fact that some people had come to the event specifically for the missing trio cannot be ignored.
Most people felt cheated. But the crowd was angrier with Sha Sha who they felt had let her fellow countrymen down.
But visiting Botswana revellers were not surprised by DJ Maphorisa's action as he has twice failed to show up for major events.
 Top displays
Acts that made it through to the event delivered memorable pieces.
Organisers should be commended for setting up a massive stage with giant screens, mesmeric lighting and a solid sound system.
From the curtain raisers to the established names, no one seemed to miss a step.
Indeed music is a universal language as the multicultural crowd was showing love to all the artistes that took to the stage. Whether it was Nutty O's "Peter Pan" or Gemma's "Ndinewe", the language barrier was no match for the atmosphere.
Khoisan, Takura, Master KG, Boity, Nutty O, Gemma Griffiths, Shimza, Djembe Monks, Tashinga, Asaph and Flying Bantu were some of the acts on the lineup.
The surprise act on the closing night turned out to be Sun-El Musician who got on stage to loud roars.
 Support local
However, many local music fans have been calling for promotors and event organisers to give local musicians more support.
This comes after a massive influx of foreign acts, particularly South Africans that are getting tons of cash for average performances.
Takura, Nutty O and Gemma Griffiths were among the outstanding performers at this year's edition of the carnival.
They easily proved that they have international stuff as they mesmerised the diverse crowd.
"Local acts deserve to be headliners at such events," argued one of Nutty O's fans during his set.
 Mbingas
Over the past few years, general ticket holders have enjoyed some extra elements of the carnival, for example, the famous train and bush party.
However, this year they were only able to access the main concerts with 'extra perks' being exclusively accessed by VIP and VVIP ticket holders. It seems like organisers put a lot of effort into ensuring that those who forked out more got the best experience while ''neglecting'' those of lesser financial muscle. VVIP ticket holders had a sunset boat cruise, a pool party and access to the Kunye event that was held at the Lookout Café at no extra cost.
They also had their own entrance and sitting area which gave them access to get right close to the stage.
Ordinary ticket holders had to park their cars a bit further away from the main entrance and were to wait in queues for shuttles to come and ferry them to the venue.
While it is normal for events to have these exclusive sections, some die-hard carnival fans reckon the new trend will destroy the carnival spirit.
"Chimbinga chakuuraya carnival (these VIPs are killing the carnival).
''We are used to having a good time while celebrating the different music and cultures in unison where no one is left feeling segregated," said Dino Makova, a serial attendee of the event.
Extras
Those who managed to get on the sunset boat cruises were certainly in for a treat as they got to enjoy good vibes and drinks on the Zambezi River.
The boat cruise after-parties that were held at Pure Africa by the scenic riverside were a marvel, with a setup that exuded elegance.
The patrons also got an opportunity to see some of the headline artistes perform before they took to the main stage.
There was also the VIP All White Pool Party that was hosted by Boity's BT Signature at the Elephant Hills. The party had a laid-back vibe, with the likes of Tashinga pumping out solid deep house jams that were in tune with the mood at the joint.
Sunday afternoon's Kunye at the Lookout Café was one of the most exciting elements of the carnival.
While VVIP and VIP ticket holders could access the event, others who also wanted to join in had to pay an extra US$50 but the tickets had sold out two days prior.
This was certainly an experience of a lifetime with fans getting up close and personal with electronic music powerhouses DJ Shimza and Sun-El Musician.
"There is something spiritual about this space. It's my first time in Victoria Falls and it is just amazing," said Sun-El in an interview with The Sunday Mail Society.
"The people, the noise and the energy that is here has just been great and I really enjoyed myself. I have been here about four times, Bulawayo and Harare."