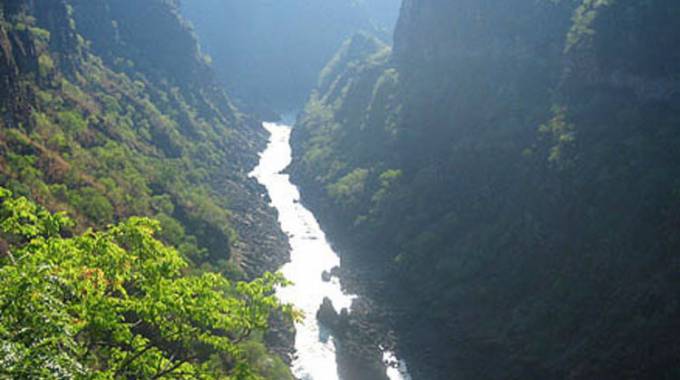 The Sunday Mail
President Emmerson Mnangagwa will next week meet representatives of major multinationals General Electric and PowerChina in a milestone indaba that will set the tone for construction of the massive Batoka Gorge Hydro Power Plant.
The 2 400MW, $5,2 billion plant will be situated a few kilometres downstream Victoria Falls on the Zambezi River, and Zimbabwe and Zambia will share the electricity equally.
Progress on the Batoka talks comes as President Mnangagwa this week commissions the Arcadia Lithium project, which has capacity to generate nearly $250 million in export revenues annually.
In his weekly column in the The Sunday Mail, President Mnangagwa said presentations on the project by the American and Chinese firms would be on December 5 and 6 in Harare and Lusaka respectively.
Bringing Batoka Gorge on-stream will see Zimbabwe attain electricity self-sufficiency.
The country is producing about 1 300MW against demand of 1 900MW, with deficit being covered by imports from South Africa and Mozambique.
Government has — with Chinese investment — upgraded Kariba South Hydro and now an Indian firm is refurbishing Hwange South Thermal to the tune of $310 million.
President Mnangagwa says his infrastructure upgrade agenda has been backed by a new African Development Bank report ("Building a New Zimbabwe: Targeted Policies for Growth and Job Creation").
"The AfDB report treats investing in the development of infrastructure as a high priority, and suggests Zimbabwe needs to mobilise 'patient capital' for that," says President Mnangagwa.
"By 'patient capital', the report figuratively refers to long-term infrastructural investment with a maturity of 10 years or more, much of which has tended to come from countries like China and India.
"Already, these two countries are our development and trading partners, and have been active in financing infrastructural projects here, including in the energy sector.
"India has just committed itself to refurbish our Hwange Power Station to the tune of $310 million. We need to move with speed to take up this offer which will augment our power supplies, thus limiting further our power import bill.
"Yesterday I met officials from General Electric on the Batoka Gorge Hydro-Power Project, which we are set to implement jointly with the sister Republic of Zambia as an IPP.
"Prior to this, I wrote to President Edgar Lungu proposing that a consortium of Power China and General Electric be contracted to work on the project which has been outstanding since 1972 when it was first proposed. President Lungu graciously agreed.
"Once completed, the project will generate about 2 200 megawatts which will be shared equally between us and Zambia. With other power projects either completed, underway or planned, Zimbabwe is set to be a power surplus nation."
The Head of State and Government said his administration would also revamp transport and communications infrastructure.
President Mnangagwa said talks with Sadc members were underway to come up with a regional transport hub masterplan.
"Our goal should thus be to make Zimbabwe a sub-regional transport and communication hub," the President added.
Zimbabwe's leader said Southern African countries were working on major transport corridor.
"I am happy that on the side-lines of the recent African Union Extraordinary Summit in Addis Ababa, Ethiopia, I conferred with President Masisi of Botswana on this possibility.
"Building on a prior meeting between him and President Nyusi of Mozambique, Zimbabwe will soon host a ministerial meeting on how our three countries can cooperate towards investing in rail and pipeline links which will serve our countries and beyond.
"Thereafter, another meeting involving Zimbabwe, South Africa and Mozambique will be convened to map out plans for a Southern Corridor."
The Sunday Mail understands the tripartite ministerial meeting is likely to be convened as early as this week.