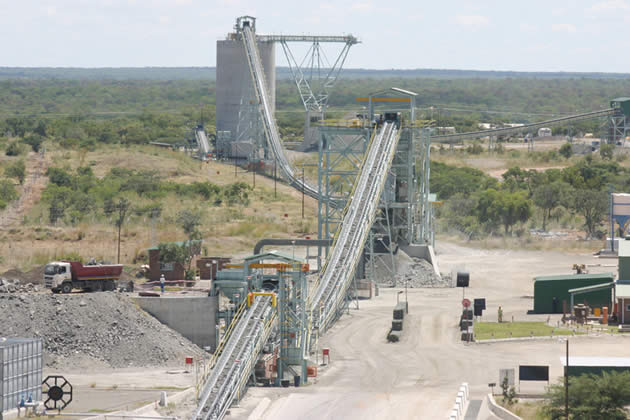 The Sunday Mail
Darlington Musarurwa Business Editor
ZVISHAVANE-based platinum producer Unki Platinum Mines has managed to buck the trend of declining production volumes plaguing most of Anglo Platinum Mines' (Amplats) operations, particularly in South Africa, raising possibilities that South African miners might shore up investments in local platinum mines.
Johannesburg Stock Exchange-listed Amplats wholly owns Unki.
A series of industrial action by restive workers at some of the world's biggest platinum mines — Anglo American Platinum Limited, Impala Platinum Holdings and Lonmin — in South Africa has taken its toll on the production of the white metal.
In the latest production report for the quarter ended March 31, 2014 released on Thursday, Amplats noted that while production at its mines at Rustenberg, Amandelbult and Union dropped 84 percent, 75 percent and 86 percent respectively, volumes at Unki climbed 4 percent "due to higher volumes delivered to the concentrator and throughput at the mills".
During the quarter under review, 378 000 tonnes were milled at Unki, while refined production rose to 15 000 ounces from 14 000 ounces from the same period a year earlier.
On the overall, cumulative tonnes milled at all Amplats operations declined to 6,7 million tonnes from 10 million a year ago.
Mining experts believe that the turmoil in South Africa might ultimately force South African mining firms, most of which have a stranglehold on local platinum mining operations, to increase local investments in order to hedge against volatile South African labour conditions.
Impala Platinum Mines (Implats) currently has more than 87 percent interest in Zimplats, while Aquarius, which is also listed on the JSE, is the former's joint venture partner in Mimosa Platinum Mine.
Both mines are located along the mineral-rich Great Dyke.
Mine workers in South Africa's platinum industry, especially those under the ambit of the Association of Mineworkers and Construction Union (Amcu), are pushing for a basic monthly salary excluding allowances of R12 500 (about US$1 200) by 2017.
However, mining companies have pledged to maintain the same figure, including allowances.
In a joint statement published on March 25 this year, SA platinum producers claim they had taken a R14,5 billion (US$1,36 billion) hit from the industrial action.
As a result, Amplats has since revised downwards its targeted output for 2014 to 2,1 million ounces from the previous guidance of 2,3 million ounces.
"In respect of the outlook for 2014 as a whole and taking into account the production lost to date, full year production is expected to reduce to approximately 2,1Moz (million ounces), with potential for further downside revisions from the ongoing industrial action.
"Previous guidance for 2014 was 2,3 Moz to 2,4 Moz. Sales expectations are unchanged while cost indications will be reviewed only when the industrial action has been resolved," said Amplats in a statement accompanying its production update.
Local operations in good stead
Treacherous trading conditions in South Africa have raised expectations that investors will be inclined to expand local operations in order to minimise exposure.
The platinum miners already have a footprint on the local market, which boasts of relatively shallow low-cost operations. Efforts by Government to reform the Labour Act in order to make it equally favourable for employers and a less militant workforce have and will remain a competitive advantage for the local platinum producing sectors, experts say.
Mr Vimbai Chakanetsa, chief executive officer of mining consultants Goldsearch Holdings, opines that Government should create a conducive environment for companies that are already operating locally.
"There is much sense in what Government is trying to do. Reforming the Labour Act to also favour the employer will be quite helpful, and the Minister (of Finance) has alluded to this on several occasions . . .
"We also do not have, and we are not likely to have, a militant workforce; so, the problems in South Africa will work for our good. This is the competitive advantage that we have over South Africa.
"We have workers who have been reporting for duty between six months and a year without receiving their
wages.
"This shows the commitment and attitude of our labourforce. It is also a plus for anyone doing business in Zimbabwe," said Mr Chakanetsa.
Miners to clear empowerment hurdle
Local platinum miners are under pressure from Government to submit indigenisation and empowerment plans that will ultimately cede 51 percent shareholding to locals. Most of the term sheets that were signed between Government and miners and were largely criticised as flawed have since expired.
Mining firms are now being compelled to submit new ones.
A term sheet is a bullet-point document outlining the material terms and conditions of a business agreement. It usually precedes a proposed final agreement.
In addition, local authorities are pushing the country's three local platinum producers (Zimplats, Mimosa and Unki) to establish a platinum refinery before the end of the year in order to maximise value accrued from platinum mining and refining activities.
Zimbabwe has the second largest platinum reserves after South Africa.