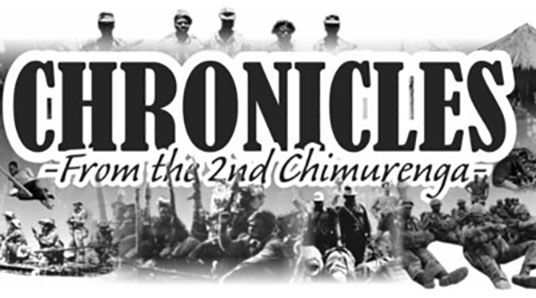 The Sunday Mail
Catherine Murombedzi
DR Anna-Mary Nyakabau is an oncologist par excellence. Her national service came to an end on December 31, 2020, having worked at the country's main referral hospital, Parirenyatwa Group of Hospitals' oncology and radiotherapy centre. This is an extract from Dr Anna-Mary Nyakabau's memoirs, "The Journey amidst life's journeys. . ."
********
The war had gained intensity.
In the Eastern Highlands, guns blazing, bombs blowing, helicopters hovering, soldiers patrolling, armoured vehicles snaking the mountainous roads time and again, meant trouble in the community. Soldiers on horse backs galloped away sending fear, curfew making normality a mirage, with lives lost daily, every day was a struggle.
St David's Bonda had closed doors in 1977, sending all students back home. I had excelled in Grade 7, this had been an opportunity to leave my birthplace, Triashill, Rusape.
My journey at Bonda came to an abrupt end, I was back where my navel was buried.
Form 4 became another mirage, I was not alone, many in the intense war zones too had said goodbye to school. Like my age mates in my home area, together with our parents, we were the water.
I had to play my role, at age 17, I became a full time chimbwido. Chimbwido, a war collaborator, being female, had to fulfil the tummy needs of the liberation war fighters, were the eyes and ears of the comrades, and again saw to the hygiene as laundry required to be done.
The war knew no better day, in the scorching sun, the drenching rain, in fair weather and non, it was aluta continua until Uhuru.
No holiday until it's over.
Ana mukoma, the comrades, as we called the fighters, although living in the bush, really lived in the community, hence the saying by the Great Mao, ". . .you are the water, we are the fish. . ." their survival depended on community support, thus the war, was an "us" game.
There were bases at Manjoro and Nyagura in our area in Rusape.
Flying Monster
That particular day, I was delivering a chicken to the base, disguised like a baby strapped on my back, it's feet tucked in the wrapping towel, a baby it was. A small woollen hat on the baby, my journey amidst more journeys was my mission.
On the way to the base, a helicopter appeared from nowhere. That flying machine was the most scary tool of destruction.
From lofty heights, it could see through any moving objects on the ground. I was the observed object, I had to keep walking, any faltering meant bullet shots ripping me apart.
I prayed, "mukombe uyu ngaudarike."
At the age of 17, I heard the bgrrrr, bgrrrr, bgrrrr, the chilling and deafening sound of the propeller coming closer my way, I had my heart throbbing, I could feel the monster drawing closer. I was walking, alone on an important assignment which required no assistants.
The helicopter flew past at first before encircling me. Then I felt the bgrrr, bgrrr scanning my person, I could feel it in my heart, it started hovering above me. . .it was horrific. . .I was terrified, my legs were weak, my knees were shaking, I was melting, like cotton wool, I was soft and trembling. The helicopter, for a moment, appeared to have stopped above me, encircled me, then hovered again.
For quite a distance, I concentrated on my steps, my heart had jumped out, I was a walking ghost, it was a matter of life or death, I prayed and prayed, I had faith, that the helicopter would fly away if I maintained composure, any silly mistake meant my end. . . that challenging moment shaped me, . . .I chose life, I soldiered on walking. . .survival was providence. . .
Had I stopped walking, that would have meant the end of me, either a soldier would have parachuted or bullets would have rained from the metal bird and the result would have been tragic. In most instances, anyone in my circumstances would have panicked and turned back, there were soldiers in the vicinity, one would have given away the mission, the flying menace would rain rained bullets too, there was no choice but to be composed and carry on, it required mastering the survival instincts.
The flying monster finally drifted away, lifting with it, the avalanche of misery and near-death moment that had paralysed me.
I briskly got to the base, still numb from fear and sweating, I explained my ordeal and prepared the chicken and sadza. Had I not completed my mission, too harrowing to imagine my fate. . .it was my duty on that day to provide meals and do the cooking, I would have placed my family and I in trouble.
Had any misfortune befallen the comrades at the base, with me missing in action, I would have sold out, been the mutengesi, sell out, even if I had not. The consequences hardened me, this was a war, I was part of the struggle.
Like all young people during the war, evenings were spent singing and getting educated on the liberation ethos and why the war was a necessity. The singing sessions, pungwe, were just beautiful.
We totally forgot all the troubles.
The comrades on sentinel watch for possible enemy attack, with one or two comrades dancing with the povo, AKs dangling from the shoulders, these snipping machines were never placed away, the sessions invoked the spirit and determination to a free Zimbabwe.
"Ndizvozvoka mukoma Chakanyuka, sendekera mukoma Chakanyuka. . ." and indeed perseverance was planted in the citizens.
I would dream of a free country where I would continue with my education. Being the eldest in a family of seven, some girls my age had crossed over to Moza, St David's Bonda was a stone throw away from the border with Mozambique.
Each night, girls talked and prepared to cross over, yes, cross over some did.
Weekly, the school lost girls to the liberation struggle. Am not sure if 'lost' is the appropriate word, rather, the war pulled pupils to cross over.
The harsh conditions at home, parents in the rural areas were crowded in barren land, they had been moved from productive land, and in most instances, vast farms bordered the crowded Tribal Trust Lands where animal husbandry had a limit, the unfair labour practices, the injustice in the education system, it was a host of these. The push factor was massive, YOU CAN'T, on a people who had known the we can before.
None but ourselves could free us.
In the dining hall having porridge at 6am, we gazed at empty chairs and knew what had happened during the envelope of darkness.
I had helped my mother till the land, fetch firewood, fetch water, carry a bucket from the well up the mountain to our homestead, prepare meals on fire and look after my siblings.
I knew the tough life of the village, crossing over to Mozambique was no walk in the park for a picnic, it was tough, tougher than life in Triashill.
I was not cut to manage that.
If I left for Chimoio, what would become of my mother. . .?
Hence, when back at Triashill, I put my all to be a cog in the revolution wheel.
At the same time, being my mother's first daughter, I took my position to improve life at home as expected, I did not disappoint. During the war era, each female chimbwido had what we called a 'husband' not that we indulged, No, it was meant to nurture responsibility in case any danger befell the comrades.
After cooking, a chimbwido tasted the food first.
Each chimbwido was also responsible for clothing the given comrade. My father obliged and bought new clothes suitable for the camouflage colours of the forest.
On delivering the clothes, one was required to put them on first. There had been biological warfare poisoning and the comrades brooked no nonsense.
Where there was a problem, a solution was proffered. There were incidences when the base was under attack, anamukoma were trained, they were in camouflage and could slip away, we lost friends and relatives.
I had learnt to be alert, they had taught us escaping modes in case of danger. In most instances, the comrades evaded the enemy, one or two locals would become casualties.
Serving as a chimbwido meant one could die. There were instances when the base came under attack, comrades being trained would escape, I lost friends, it was very sad.
Survival was by God's grace; I wasn't clever at all. In the instance some villagers perished, a villager had sold out.
The following days would be harrowing with Selous Scouts galloping the homesteads, kicking anything that stood on the way, huts were torched.
The war was ugly, very very ugly, scars that never heal remain.
Back to School
One of the commanders in our area announced one day, "the war will be over very soon, schools must reopen here, we will need learned people, we will need nurses, teachers and doctors. . ."
That was the happiest moment in my life.
I went back to Kriste Mambo, to complete Form 4. We had not attended any school save for Form 3.
St David's Bonda had closed doors the first month I commenced Form 4. During the few breaks I was either not doing home chores, or being of freedom service for a future Zimbabwe, had seen me engrossed in my notes.
Being admitted into Kriste Mambo to carry on my quest to education was a life chance I grabbed with open arms. My parents could not afford a bed and most girls had foam rubber or rupasa (reed mat) for bedding.
That did not deter us, being in boarding school was a gift enough. I recall sitting under a tree, book in hand studying, we had not covered much of the syllabus.
One just had to use long term memory, the learning environment was tough.
There was nothing ordinary about Ordinary Level. I read in the short space that I was back at school.
I sweated through the exams.
Sitting the English paper was a topic, 'The refrigerator'.
That caught my eye.
I went through other less exciting compositions.
I settled for 'The refrigerator'.
Having seen none, it was making use of my imagination and what I had read and heard.
Come January 1979, I had brilliant O Level results that made O Level very ordinary.
A rural girl, sitting the Cambridge exam after having been home a full year, coming out with distinctions was unbelievable.
My parents again sacrificed for me to go further. I selected a school which was far away from the rural areas.
A school which was not in the war zone, where the war would not close the doors again.
I got accepted at St Ignatius College for Lower Six in 1979.
The college being all boys from Form One to Four, the arrival of the Lower Sixes, with everyone else at school was a fright.
The boys lined up the entrance to the girls' hostel. Luckily, no one goes beyond the girls' hostel gate.
So the noise and hullabaloo remained a distance away, I was not scared, I had survived the hovering helicopter and near misses at the pungwe. The jeering from the boys was baby play to me. I was on the second lap of my journey amidst journeys and no mere noise would scare me.
The boys were mere boys missing girls in their midst.
I settled in very well.
I selected Maths, Chemistry and Biology.
The biology teacher was none other than Father Watscham. Some dropped biology, Father Watscham would make you quiver.
Again, I had survived Triashill, each challenge spurred me to my dream.
By end of my first year, Father Watscham and I had become buddies to the surprise of many students both males and females.
I worked hard, I had a mission to accomplish.
Ceasefire
The year is 1980, in March.
I am an Upper Six student.
The girls hostel, Mary Ward is cosy, I have my own room, bed, wardrobe, hand sink and mirror on the wall, I switch my lights off when the siren goes at 10pm, it is Utopia.
I have just hit dream land, suddenly the pitch of the wailing siren wakes me up, lights on, the girls are shouting at each other, "chii nhai?" what is taking place?
Sister in charge of Mary Ward Hostel blows the whistle: "Girls wake up, get dressed, we are going to the main school hall, everything is fine, put on your jerseys, we are leaving in five minutes."
We hurry up, this is unusual.
As we near the hall, we hear singing, joyous singing, this is unlike mass. Lo and behold, a comrade slinging a real AK47 is on the stage dancing.
I see more familiar figures, the comrades, not that I had seen these particular ones.
After seeing one comrade, you have seen all the comrades. I am familiar with the scene, I run forward, I am so happy.
I forget that I had selected St Ignatius to be away from the war.
I am already singing and dancing, I hit the floor with my mujibha antic.
Finally, all the boys and girls had trooped in the hall, in the witching hour, all shocked.
In the hall were the Mary Ward Sisters, the Jesuit Fathers, the teachers and ancillary staff.
The booming voice of the leading comrade, with AK47 in the air, "vadikani, Zimbabwe yauya, Zimbabwe yasununguka, tave paCeasefire, tasunungura nyika… he leads in singing 'Tauya kuZimbabwe', the singing, dancing, slogans continue into dawn.
And like always, the comrades do not bid farewell.
One by one, they slipped away amidst our freedom ecstasy, we did not notice.
Everyone who was at St Ignatius College during this historic event is proud to call self, 'Kogonya Class.'
And indeed, freedom had come. I finished my final year in November 1980.
My visa to medical school had been sealed by the flying monster in 1977.
All I do, can never be more demanding than that flying monster effect.
It shaped me, to me Oncology is my service to my nation.
That commander had boomed, "…we will require doctors…"
Reminiscing
I look back and am pleased to have been a small jigsaw piece to the completion of the puzzle that ushered Independence to my country on 18 April, 1980.
The hovering monster in 1977 had shaped me, nothing is unachievable…I promised to serve, I am, I will.
Dr Anna-Mary Nyakabau is the founder of Cancerserve Trust.
ENDS_