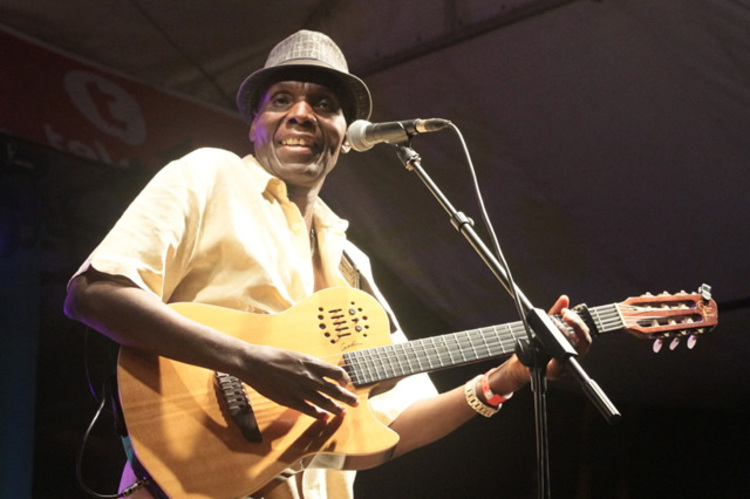 The Sunday Mail
Mtandazo Dube
SUPERSTAR Oliver "Tuku" Mtukudzi, who dazzled thousands at Unplugged a fortnight ago at Borrowdale Racecourse in Harare, is set for a massive return to the leafy suburb, this time at Borrowdale Country Manor.
Tuku, will first unveil his 65th album "Eheka Nhai Yahwe! (Enjoy My Dear Friend)" to a few invited guests and journalists on September 22 at his arts centre, Pakare Paye, before staging the mammoth upscale gig eight days later.
The show features Jah Prayzah, whose new album "Mdhara Vachauya" is doing well.
No doubt the Tuku-Jah Prayzah combination – which filled the Harare International Conference Centre to the brim – on August 12, is a must-attend gig for live music enthusiasts.
Tariro neGitare, one of the most sought-after Zimbabwean artistes internationally, is part of the show, which increasingly looks set to change the game in Zimbabwe's live performance circuit.
The Afro-soul singer has shared the stage with Mtukudzi on many occasions, putting up sterling performances that have seen her win hearts.
Given the size and significance of this show, the songbird is likely to bring her A-game to the stage.
Sam Dondo, whose grand entry into the music industry in April this year via a star-studded album launch that may have overshadowed his works, completes the line-up of performers.
The singer, now managed by Tomas Brickhill, has become a regular at high-profile gigs and to his credit, he has left lasting impressions.
D&G Events is organising the show.
Tuku's manager, Sam Mataure, who is also a drummer in the Black Spirits (Mtukudzi's band), said: "This is a very good change of scenery – it is good for both the artiste and the music fan. Our partners for that celebratory gig, D&G Events are pulling out all the stops to ensure the gig lives up to its billing.
"I urge all Tuku fans, Jah Prayzah supporters, Sam Dondo followers and Tariro neGitare buffs to come and enjoy music under the stars, in a refreshing atmosphere, a festival setting that is set to leave lasting memories," said Mataure.
Thompson Dondo of D&G Events said the September 30 "premium concert" would provide fans with a rare opportunity to experience intimate moments with the superstar's showmanship.
"Tuku is known for his expressive and awe-inspiring stage presence, a multi-faceted sound and unmatched lyrical prowess. He will showcase his new album for the first time in a fun-filled open air setting under the stars on a beautiful summer evening.
"We will create a festive atmosphere that combines innovative lighting and decor, a VIP area with tables and chairs, a dance arena and interaction spaces for bars and food stalls," said Dondo.
A cultural icon, Mtukudzi's music touches people across generations in many different ways with his strong social messages appealing for respect, restraint, tolerance, self-discipline, peace, and celebration of the good things in life.